MEMBER STORIES
Enterprise Nation members share more of their small wins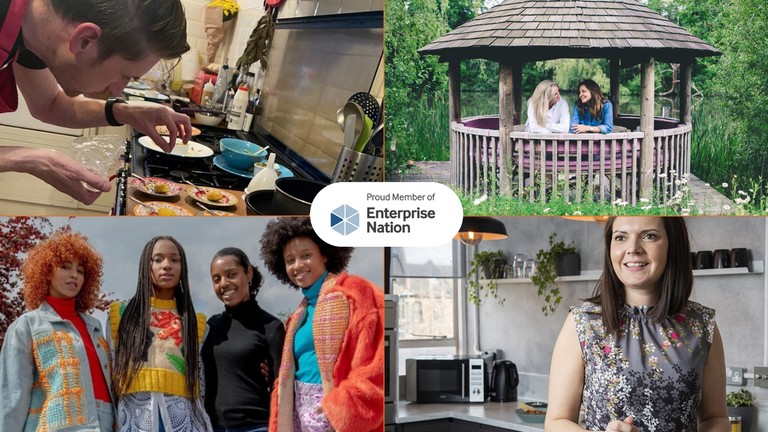 ---
Posted: Tue 27th Jul 2021
Last month, we asked you to share your small wins with the rest of the community. The response has been incredible.
We're determined to spotlight as many of those wins as possible, so here's another 10 members with something to celebrate.
Bay's Kitchen was born from a desire to create a new range of convenient, great tasting, low FODMAP food products to help IBS sufferers.
"After suffering symptoms for many years I was advised to follow a low FODMAP diet," Bay says. "I researched what convenient options were available in the UK and was disappointed to find there was virtually nothing – so I decided to develop my own.
"At the Free From Food Awards 2021, we won Gold for Best Digital Presence, and Bronze for our Thai Green Curry Sauce. And our Katsu Curry stir-in sauce is a finalist for 'Gut Health Product Of The Year' at Food Matters Live 2021.
"Being shortlisted and winning these awards makes the time and effort developing innovative products and working on our website and marketing so worthwhile."
Tihara Smith is a fashion, accessories and lifestyle brand. Inspired by her heritage, Tihara's pieces take inspiration from both Black British culture and the Caribbean. Each piece is crafted by hand in London, using contemporary and traditional techniques.
Fast becoming one of London's coolest indie brands, Tihara Smith has already won countless accolades and Tihara was thrilled to take part in her first post-COVID in-person event in May.
"I was invited to be part of SAMPLE, a much-loved urban pop-up design market curated by the Hemingway Design team. It was great to have an opportunity to get back out in the real world to showcase our products and meet customers in real life."
SmartBarf began when Owen and Jules Passey noticed the positive impact that raw feeding had on their beloved pooch, DJ, and started to research what other vitamins and minerals were needed to optimise a dog's diet.
But when buying, storing, chopping, weighing and serving all the different ingredients became a struggle, they had their 'eureka' moment – a dehydrated mixture of over 50 different seeds, nuts, fruits, berries, veggies, pulses and herbs.
"Our mix is 100% natural, easy to prepare, has a long shelf life, and provides an amazing source of nutrients to dogs of all ages. And we're proud to announce that we've recently made the move to compostable packaging, removing all single-use plastic. In fact, we've removed it from our whole company."
Feeling bored, tired and disillusioned with online dating, Sarah and Emily realised that the need for companionship went beyond just dating. They decided to launch Just Good Company, a platform where happily independent people can meet in a comfortable, pressure-free environment.
"Instead of scrolling endlessly through profiles, on Just Good Company you scroll through fun outings – and then choose a like-minded companion to fit. Your diary can be as full as you like, doing what you love to do.
"We were thrilled to be invited on to BBC Radio Kent's 'Make A Difference' slot to talk about the benefits of Just Good Company, and the difference it can make to a lot of people – especially now. We were very grateful and we hope it'll be the first of many opportunities to share how passionately we feel about our brand."
Julian McLaren, CHUDE
CHUDE is a UK-based male grooming brand offering premium, nutrient-rich, all-natural products and accessories. Having launched in February 2021, Julian is keen to savour every small win.
"Having only recently unveiled our first products – a range of beard conditioning treatments - we're incredibly excited to build our brand. Every CHUDE product is cruelty-free, with no exceptions made – ever.
"We plan to add a selection of exclusive accessories soon too. Like most start-ups, sales have been up and down, but being a part of Enterprise Nation has allowed us to feel like we're not alone in our struggle – and we recently celebrated our strongest month of sales yet."
Dimple Athavia is passionate about drinks; the stories, the ingredients, the flavours, the inspiration…quite literally, All Things Drinks!
So in 2020, with the world in lockdown, she set out to build a drinks community – and in June 2021 successfully launched her own online drinks retail platform.
"Our vision is to not only sell drinks, but to build a community that connects and educates people in one inclusive, exciting and holistic digital space. As a start-up I've been doing everything myself.
"The resources available on Enterprise Nation – in particular, the Lunch and Learn webinars – have really helped me turn my dream into a reality. As we grow we'll also feature drink producers and cocktail geniuses, and we'll have tours and tastings all around the UK. We have big plans."
With over 20 years of marketing experience, Cynthia Wihardja combines her skills in psychology and business to help entrepreneurs and small business owners to attract their ideal clients.
Founder of The Brave Zone, Enterprise Nation adviser and all-round marketing powerhouse, Cynthia has been looking for a way to 'give back'.
"I finally found it! By working with B1G1 (Buy One Give One), I donate 50 to 100 trees to a global tree-planting project each time a client enrols. We've planted 900 trees so far. Together, we are making a bigger impact to our world."
In 2003 Juli Fejer's marketing career was cut short by fibromyalgia. As she struggled with chronic pain and depression, painting became both a consuming passion and a form of therapy.
"In a world where there is so much anger and sadness, I try to seek out beauty in everyday things and to bring people joy through art. Earlier this year I joined the Wandsworth Digital programme through Enterprise Nation, and I recently made my first sale through my website.
"I've been selling on Etsy for three years, where I've made more than 650 sales, but it was really special to use my own website. This month I'm also exhibiting at the Sussex Art Fair, and I've just been nominated for The Royal Academy of Arts Summer Exhibition. I'm over the moon."
Matt Fagan was working as a chef in central London when COVID forced the country into lockdown. Having previously managed a pop-up Mexican food business, he decided to launch Little Mexican Kitchen offering 'finish at home' taco kits.
"Basically, I cook everything, and you simply need to warm it up and devour it. I use authentic Mexican ingredients and recipes with different specials each week.
"A chance conversation led to my partner and I being added to our neighbourhood WhatsApp group – and overnight our sales increased. Our customer base has been growing ever since, just through word of mouth. We've recently branched out into private event catering, and we've also launched a weekly Supper Club, hosted at LMK Towers"
After two decades working in the tech industry and struggling to find a stylish yet functional work bag tailored specifically for women, Bobbi Trehan-Young set out to address that gap.
She launched Bobbi | London in March 2021, offering bags, travel accessories and tech products – all designed with the corporate woman in mind.
"Our core concept is to empower and amplify women in the workplace with our quintessentially British collection. This year, after an 18-month battle, I won a legal case for my trade mark against a large French corporation.
"I also got to meet my customers in person thanks to Enterprise Nation and Sook, when I popped-up on Oxford Street in May. And more recently I was one of six weekly winners of Theo Paphitis' Small Business Sunday initiative."
We'll continue to publish your small wins. If you'd like to share yours with the rest of the community, complete this short form.
Enterprise Nation has helped thousands of people start and grow their businesses. Led by founder, Emma Jones CBE, Enterprise Nation connects you to the resources and expertise to help you succeed.