BLOG
Member of the Month: Tammy Whalen Blake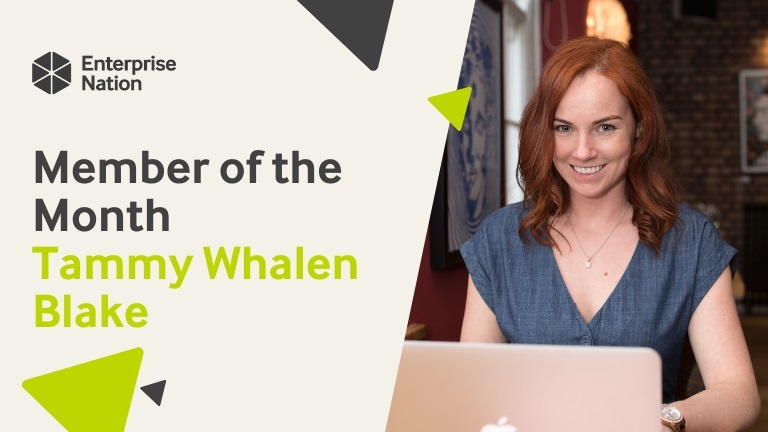 ---
Posted: Fri 28th Apr 2023
Congratulations to our Member of the Month for April, Tammy Whalen Blake, founder of life coaching and personal development business Go To Yellow.
We spoke to Tammy about the influence her childhood and previous career in corporate sales had on her starting her own business which helps founders with issues such as productivity, problem solving and personal growth.
She also explains how attending Enterprise Nation events and joining as an adviser member has boosted her business.
Before starting your own business you worked for large businesses. How did that experience help when you decided to become self-employed?
I worked in technology sales roles which taught me how to be confident and resilient. I highly recommend working in sales for anyone who wants significant personal growth.
I was the youngest person in the business team at Samsung Electronics and that catapulted my career. I was exposed to C-level contacts in transport and logistics and I ended up working as a channel manager with Vodafone as my main account. I had to influence Vodafone Business customers so I was not just a salesperson, but also a relationship manager.
This all taught me lessons in how to run a business. I thought I was going to go down the technology route with my own venture but I was made redundant. In the end it was a blessing.
My self worth was attached to my job. I put myself out there as a salesperson in technology for blue chip companies, so when that was taken away, it gave me an opportunity to reassess myself. During the three months when I tried to find a job and got rejected I had an epiphany and discovered that my passion actually lies in personal development.
You are very open on your website about how your childhood experiences also inspired your personal development business. Tell us more about that.
I'm very transparent about that because I think if someone's going to invest in me, they need to know that I've personally applied the tools I talk about. I want to share key moments that led to me being productive, mindful, focused on where I'm going, and tapping into my passions.
My dad lived in Bristol and my two sisters and I lived with my mum in Hereford. While growing up, I experienced a lot of shouting because she would constantly lose things. In her mind, it was our problem and she was angry that we couldn't find the things that she lost. I watched her do the same thing every day and my argument was 'just put it in the same place and you won't lose it'.
I was already building solution mindsets from a young age. If I didn't, I would be punished emotionally or physically.
My mum's brain is scattered. She can have multiple conversations at once in her head. She'll have one conversation before switching to the third one, switching to the sixth and then back to the first. I couldn't keep up with her and I was confused. I would then doubt myself and think I wasn't good enough.
At age 14, I decided I didn't want to be like her. It was a pivotal moment and I thought I can do things differently and have a different mind.
I was very independent and driven to live the version of the world I wanted to see. It started manifesting in my education, my mindset and my clarity. My room was always organised and there was a home for everything. I built systems to manoeuvre the world with clarity and trust in my abilities. It helped in the workplace too because I would communicate my values and draw the line when it was needed, even with a manager.
Once you decided to launch Go To Yellow, how did you start to build it?
I worked with a business coach to get my business plan together. It gave me a framework to get started but I had to learn a lot in a short period of time. I had my redundancy pay but at some point that was going to run out.
I turned to webinars and training events focused on marketing and sales to get the income in.
I initially offered my service at a lower rate while I was training in exchange for testimonials. I found that very helpful in building confidence. I had to battle my imposter syndrome and pivot on LinkedIn to be a new thought leader around personal development. The coach helped me do that.
I also joined mastermind groups to get ideas and learn from others.


How did the COVID-19 pandemic impact on your business?
I wasn't affected by the restrictions, but everyone else that I was in networking groups with was concerned. It got me thinking 'what have I done that they haven't done?'
I started to understand that they were often working on their own, they didn't have money, they didn't have time and they didn't have the know-how, while I had built a system to ensure I was running at my peak performance and had a team to support me.
I realised I needed to recognise that there was value in that system for micro businesses, so I launched The Yellow Mastermind.
The term 'SME' is well understood and there are lots of services and products for those businesses which is wonderful. However, the companies providing them are doing a disservice to micro business owners because they have a different set of challenges.
The Yellow Mastermind brings together six business owners with different skill sets. They swap skills so it's a time exchange rather than a financial exchange.
What are common challenges you hear from micro businesses that you work with?
They don't have enough time because they have to wear lots of hats; sales, marketing, operations etc. They end up doing a lot of tasks but they neglect being the CEO of the business. They're not strategising, planning and communicating because they're so caught up in the doing.
Then there's the issue of not having all the skills needed because if they're trying to wear all the hats, they have to join lots of courses to learn how to wear those hats. They then try to implement the learnings but often do it ineffectively so they waste money which they can't afford to waste.
How did you get involved with Enterprise Nation and how has it benefited your business?
I first heard about Enterprise Nation when I went to a StartUp Saturday one day business class in Bristol.
It was an amazing event. Truly fantastic. I cannot give Enterprise Nation any more kudos. I had already been through the start-up process but re-learning how to set up a business and the mindset needed was so impactful. It would have been really helpful when I started but it was equally helpful to revisit a year later, because there are always things to learn.
After the event I started to embrace the Enterprise Nation platform. It's a system that helps start-ups, entrepreneurs and micro businesses. That built trust and credibility with it because it follows my values exactly. It was a moment of "we absolutely must work together", so I became an adviser member.
I have maximised the different features. The first thing I focused on was hosting Lunch and Learn webinars. I've delivered a few and they've been truly amazing. It means that I've got an opportunity to amplify my message which has been pivotal as an expression of what I believe in. I've had lots of messages from people saying they've seen the webinars. The motivation and inspiration they've got from those sessions has reinforced that what I'm doing is the right thing for me to do.
I also publish blog content on the platform. If someone doesn't like attending events, they've got something else to turn to. I want to help people who have different learning styles. It also gives me more credibility. If my profile is complete, then people understand that I know what I'm talking about.
---
Want to be part of the Enterprise Nation community like Tammy? Sign up for free or upgrade to adviser membership.
I am an award-winning global personal development coach, entrepreneur, philanthropist and unwavering optimist devoted to future-proofing professionals and small businesses with focus, productivity, strategy and action planning. After turning my back on the corporate world, I courageously built my own successful business, crafting systems that run like clockwork, empowering my team to believe in the mission and giving myself the freedom to do more in less time. Now, I share my lessons, experiences and innate abilities to free others, setting them on their own path to growth, and guiding them as they design a fulfilled and purposeful business and life.