MEMBER STORIES
Member of the Month: Hannah Williams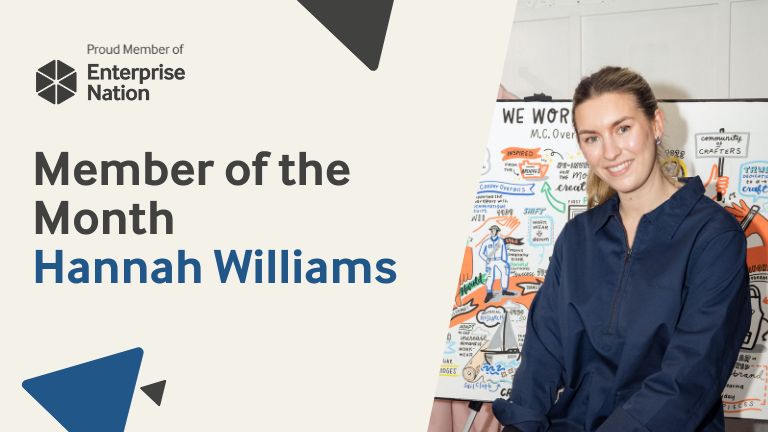 ---
Posted: Wed 30th Aug 2023
Congratulations to our Member of the Month for August, Hannah Williams, illustrator and founder of visual communication business Scribble Inc.
Hannah has a unique set of skills that she first discovered at university by sketch-noting her lectures. She realised she recalled details with greater clarity than she did with just typed notes. 
In 2018, Hannah took this insight and founded Scribble Inc., helping professionals in marketing, HR and comms to supercharge the value of their events. She explains:
"Scribble Inc is driven by helping teams tell interesting, relatable and clear stories that engage everyone – making spoken word memorable and tangible in over 14 industries."
Hannah, did you always want to start a business?  
It was never on the cards but I may have shown some entrepreneurial characteristics when I was younger. The plan was to become part of the big corporate culture. But what I found very quickly, after graduating from university, was that my skillset was niche and there was no Hannah-shaped hole in the industry.
I'm not a graphic designer, a children's book illustrator or a product designer, I'm an illustrator of information. So companies were interested in what I did but didn't have a job role that fitted my skills. It soon became apparent that the way I was going to find my career was to make it.
How did the idea for the business come about? 
It was borne out of my need to illustrate information in my lectures at university. When I was in my second year, it was sold to a cyber-security firm in Manchester that I was this girl who could draw anything.
Their challenge was that their information was so complex and technical that their customers couldn't understand it. If they couldn't understand it, they couldn't buy it. There was this knowledge gap between them and their clients, and I fitted that gap.
I had this amazing boss there who firmly believed that visuals aided learning and helped tell stories. So that was really the catalyst to me realising my skillset could be a service.
I graduated from the Manchester School of Art in July 2018 and by November I'd set up Scribble Inc. It was with the help of the cyber-security firm, and my local authority that had a very similar issue, but with their residents. I was invited to a workshop to illustrate all these different worker stories and that became the backdrop to their vision for the year.
I was fortunate to have a support system that saw my passion and never questioned what I was doing, so I was able to take that journey from student to business owner within four months.
What challenges did you face?
Challenges along the way have been about self-awareness and self-belief. Coming from a small rural town in Shropshire, I was dependent on my network.
I didn't know how to set up a business and was reliant on people who were happy to help. Finding Enterprise Nation put me in touch with people who were glad to help because they loved what they did.
I still have those self-awareness moments. The most recent one was balancing my identity as an illustrator and a business owner – how to occupy those spaces as a creative and an organisation.
For a little while, I felt like a fraud and that was a lonely place to be. Now, I see it as a privilege that I get to live in both worlds. It's a Venn diagram – business and art – and I sit in the middle. What a gorgeous place to exist! I not only get to bring some creativity into the business world but also critical thinking into the art world.

How did COVID affect your business?
It was one of the biggest challenges to my business. Before COVID, I was an events business as I turned up to an event and drew. The pandemic decimated that whole strategy.
In a crisis, you have to adapt or you go under. So, I quickly decided to work out what events teams were doing to connect and engage with people. I noticed they were using Zoom and other platforms to still put on events and workshops but digitally.
I knew I had the skillset and the products to support that still. For example, I've got a massive Microsoft Surface Studio. So, a team would put on a webinar, and I would be live in the virtual room, sharing my screen and illustrating. This meant that attendees could see it coming to life as they would if we were all in the same room and I had a drawing board.
This worked so well that even post-COVID, with many going back to the office or having in-person events, around 40% of my business is still digital.
What is live scribing and rich pictures?
Live scribing is a phrase I use to describe what happens at an event. Scribing is quite an old phrase, where someone takes notes at a meeting.
The live element is important to get across because it's an experience that people see me drawing as the event is happening. What the phrase doesn't cover is the fact that it's a combination of words and pictures, not just written notes, which anyone can do.
Clients get something bespoke, in their own colour branding, and something that's more fun and interesting than if someone were to just take notes.
Rich pictures are like an infographic but more. Infographics are quite clinical and flat; you start to glaze over them. Rich pictures or drawing is rich information that's been hand-drawn in a visual but isn't live. It could be information taken from a document or a presentation.

Take us through your scribing process.
What you see is I turn up to an event and I illustrate it, but there's a step before that which is extremely integral. I always book a discovery call with a client where we go through:
the purpose of the event

the importance of having a scribe there

what I'm there to capture

how it's going to be used after the event – framed, presentation, social content etc.

what we're working towards
I never get the details, just an outline view of what's going to happen on the day. That way it keeps it authentic, and I'm really present and listening. I turn up to the event, with all the materials, boards, pens and easels and then the day starts.
Each speaker comes on stage or as each agenda point is ticked off, I start to capture it. If I'm working with a team that's all about their values, I'll put my values lens on to channel the information that way.
It comes down to a lot of practice. My ear can keep listening to the next bit so that the cycle and flow of listening, receiving and output is a seamless process.
When did you first come across Enterprise Nation?
I first came across Enterprise Nation on Instagram when I was searching for places that helped young entrepreneurs or even start-ups. I've never come across anything that helped so many different types of businesses, right at the start, or even at different points of their journeys.
I'm a service-based business and there was a lot of help for product-based businesses out there. My first proper interaction with Enterprise Nation was the Next Generation Awards. It was so exciting to meet other people my age, who were doing similar or different things, but getting to talk to people who were going through similar challenges.
I didn't have too much public-speaking experience but this was a safe space for me to trial by pitch and see how influential people received my business.
And even though I didn't win, I walked away from it with new connections, both to other entrepreneurs and people at Enterprise Nation, and a reflection of what it means to other people.

What's next for your business?
The way I view my business is from a very corporate-centric model, where 99% of my clients are corporate, to working with brands on campaigns and then charities and causes that align with Scribble. It's the three Cs – corporates, campaigns and causes – and each feeds the other.
The big picture, corporates are my core because that's where I started and where I've grown a beautiful relationship with clients. That feeds into the creativity of the campaigns and back into charities.
If you can give and take, that flow of energy will perpetuate a much more meaningful business, especially with causes close to my heart around learning styles.
---
Want to be part of the Enterprise Nation community like Hannah? Sign up for free or upgrade to adviser membership.
Enterprise Nation has helped thousands of people start and grow their businesses. Led by founder, Emma Jones CBE, Enterprise Nation connects you to the resources and expertise to help you succeed.