BLOG
Help to Grow: Management – Meet the mentor, Victoria Brown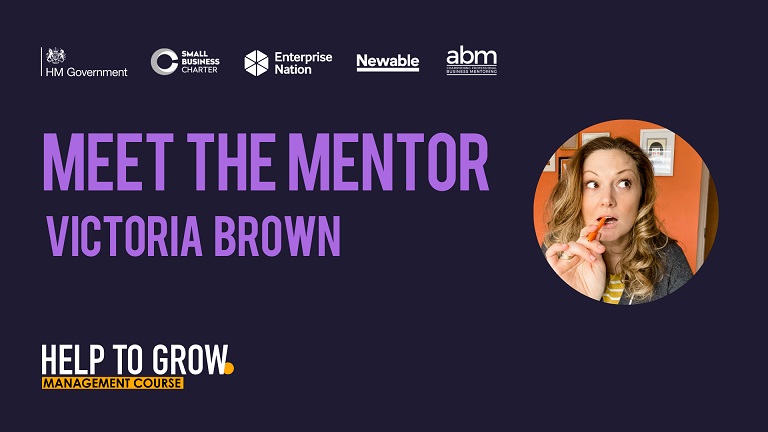 ---
Posted: Tue 22nd Nov 2022
Enterprise Nation is one of the small business support providers tasked with delivering voluntary mentoring as part of the government's flagship Help to Grow: Management Course.
The programme is a 90% government funded, 12-week course with a combination of online sessions and face-to-face learning, delivered by business schools. It is open to businesses with five or more employees.
Here, we talk to Victoria Brown, one of the voluntary mentors involved with the course. Victoria talks about her background, explains why she decided to become a mentor, and shares her ambitions for taking her mentoring skills to the next level.
Victoria, can you give us a summary of your professional background?
When I first left university, I actually wanted to be an actress. Instead, I did a postgraduate course in broadcast journalism and was then lucky enough to work for BBC local radio for eight years as a reporter, producer and presenter, working on most of the shows at the station.
Deciding to broaden my horizons and learn something new, I then headed to the corporate world, working in PR at a FTSE 100 company. It was here that fate intervened.
Although I was only ever meant to be at that company temporarily (providing maternity cover), I ended up joining their internal communications department, staying for eight years and becoming the go-to writer. Which I loved as it was very like journalism.
My creativity obviously needed to find a way out though, so alongside my corporate job I started a side hustle as a jewellery designer and maker. While on maternity leave and pregnant with my second child, I decided to start a blog, specifically for independent jewellers.
During the pandemic, that evolved further into helping other creative business owners to market their businesses and to pivot online.
Now, I continue to support creative businesses with their marketing through coaching, workshops and courses, as well as hosting my own podcast, Creative Slurp.
There was also a brief flirtation with the fitness industry along the way, where I became a qualified group fitness instructor and taught Body Combat classes. It's safe to say that my progression was not in any way linear!
What made you want to become a mentor to other business owners?
It was at the start of the pandemic that I first stepped up to offer coaching to other creative business owners.
Although I'd never done any formal mentoring or coaching before, and had generally shied away from leadership roles, I knew I also had a fairly unique background and perspective (in both the creative business world and in communications) and so I almost felt obligated to step in and help.
What surprised me most was just how much it energised me, and how much of a responsibility I felt to the people involved. Coaching other business owners to build their dream business and make breakthroughs is a very special honour.
So when the opportunity came along to take part in the Help to Grow: Management Course, to help mentor businesses in a more formal capacity, I leapt at the chance.
What do you see as the main attributes and characteristics a good mentor should have?
Be a good listener and ask the right questions. But above all, be passionate about helping your mentees to fulfil their business dreams.
Do you think anyone can be a mentor or does it take a specific type of person?
Yes, as long as you truly want your mentees to succeed, and you're happy to make it about them rather than you.
But everyone's style is different and, as a mentor, you should lean into that. Don't try to copy anyone else – accept yourself, and leave your ego at the door.
What do you think business owners get from mentoring?
I think the hardest part of being a business owner, especially at the beginning, is feeling that you're alone – like you're at the bottom of the mountain with no rope and no real idea how to get to the top.
Having a mentor – especially if they have related experience – gives you a chance to talk through your ideas, reflect, and move forward.
It's also about accountability. Without anyone to keep us accountable, especially when starting out, we might never take those all important first steps as a business owner. And of course, mentors can also be instrumental when it comes to problem-solving for more established businesses.
And personally, how does mentoring benefit you?
Being a mentor is a very privileged position – someone is trusting you with their business baby and their dreams. There's nothing quite like seeing the penny drop with a business owner, as they realise the solution to their problem and how to move their business forward.
Mentoring also helps me reflect on my own business, as many of the issues discussed in sessions are things I've experienced myself. And it helps me to realise that I'm not alone as a business owner either.
You were recently accepted onto the Institute of Leadership and Management (ILM) Level 7 Coaching and Mentoring programme – congratulations! What made you want to take your mentoring skills to the next level?
Thank you. Yes, I'd been itching to learn how to become an even better coach to my clients, so when I saw this opportunity,
I felt it was a really good fit. I hope doing my ILM Level 7 will give me the skills and knowledge to take my coaching to another level – something which is so needed right now with the challenges small creative businesses are facing.
What I hadn't realised until I started studying is that what I'm learning will not only help with my one-to-one customers, but also in my course and content creation – and my personal life too.
So far, it's really showing me how to be a better listener, which I think is key to creating a successful business. If you can listen to what others really want and need, then as long as you act on that you'll succeed. And not only that, it will feel good.
Finally, what are your hopes for the Help to Grow: Management Course?
I think it's such an amazing and important initiative – businesses need support now more than ever. Small businesses are the lifeblood of this country, not just economically but in its vibrant personality.
I hope that by taking part in the Help to Grow: Management Course, I can play a small part in helping those businesses survive and thrive.
Want to help a small business grow?
Being a mentor goes far beyond the rewarding feeling of 'giving back'. Mentors gain a range of personal development benefits from the experience.
Become a voluntary mentor for the Help to Grow: Management Course and commit 10 hours over 12 weeks to support businesses with their growth action plan. Sign up today
---
The national mentoring element of the Help to Grow: Management Course is being delivered by a partnership of Newable, Enterprise Nation and the Association of Business Mentors on behalf of the Department for Business & Trade.
Enterprise Nation has helped thousands of people start and grow their businesses. Led by founder, Emma Jones CBE, Enterprise Nation connects you to the resources and expertise to help you succeed.