BLOG
Help to Grow: Management – Meet the mentor, Nikki McReynolds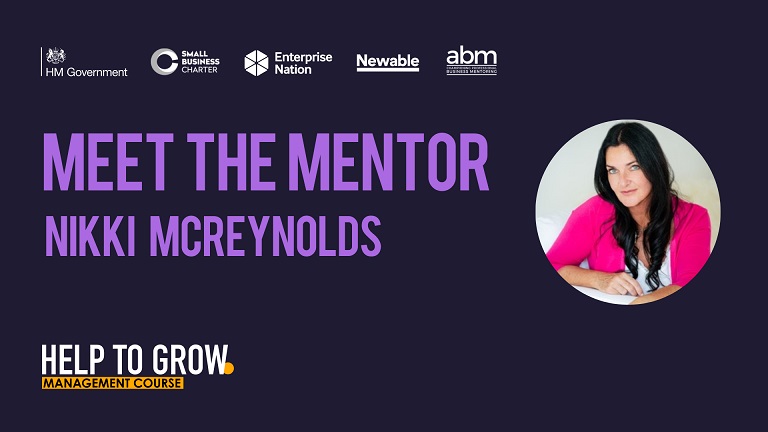 ---
Posted: Thu 16th Feb 2023
Enterprise Nation is one of the small business support providers tasked with delivering voluntary mentoring as part of the government's flagship Help to Grow: Management Course.
The programme is a 90% government funded, 12-week course with a combination of online sessions and face-to-face learning, delivered by business schools. It is open to businesses with five or more employees.
Here, we talk to Nikki McReynolds, one of the voluntary mentors involved with the course. Nikki – who is based in London – discusses how new business owners need someone with experience to learn from and look up to, so they don't feel alone and unsupported.
Nikki, tell us about your professional background and career.
After 20 years of brand management and product development – mainly within the health, beauty and electrical beauty sectors – and having worked up to the board of directors level, I threw caution to the wind and opened a children's nursery in 2014 from scratch.
I built it up to a business generating £1.2 million in revenue and had 130 children on roll, cared for by a team of 30 nurses and support staff. I was part of a franchise initially, but after buying myself out of the franchise and building equity around my own brand, I then sold the business to a nursery group at the end of 2019 with the dream of retiring.
However, I'm not the retiring type – not yet – so in 2021 I started another business, a 'business buddy' consultancy. I've supported clients in establishing businesses in the hospitality, education, haircare and fashion retail sectors over the last year.
Some of the projects my company has initiated have included crowdfunding, transitioning from bricks and mortar to a fully online business, and new product launches. I love helping budding stars reach their full potential.
As well as consulting, I coach senior management and CEOs with leadership and management development through the Dale Carnegie Institute. Also, I recently passed the Institute of Leadership and Management (ILM) Level 3 in Mentoring with the Association of Business Mentors, so I'm actively searching for aspirational mentoring roles.
Why did you decide to become a mentor for other business owners?
My brand is 'buddy for business', which might sound cheesy, but it was born from an innate desire to help others avoid making the mistakes I made when I was a founder.
My mission is to be the 'buddy' to other business owners that I didn't have. We all have to walk our own road, but we don't have to do it alone.
Small businesses see significant development through mentoring: Become a mentor and provide 10 hours of one-to-one support. Find out more
What makes a good mentor?
In my business, I'm either a consultant, a coach or a mentor, depending on my client's goals. The mentor's role is to provide guidance, support and advice, which is very different from the role of a coach or consultant.
Mentors don't find solutions to problems but help others find their own answers through various tools and techniques. So, it's important that the mentor is:
empathetic – in order to understand and show genuine care for the mentee and the current problem or challenge

a great listener, with emotional intelligence – often mentees just need to talk things through and aren't necessarily looking for solutions

very flexible – the mentee needs to own the sessions and lead the agenda

non-judgemental – we all make mistakes, and so a mentor needs to be open-minded and not give any judgements, so they can fully support the mentee

positive and optimistic – their role is to bring the best out of the mentee and keep them motivated and feeling strong about their ideas and goals

professional, and acts with integrity
Also, mentors need to have real-life experience, to have 'walked the walk', to be able to pass on to the mentee everything they've learned.
Can anyone be a mentor, or does it take a specific type of person?
I believe anyone can be a mentor. However, I feel this leans more towards a person who has significant experience – either through trauma or over time.
So, the mentor must have a greater level of experience and knowledge than the mentee and, therefore, an ability to pass that on. You can't teach well if you aren't experienced.
How does being mentored benefit business owners specifically?
Mentoring can help individuals increase their business knowledge and experience. It also exposes them to new ways of thinking, ultimately guiding them in dealing with challenges and building on opportunities.
It aims to bring the best out of people, which can improve confidence and develop leadership skills. The ideal goal for businesses is that mentoring will facilitate better business performance overall.
And personally, what do you get out of mentoring?
I believe a great mentor is a continuous learner. Mentors can learn things from their mentees too. As well as cultivating leadership and communication skills, mentors see challenges, people and businesses from a different perspective. And anything that builds on empathy is always a great benefit.
What's the best thing about being a mentor, and what's the biggest challenge?
I feel mentoring is on the rise and is highly recognised by leading companies as a go-to strategy towards retaining and engaging employees. The best thing for me personally is that I get to help others. I add value to people's lives – both personally and professionally – and I drive a purpose that's a force for good.
The biggest challenge I've faced so far is when the mentee doesn't take advice on board and continues to make the same mistakes. I don't know all the answers, but it's hard to watch a situation play out negatively when it could have been avoided.
What are your hopes for the Help to Grow: Management Course?
Through the Help to Grow: Management Course, I'm keen to support others and guide them towards positive outcomes in the best possible way.
I want participants to feel not only challenged but to grow through the programme. I do love volunteering, and I hope I can continue to support for a significant period of time.
Want to help a small business grow?
Being a mentor goes far beyond the rewarding feeling of 'giving back'. Mentors gain a range of personal development benefits from the experience.
Become a voluntary mentor for the Help to Grow: Management Course and commit 10 hours over 12 weeks to support businesses with their growth action plan. Sign up today
---
The national mentoring element of the Help to Grow: Management Course is being delivered by a partnership of Newable, Enterprise Nation and the Association of Business Mentors on behalf of the Department for Business & Trade.
Enterprise Nation has helped thousands of people start and grow their businesses. Led by founder, Emma Jones CBE, Enterprise Nation connects you to the resources and expertise to help you succeed.