BLOG
Help to Grow: Management – Meet the mentor, Justin Donne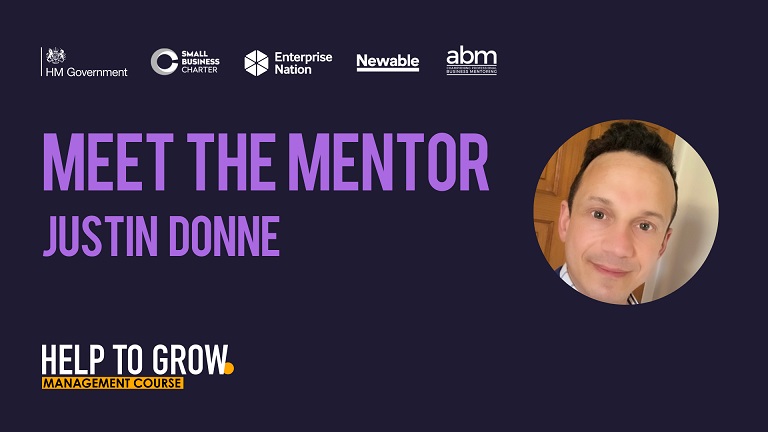 ---
Posted: Wed 12th Oct 2022
Enterprise Nation is one of the small business support providers tasked with delivering voluntary mentoring as part of the government's flagship Help to Grow: Management Course.
The programme is a 90% government funded, 12-week course with a combination of online sessions and face-to-face learning, delivered by business schools. It is open to businesses with five or more employees.
Here, we talk to Justin Donne, one of the voluntary mentors involved with the course. Justin talks about his background, explains some of the benefits that business mentoring can bring, and shares his hopes for the Help to Grow: Management Course.
Justin, can you give us a summary of your professional background?
I started in business at the age of nine, working with my grandfather at his import/export business. I then volunteered as a karate instructor at high school. Since then, I've worked across seven sectors, in three countries, using five languages.
I worked for Disney for many years, in several areas of operations. I also worked with The Prince's Trust here in the UK where I recruited, trained and managed hundreds of mentors, and supported thousands of young entrepreneurs and start-ups.
I'm a performer too, and have worked on a few TV shows, some commercials, and a film. But my biggest passion has always been business.
I hold an MSc in Communications from an Ivy League university, I'm a member of both the Institute of Directors and the Institute of Leadership & Management, and a Fellow of the Royal Society for the Arts.
I've held a number of non-executive directorships and trusteeships, I'm a mentor, and I'm about to launch a new business, The Kitty Boss.
What made you want to become a mentor on the Help to Grow: Management Course?
I mentor professionally, so this is my way of paying it forward. Throughout my career, I've seen the same business challenges being addressed over and over again, in multiple organisations, and not always successfully.
This led me to launch my own consultancy business, where I help talented entrepreneurs at all stages of business, to nail their strategies. I tell my clients: "If you're struggling, something must be broken; so let's figure out what that is, and then define, design, and deploy your breakthrough strategy."
What are the main attributes that you feel a good mentor will have?
A willingness to give something back is definitely important; someone who gets satisfaction from collaborating and helping others. If you don't have that, or you're in it for the wrong reasons, the energy will be wrong, and the mentorship won't be a positive experience for the mentee.
Mentors should have a design mindset, be solutions-focused and actions-oriented. Ideally, they'll have transdisciplinary skills, be able to manage the cognitive load of their mentee and demonstrate social intelligence.
Mentees appreciate someone who is altruistic. They also want to feel that you've walked a similar path or experienced the same challenges.
How do business owners benefit from mentoring?
Mentors can play a hugely significant role in the personal development of business leaders who are talented but lack experience. Their guidance at pivotal moments can really accelerate careers and businesses.
It's much more than that though. A mentor will offer an outside-in perspective; a fresh pair of eyes. They'll build a mentee's confidence, help them find and translate information, unpack and understand problems, and implement action plans.
How do mentors themselves benefit from mentorship? What do you get out of it personally?
The best thing about being a mentor is meeting interesting, creative entrepreneurs – and having the chance to transfer your life's work to them; your whole essence is leveraged to create a transformation in them.
It's just so satisfying to see a business flourish as a result of your guidance. I get pleasure out of seeing someone discover, design, and deliver their gifts to the world. That's what keeps a mentor sharp, motivated, inspired - and offers proof that their methods work.
What are your hopes for the Help to Grow: Management Course?
It's early days, but I know the programme will help thousands of businesses to scale up and grow. I've been a zealot for making a positive impact on communities from a young age, so I look forward to contributing to the success of some of those businesses!
Want to help a small business grow?
Being a mentor goes far beyond the rewarding feeling of 'giving back'. Mentors gain a range of personal development benefits from the experience.
Become a voluntary mentor for the Help to Grow: Management Course and commit 10 hours over 12 weeks to support businesses with their growth action plan. Sign up today
---
The national mentoring element of the Help to Grow: Management Course is being delivered by a partnership of Newable, Enterprise Nation and the Association of Business Mentors on behalf of the Department for Business & Trade.
Enterprise Nation has helped thousands of people start and grow their businesses. Led by founder, Emma Jones CBE, Enterprise Nation connects you to the resources and expertise to help you succeed.