BLOG
Help to Grow: Management – Meet the mentor, David Bailey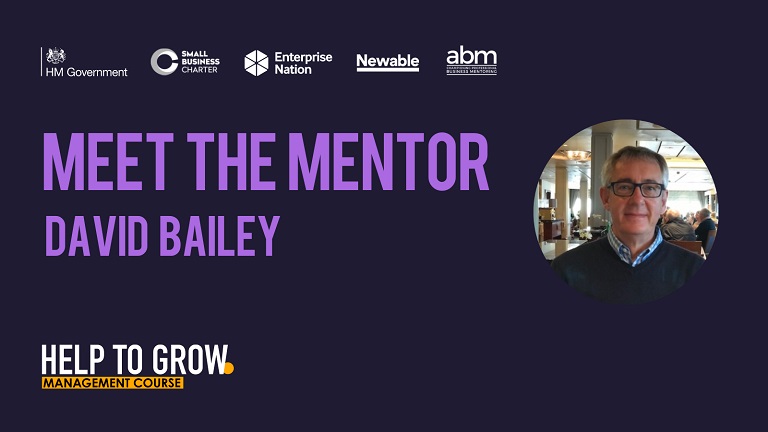 ---
Posted: Thu 17th Nov 2022
Enterprise Nation is one of the small business support providers tasked with delivering voluntary mentoring as part of the government's flagship Help to Grow: Management Course.
The programme is a 90% government funded, 12-week course with a combination of online sessions and face-to-face learning, delivered by business schools. It is open to businesses with five or more employees.
Here, we talk to David Bailey, one of the voluntary mentors involved with the scheme. David discusses his professional background and explains some of the many benefits that mentoring can bring to business owners (and mentors themselves).
David, tell us about your professional background.
I've worked in business for almost 40 years now, developing companies and groups of companies both at a local and international level.
My business experience started with inside sales, answering the phones and delivering customer service. After a few years, I'd experienced external sales, international marketing and manufacturing operations and was responsible for a medium sized engineering business with a global customer base. As my career developed with a large US corporation, I managed larger businesses and then groups of businesses with manufacturing sites around the world.
For over 20 years I was involved in the exciting and challenging world of business acquisitions and integrations, which became a core part of the international growth strategy for the businesses and groups I was responsible for.
I left the corporate world after 30 years and embarked on a new chapter as a non-executive director and chairman for a variety of different companies. That role involved supporting management teams to achieve their aspirations, as well as providing individual coaching and mentoring.
At this time, I also became a volunteer for the Prince's Trust, helping young people to start businesses, secure a job or develop their careers.
What made you want to become a mentor to business owners?
I thoroughly enjoy business and the challenge of beating the competition and improving performance for the benefit of everybody in the company.
During my career, I've had a lot of support from colleagues, mentors and coaches, and I've seen the difference it's made to me both personally and in the businesses' performance. It's also incredibly rewarding to see individuals develop and grow as a result of mentoring support.
Small businesses see significant development through mentoring: Become a mentor and provide 10 hours of one-to-one support. Find out more
What do you see as the main attributes and characteristics a good mentor should have?
A good mentor has empathy with the mentee, listens well and coaches the person by asking open and probing questions. It isn't about directing a mentee to take specific actions; it's about helping them realise the opportunities and solutions themselves.
Added to that, a good mentor is also a confidential sounding board for ideas and challenges. The mentee should be comfortable bringing topics to the table for discussion, knowing that they can review and explore them in a safe environment.
Do you think anyone can be a mentor or does it take a specific type of person?
Yes, I think anyone can be a mentor. But some people will find it easier than others depending on their personal experiences and previous exposure to mentoring. The ability to coach and encourage rather than tell and direct may take time to practise, but it's an ability that can certainly be developed.
Also, I believe we sometimes don't appreciate the life and business skills that we've developed over time and the positive impact we can have mentoring individuals, to help them improve both personally and in business.
How does mentoring benefit business owners specifically?
Mentoring provides a confidential sounding board for the business owner to develop new ideas, strategies and plans, as well as review current performance and challenges. A mentor can open the business owner's eyes to potential pitfalls and opportunities that don't appear on their radar.
Mentors also have a toolbox of management practices, analytical processes and anecdotal stories (gained as a result of failures and successes) that can be invaluable to both individuals and management teams as they navigate operational change, market growth and the competitive landscape.
And personally, what do you get out of mentoring?
The joy and satisfaction of seeing a tangible improvement in either an individual or a business, as a direct result of personal mentoring, is significant and incredibly rewarding.
As a mentor, you'll also be exposed to different businesses in a variety of market sectors and management cultures, which expands your horizon and experience.
What's the best thing about being a mentor, and what's the biggest challenge?
The best thing is the personal satisfaction of building a supportive relationship with your mentee and having a positive impact on their performance. The biggest challenge is in being able to open your mentee's eyes to potential challenges and opportunities through the use of open and probing questions.
What are your hopes for the Help to Grow: Management Course?
I hope the course is actively used by a large number of companies throughout the UK, with staff participants from many levels of the organisation taking part.
The overall result should be the upskilling of individuals, managers and leaders with a highly effective toolbox of management processes and practices. Ideally, those tools will enable the people to secure increasing levels of market share, while making their businesses more robust and operationally effective.
Want to help a small business grow?
Being a mentor goes far beyond the rewarding feeling of 'giving back'. Mentors gain a range of personal development benefits from the experience.
Become a voluntary mentor for the Help to Grow: Management Course and commit 10 hours over 12 weeks to support businesses with their growth action plan. Sign up today
---
The national mentoring element of the Help to Grow: Management Course is being delivered by a partnership of Newable, Enterprise Nation and the Association of Business Mentors on behalf of the Department for Business & Trade.
Enterprise Nation has helped thousands of people start and grow their businesses. Led by founder, Emma Jones CBE, Enterprise Nation connects you to the resources and expertise to help you succeed.