BLOG
Help to Grow: Management – Meet the mentor, Alina Chirvase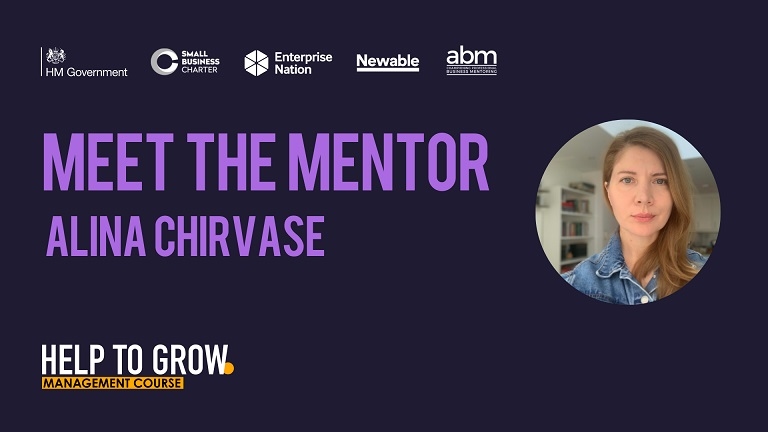 ---
Posted: Thu 9th Mar 2023
Enterprise Nation is one of the small business support providers tasked with delivering voluntary mentoring as part of the government's flagship Help to Grow: Management Course.
The programme is a 90% government funded, 12-week course with a combination of online sessions and face-to-face learning, delivered by business schools. It is open to businesses with five or more employees.
Here, we talk to Alina Chirvase, one of the volunteer mentors involved with the course. Alina, who is based in London, talks about the many advantages of business mentoring and how being a mentor has taught her so much.
Alina, please give us a summary of your career and professional background.
My professional red thread is communication. I love to understand new markets and industries and to generate ideas that people relate to, ideas that bring clarity and alignment to organisations, projects and in personal branding.
Information overload needs tiny clearings of insight, of breakthroughs that brand strategy finds and then utters in the relevant tone of voice.
I have a double specialisation in philology and marketing, as well as a master's degree in business communications. My first job was in television in Bucharest, Romania, as an editor, reporter and then a copywriter.
I learned the basics of corporate communication as a PR manager at Ogilvy PR, and then I led communications for a creative industries NGO. That was for about 10 years.
I co-founded two creative businesses, which gave me the confidence to start a branding studio eight years ago. I've worked with large clients, including Heineken, LG and Vodafone, and with many entrepreneurial indie brands. This is where I feel I can bring real value and make a difference.
Now I'm also learning to make a difference through business mentoring, solving similar business problems but from a different angle.
What made you want to mentor other business owners?
The need to be in touch with the real difficulties organisations face, the desire to share what I've learnt and a genuine interest in finding better ways of doing business.
My activist nature needs a way to express itself – and I do this through the sustainability lens. Incorporating a better, more conscious way to work, environmentally and socially, has become mandatory.
In my role as a consultant, I noticed how a clear and focused brand strategy, especially for small and medium enterprises (SMEs), is such an underused way for companies to align their offering and messaging and speak the same language for employees, customers and shareholders. It's so simple and yet so hard!
As a mentor, this challenge needs different tools and approaches, and I guide clients through questions rather than solutions. It's a similar process for people – start from the inside, clarify what works and what you stand for and then simplify that truth for outside audiences.
Small businesses see significant development through mentoring: Become a mentor and provide 10 hours of one-to-one support. Find out more
What makes a good mentor?
I've had business mentors myself – for short and long periods of time – so I have some great role models. From them, I learnt how valuable the profound human similarities that connect us are.
Empathy and being present with an extra pair of ears is key. Sometimes, proactivity and follow-ups help a lot. But each mentoring relationship is different because it's led by the mentee – it's all about following the mentee to bring forth their ideas and challenges.
I recently got my Level 3 certificate from the Association of Business Mentors. By working with them and being part of a peer-to-peer learning group, I realised I have so much more to learn.
Listening, being in the moment, not jumping to conclusions and making easy fixes, noticing patterns of behaviour that become blockages, recognising my own limits.
I'll continue my journey to learn about theoretical models of mentoring. I still feel I'm only dipping my toes into this vast area, so I'm eager to learn more.
Do you think anyone can be a mentor or does it take a specific type of person?
As long as you have something that can add value to an organisation and you're willing to share it within a mentor-mentee framework, you can become a business mentor. Being committed to self-development and being open to feedback and constant improvement is also part of the role.
How does being mentored benefit business owners specifically?
A fresh and informed perspective, having a sounding board, an idea-generating space, getting to specific outcomes with a sense of accomplishment that you're not there by chance, acknowledging the process it took and the work to get there. The accountability.
What do you get out of mentoring other people?
So much! Outstanding business leadership is about human growth and the desire to encourage the fulfilment of human potential. I learn from business leaders that what unites us is more important than what makes us different.
This is so valuable as I had to adapt to a different culture. I learn about my own limits and going beyond them.
It's also about going the extra mile to add value within a pro-bono framework, such as the Help to Grow: Management Course – and doing this to the best of my knowledge and abilities. I also learn to be stricter with setting objectives and meeting deadlines.
What's the best thing about being a mentor, and what's the biggest challenge?
The best thing is that you're part of the journey with some amazing people, companies and organisations. You learn along the way and grow by helping.
The biggest challenge is probably time. You need to accept that no matter how much you might want to help, you're limited to a specific timeframe. Not acting as a consultant who becomes a sort of full-time employee for a few weeks or months to solve problems, but as someone who asks the right questions, is a challenging shift.
It's for the mentee to answer and reveal those growth insights. At the same time, it can be the most rewarding part of the equation. For me, it's a perspective shift that generates new neural pathways.
What are your hopes for the Help to Grow: Management Course?
In the short run, that SMEs will strongly contribute towards preventing or shortening a potential recession. Creativity in running a small business is underrated. Human innovation has the potential to rebuild optimism but within the sustainability, not overconsumption, paradigm.
In the long run, that the businesses I'll work with (and learn from) will strengthen their brand, clarify their message, increase their profits and build meaningful and sustainable experiences that people will love.
Want to help a small business grow?
Being a mentor goes far beyond the rewarding feeling of 'giving back'. Mentors gain a range of personal development benefits from the experience.
Become a voluntary mentor for the Help to Grow: Management Course and commit 10 hours over 12 weeks to support businesses with their growth action plan. Sign up today
---
The national mentoring element of the Help to Grow: Management Course is being delivered by a partnership of Newable, Enterprise Nation and the Association of Business Mentors on behalf of the Department for Business & Trade.
Enterprise Nation has helped thousands of people start and grow their businesses. Led by founder, Emma Jones CBE, Enterprise Nation connects you to the resources and expertise to help you succeed.