MEMBER STORIES
Meet the entrepreneur behind Stitchsmith, the world's most customisable clutch bag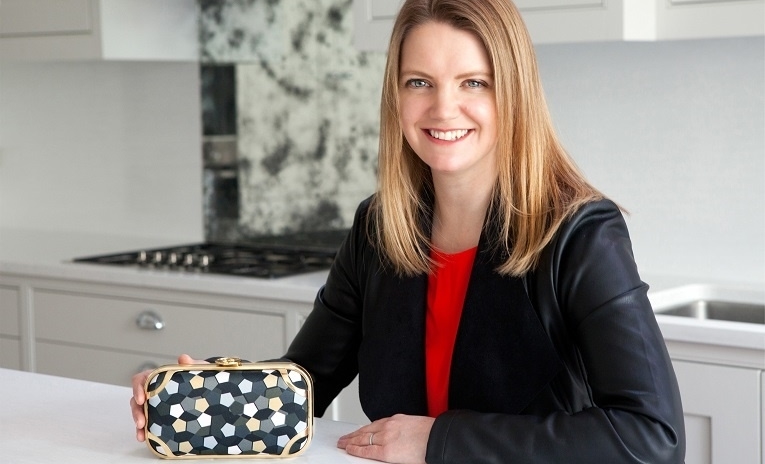 ---
Posted: Fri 3rd May 2019
Laura Camerer Cuss is the creator of Stitchsmith, the world's first truly customisable clutch bag that can be refashioned using any fabric, time and again. The Enterprise Nation member, who recently launched a crowdfunding campaign, shares her story.
How did you come up with the idea?
It was a lightbulb moment. I was on holiday at the time. I had packed numerous lovely outfits but had only space in my suitcase for one clutch bag to complement them all.
I remember thinking clutch bags were in essence little boxes covered in fabric and how wasteful it was that we bought new bags specifically to go with different outfits. Then I realised a bag that could be re-covered quickly and simply was the answer.
When I returned home I started researching other businesses and seeing whether a similar product was already available. It wasn't, so I set about making my own.
Getting the Stitchsmith clutch to the stage it is now (ready for manufacture) has taken a lot of collaboration. I've worked with a number of product designers as well as manufacturing and small business advisers.
How did you secure funding for your business?
Up to now I have self-funded. I worked as a management consultant for over a decade; I saved what I could each month, however small.
Being able to design the Stitchsmith clutch without having investors has been both good and bad.
On the one hand I've been able to take all the time I've needed to design the product so that it looks and works exactly how I envisaged and get it ready to manufacture.
On the other hand, if we'd had investment I would have been able to hire more people to help and we could have brought the Stitchsmith clutch to market sooner.
To date all of our prototypes have been produced either by hand or using 3D printing technology. For actual production however, we need to pay for manufacturing tools to produce the metal and strengthened plastic components of the Stitchsmith clutch. This tooling is expensive and the factories we are working with have minimum order quantities.
To raise the money for the first production run, I've decided to crowdfund through Kickstarter.
What start-up challenges have you faced?
Finding manufacturers to make the different metal, plastic and foam components of the Stitchsmith clutch has been a real challenge.
Initially I wanted to have everything made in the UK, but the lack of specialist manufacturing facilities and high costs have meant that, for now, we will manufacture the majority of our components overseas. Working with a supply chain solutions company was one of the best decisions we've made.
What has been your biggest business achievement?
Being granted a patent!
Developing an idea all the way from inception into a totally unique, fully designed product takes a lot of work, often years. The patent is a validation of all the effort that has gone into this. It's also a great marketing message and will give us some protection from copycats in the future.
What is your next big business goal?
Getting our product in to the hands of paying customers.
To date I've been working away on the product but now that the design is locked down we can manufacture and get the Stitchsmith clutch out into the world.
The first thing to do is to secure funding for our first production run. Our Kickstarter campaign runs until 29 May 2019. We only have 30 days to raise a minimum of £60,000.
If we raise our target we'll be able to pay for the tooling and go in to production. Our plan is to deliver to customers in December 2019.
What do you think will be your biggest challenge?
Getting the word out.
We've had some amazing feedback on the bag: what a great idea it is and how amazing it looks, but getting customers to pay in advance for something they haven't been able to try out is a challenge.
How has Enterprise Nation helped your business?
When I first set up the business I relied heavily on Enterprise Nation for information, advice and contacts. I learnt about everything from company structures, accounting commitments and how to use social media as a business tool.
Enterprise Nation also gave me the confidence to believe it was possible to build a business as a side hustle, which is how Stitchsmith started.
I continue to look to Enterprise Nation for expert advice and a community of like-minded individuals.
Which other entrepreneur inspires you and why?
In 2017 I met Aron Gelbard, co-founder of Bloom & Wild, at an Enterprise Nation event.
He talked about the early years of starting out and the challenges. Since then his business has gone on to become the second-fastest growing company in the UK. It's useful to remember every business has to start somewhere.
What are your three tips for business success?
Upskill where you can, outsource where you can't.
Find your tribe. Building a business is a long and sometimes lonely journey.
Calculate the risks then back yourself and get on with it.
Anything else you would like to share?
Last year we launched the inaugural Stitchsmith Prize for Design, a competition to find beautiful textile designs with which to launch our bags. We received almost 200 entries from talented designers at UK universities and chose three winners.
It was exciting seeing so many different designs on our bags and was a real insight into how people may choose to style them. We're really looking forward to running the competition again this autumn and seeing what everyone comes up with.
We're proud to have entrepreneurs like Laura as members of Enterprise Nation. Join Enterprise Nation today and become part of an amazing community of small businesses.
Inventor of the Stitchsmith clutch, a versatile totally customisable and constantly renewable item of high fashion. Sourcing from sustainable materials, Laura has designed and patented an ethical luxury product which owners can make unique.