BLOG
Meet the brands that showcased in week one of the Hello, World shop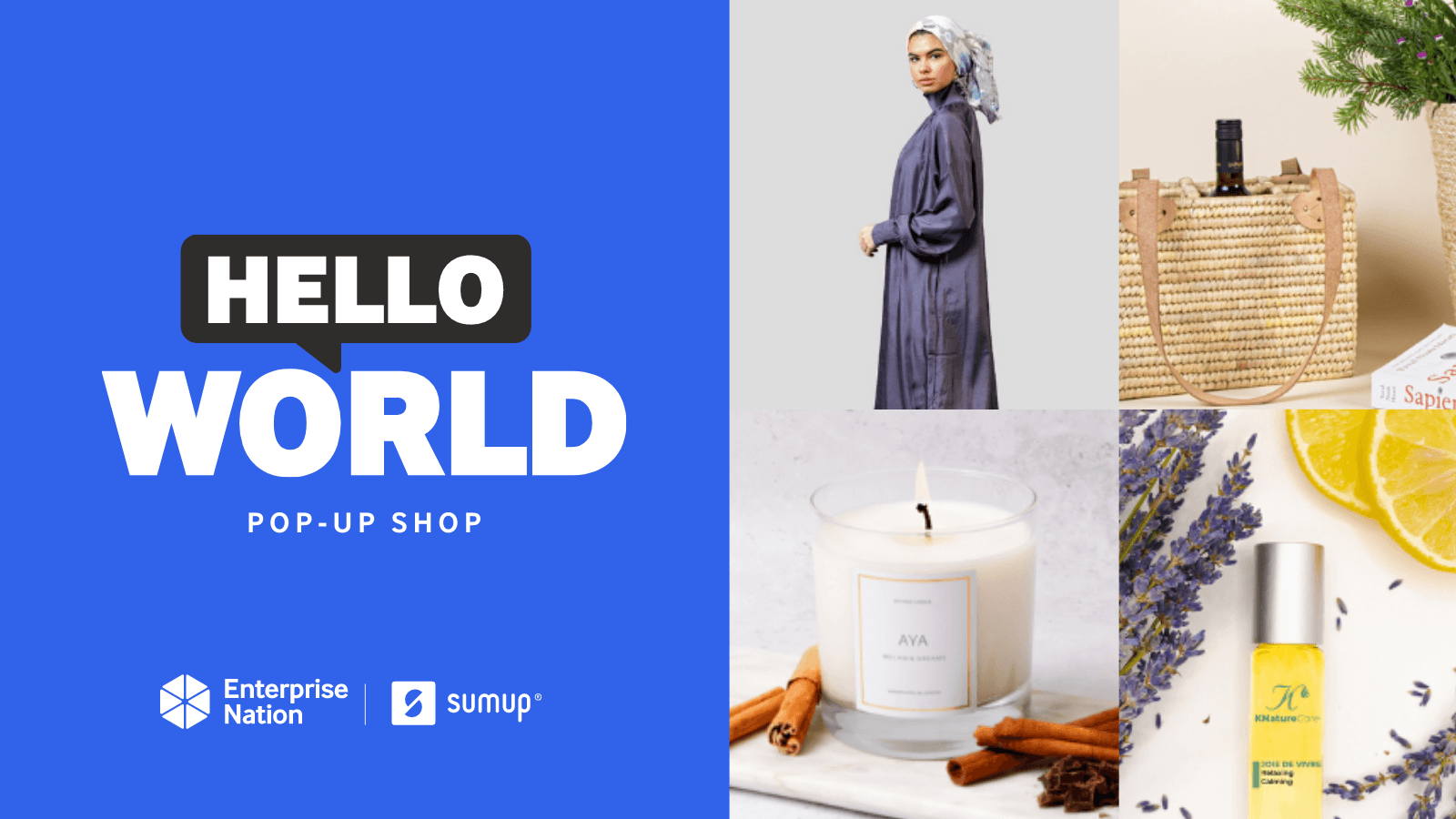 ---
Posted: Wed 21st Apr 2021
As part of our Hello, World campaign, in partnership with SumUp, we are delighted to announce the opening of a pop-up shop at 58 Oxford Street to enable small businesses to say 'Hello' to the world by meeting customers in person and testing physical retail. Meet the brands that showcased in the pop-up in week one:
Monday 3 - Thursday 6 May:
Planet Nature
Planet Nature is an online lifestyle retailer offering solely Fairtrade products made from locally sourced natural materials. The brand offers a range of plastic free shopping bags, market bags, baskets for home and yoga bags encouraging behavioural change in everyday life. Planet Nature's aim is to promote responsible consumerism and new materials that help to reduce water and plastic pollution and fight climate change. Planet Nature will be in the shop from Monday - Thursday.
Modest Trends
The aim of Modest Trends is to meet the diversifying needs of British Muslims featuring fashion and accessories sourced ethically and sustainability. With a strong focus on modest fashion, hijabs and Abayas that are inclusive of the diverse Muslims in the UK and around the globe, Modest Trends has become known as the brand that is disrupting modest fashion! Modest Trends will be in the shop from Monday - Thursday.
Monday 3 May
Aya Aromas Ltd
Aya Aromas is an online home fragrance boutique specialising in luxury vegan candles, reed diffusers and wax melts. With unique fragrances designed by two sisters with a passion for uplifting scents, they use their products to promote self-care.
Tuesday 4 May
Fidan London
Fidan London is a silver jewellery brand bringing designs from the middle east to London. For every purchase made, they plant a tree!
Wednesday 5 May
Calla Shoes
Calla is a brand of fashionable footwear specially designed for women who struggle finding shoes because they suffer from bunions or other foot conditions. The difference with Calla is that the shoes don't look like the typical orthopaedic shoes usually made for women with bunions, instead they are fashionable, on-trend and designed so women will be proud to wear them. Since the launch of their website in 2016, the brand has sold to grateful women in over 50 countries over the world and have a celebrity following including Tamzin Outhwaite and Lorraine Kelly.
Thursday 6 May
KNATURE CARE
KNATURE CARE is a range of Argan oil with aromatherapy synergies for beauty and wellbeing from the foothills of Morocco. The brand offers a range of products including scalp oil, facial oils and an uplifting roller. KNATURE CARE is vegan cruelty and gluten free, sustainably sourced and ethically produced.
Visit the Hello, World shop to meet the people behind the brands every Monday - Thursday across the month of May at Sook, 58 Oxford Street. You can view the brands that will be popping up in the other weeks of May here.
Marketing and campaigns manager at Enterprise Nation. Love finding independent places to eat and drink!