MEMBER STORIES
Meet a Member: Clare Sykes, Popcorn Kitchen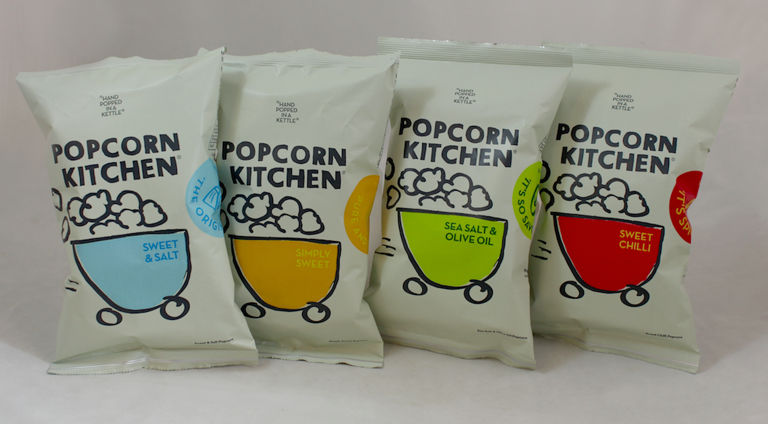 ---
Posted: Fri 20th Feb 2015
Clare Sykes is founder of Popcorn Kitchen; a company selling kettle-popped popcorn in Selfridges and independent retailers across the UK. The company has big plans for expansion in 2015 and Enterprise Nation is backing them all the way!
When did you start the business and how did you come up with the idea?
In 2012, we came across 'kettle popcorn' which is huge in the USA. We tried it, thought it was the best popcorn we'd ever tasted so decided to import a kettle from the US and start making it ourselves.
What were you doing before starting the business?
I already had my own business running a toasted sandwich and fresh ground coffee mobile catering business so I was already going to festivals with that. Initially we only intended to take the popcorn stall to events I was already attending - we never had any intention of trying to get into retailers - but the feedback was so encouraging that we started packaging up the popcorn for retail. We still take the kettle out to events because that's the fun part-when you see people enjoying your product there's nothing better!
Do you make the popcorn in your kitchen?
Not any more! We started making it in our garage but then got a small unit in Old Woking. We test new recipes in our kitchen and have a small hob-top popper we use for initial trials before we try them in the big kettle.
How are you going about make sales and promoting the brand?
We still go to lots of consumer events - mainly during the summer but we also have a regular pitch at Walton Farmers' Market. We know that when people try the popcorn they want to buy it so that's our core focus - just getting as many people as possible to try it. We also attend several trade shows each year to try and get stockists and have run small promotions and ads with a couple of trade magazines. Our website brings in enquiries and I spend a lot of my time talking to potential stockists and calling existing stockists to remind them to reorder!
Do you run the business solo or with others? If so, who does what?
It is mostly me but my husband, PJ, does a lot of the 'popping' at events and he looks after IT and logistics. We have done quite a lot of outsourcing to free up my time and we are about to take on our first employee to help me out in the office which is very exciting!
What are your business plans over the next 12 months?
Our focus for this year is increasing our retail distribution so it is easier for people to buy the popcorn. At the moment we are in about 150 independent retailers, mostly in the South East and London as well as 11 local Co-ops and Selfridges' Food Hall but we want to work with a national retailer now so even more people can get their hands on our delicious popcorn.
How has being a member of Enterprise Nation helped your business?
I came to the Food Exchange and found the quality of the speakers to be extremely high and the topics they covered very useful. It was also great to network with so many other small food business owners-a couple of whom I am still in regular contact with.
The newsletter always has interesting and insightful articles and I often click through to read the expert tips. I love being part of an organisation that is so committed to helping small businesses grow and succeed.
Meet Clare and other members by joining Enterprise Nation today!
Enterprise Nation has helped thousands of people start and grow their businesses. Led by founder, Emma Jones CBE, Enterprise Nation connects you to the resources and expertise to help you succeed.