MEMBER STORIES
Chloe Guo: 'Make a Plan guided me through the mental journey needed to assess your business.'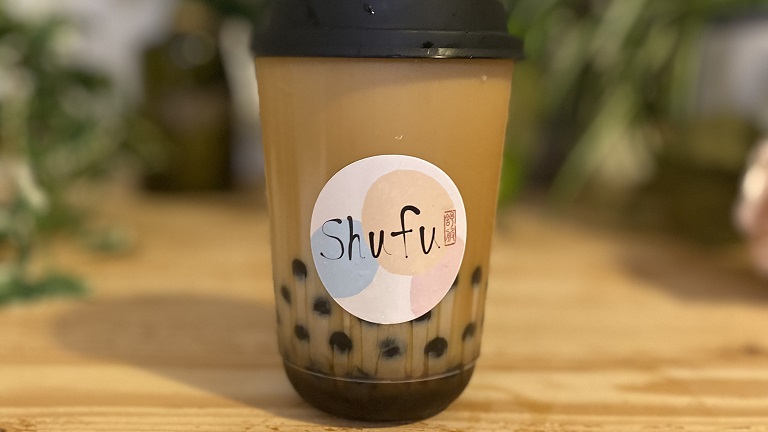 ---
Posted: Tue 7th Mar 2023
Enterprise Nation partnered with Mastercard and Strive to deliver an online 'One Stop Shop' for entrepreneurs.
An initiative of the Mastercard Center for Inclusive Growth, Strive will give 650,000 British micro and small enterprises the support they need to thrive in the digital economy over the next three years and beyond.
We're catching up with some of the business owners who have been using the initiative's Make a Plan discovery tool to find out about how it's benefited them so far.
We're catching up with some of the business owners who have been taking part in the initiative to find out about how it's benefited them so far. Here, we talk to Chloe Guo, whose Oxford-based business Shufu Bubble Tea sells Chinese bubble tea and caters for events, festivals and markets.
When and how did you make the move into owning a business?
I was thinking about starting my own business around 2020 after having a few years of experience in the corporate world. As it did for many people, the pandemic made me think about what I wanted to do for work, and how I wanted work to fit in with my life.
I knew I enjoyed the creative side of work but I also found the business operation side interesting. Combining my love for flavour with my own Chinese culture, I started a bubble tea delivery service from home in May 2021.
The business is still in its early stages, and I've been working full-time alongside it to support myself financially, but I can say it's the most rewarding thing I've done throughout my career.
What support, if any, did you seek when setting up your new business?
I mainly looked through the internet for any guidance websites or documents. It's hard in the beginning, as all you can do is start with the wider search of 'how to start my own business'. The information that comes back can be overwhelming and, sometimes, not that relevant to your business field.
I financed the initial investment myself through personal funds and, since then, have used the money generated from the business to fund further investments. My friends and family were a big part in giving me guidance and feedback too – I often ask for their thoughts as a way to generate new ideas.
In the early weeks and months, what went well? What didn't? How did you overcome any problems?
The legal and financial part was probably the easiest for me. Once I'd decided on what the company needed, all I had to do was register and pay the fees and it's all a standard process.
The hard part comes when you've built up everything ready for launch, get all excited about launching, feel the adrenaline rush of "This is it!" for the first few weeks, and then it doesn't generate the sales you were hoping for.
I had to reassess a lot of aspects of the business and I still continue to do so. But every time I do, it requires resilience and admitting to mistakes. Also, it takes a lot of mental energy to move things back to square one and look at the disparity between the outcomes you hoped to achieve and the outcomes you did achieve.
I would say resilience is like exercise for the brain – it builds up over time, sometimes without you even noticing.
You used the Make a Plan tool. What specifically has it helped with?
Make a Plan helped me consolidate what the business was good at and, more importantly, not so good at. It was a great way to see what areas a successful business needs and then measure my business against it.
It offered advice based on the areas in which I needed support, which helped me avoid getting lost in the sea of information. It guided me through the mental journey that's required for assessing your business and then almost outlined an improvement plan for me – it's a great tool.
What do you see as the next steps for your business?
I wouldn't say I'm established yet – I'm still very much in my early stages and exploring possibilities to take the business model to a larger scale.
I think in the food and beverage industry, the best way to expand is either franchising or productising so I'm looking into exploring opportunities in these areas.
What are your more longer-term plans?
It would be great if I can do the business on a full-time basis. I hope that as the business expands, I can hire staff and look into moving into different areas throughout south-east England.
What are the most important lessons you've learned from going into business for yourself?
Don't stay still – if you see an area you're not happy with, write down the outcome you want to see and the actions that would help make it happen.
Have the business on your mind, but don't let it burden your mind. If something in the business is stressing you out, deal with it and then relax rather than trying to forget about it.
Watch your cash flow! Do you really need that new piece of equipment or can you use something else, borrow it, or buy it second-hand? Estimate how much more revenue a spend is going to generate and weigh up if it's worth it, particularly if you're struggling for cash.
About Strive Make a Plan
Create an account, answer some quick questions about your business, get personalised feedback, then build an action plan that will help accelerate your business's growth. Take the Make a Plan tool today
Enterprise Nation has helped thousands of people start and grow their businesses. Led by founder, Emma Jones CBE, Enterprise Nation connects you to the resources and expertise to help you succeed.