MEMBER STORIES
Two school friends in business for two decades: The story of Brennan & Burch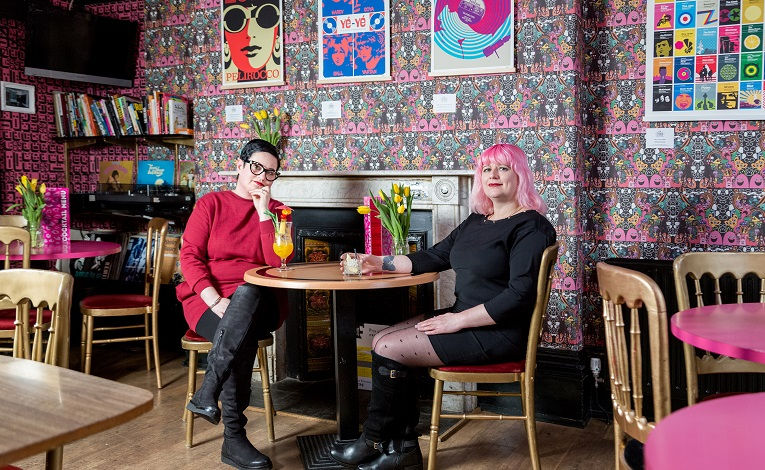 ---
Posted: Wed 2nd Dec 2020
It's not just young start-ups that are focused on innovation; lots of more established companies do it too. One such business is Brennan & Burch, a 20-year-old interiors brand which uses colourful illustrations and hand-drawn characters to decorate wallpaper, rugs and art prints.
The business was created by school friends Lisa Brennan and Majida Burch who have continually looked for new opportunities and ways to learn new skills during their two decades in business. Their latest activity was taking part in a Bootcamp for homewares companies through the free Amazon Small Business Accelerator.
After a week of training, Brennan & Burch will soon be selling products on Amazon's online store.
Majida shares the business' inspiring story.
The free Amazon Small Business Accelerator e-learning programme is advice from more than 30 business experts in 218 bitesize videos.  
 
If you're already an Enterprise Nation member, log-in to your learning dashboard to access the e-learning. If you're not an Enterprise Nation member, you can join the Amazon Small Business Accelerator for free here.
How did you come up with the idea for your business?
It feels a lifetime ago but the main driver was two school friends wanting to do something creative. We both loved style and fashion and wanted to make clothes. We fell into fashion through working on market stalls then screen printing our own t-shirts, making the t-shirts, selling the t-shirts so over the years we've been involved in most stages of the manufacturing and selling process. All our streetwear was decorated with Lisa's illustrations. Fashion was extremely fast moving and cyclical, needing massive investment of time and money for sampling every six months, trade fairs, collection photography and look books.
We noticed that a lot of forward-thinking fashion brands were creating capsule collections for the home and we started to follow their lead. We quickly pivoted into putting Lisa's art onto homewares including super wide-width illustrated wallpapers, quirky art prints and colourful posters. People like their homes to look original. A Brennan & Burch piece will always make you smile and bring in bold print and design to your space.
How have the challenges you've faced changed as your business has grown?
Cash is king and cash flow is a challenge for most micro enterprises like us. We have always been self-funded, which means our business growth has been slower and more organic than some of our contemporaries. As our business grows, we have made changes such as being a limited company, being VAT registered, finding a good accountant, making sure all returns are filed on time with HMRC and Companies House, taking out trade specific insurances etc.
There are only two of us and therefore we have to be extremely careful how we spend our time. Burnout is a real danger, particularly for female entrepreneurs like us who are balancing work life with bringing up both our families. I'm lucky enough that my kids are becoming older and more independent, but Lisa still has little ones. We can't work all hours any more or travel overseas for weeks at a drop of a hat for trade shows. What we can do is work smarter not harder, and there are a number of time-saving software solutions that we love:
You've been in business for 20 years. What are the key factors behind why your business has been around for that long?
Adaptability. We moved sideways from fashion to interiors as we felt that was the right market for Lisa's artwork. We had a high street presence and a manufacturing workshop but moved into online, working from home and outsourcing the production (whilst maintaining the quality). We are always innovating and willing to change whatever we need to in order to succeed. We are a small and agile company and we are very reactive to customer needs.
A lot of our work is business to business so we network like our life depends on it. We prefer to network locally where possible. There is a new Enterprise Nation group set up in Essex run by Emma Goode of 24fingers, and we've been attending that regularly. 
 
For us networking is about quality rather than quantity, so we try to be focused about who we are meeting. Locally there were no creative groups so we are co-creating our own - YAY mates is a group for artists and art lovers from East London and Essex.
What is your marketing strategy for engaging with customers and making sales?
We have a regular presence on the social media channels that work for us, and Lisa shares behind the scenes images of her art regularly on Instagram.
As a B2B company LinkedIn is a key part of our marketing mix, and we find that connecting with people we meet in real life at conferences, talks and through business referrals is extremely beneficial. We get to see what they are up to via their feed and keep in contact so we are front of mind for future projects. Selling wallpaper is a long game, as it's not generally an instant purchase, so we need to connect with the decision makers ideally before the design process starts.
We would usually do a mix of online and offline sales, by having pop-up events or taking part in trade shows or retail fairs - however at present that part of our marketing strategy is slower until 2021. We are currently selling direct via our website.
Why did you decide to apply for the Amazon Bootcamp?
We have been thinking about listing our products on Amazon but didn't know where to start. We felt that the Bootcamp would be a quick and easily digestible way to understand the intricacies of selling on Amazon, and to get tips and tricks for making the most of a seller account. We weren't disappointed - the Bootcamp delivered all that and more.
We were also keen to access training relevant to homewares businesses and to network with businesses in creative industries and facing similar challenges bringing product to market. There were lots of opportunities in this area during the week too.
What were the key benefits of the Bootcamp for your business?
The Amazon insiders were fantastic at de-mystifying the whole listing and selling process and explaining different delivery methods and how to be visible on Amazon even as a smaller company just dipping their toe into the water. The promotional methods are easy once you understand what is possible and we had always wondered how to stand out on such a competitive platform so this information was invaluable.
We loved the seller stories and the information about how they market and sell on Amazon and elsewhere to make the most out of peak selling periods.
There were great tips on making our website design more concise and a checklist to look at specific areas, which we have downloaded for review.
What actions have you taken as a result of the Bootcamp?
We are planning to set up an Amazon account and sell our more accessible and easy to deliver items like posters and art prints.
We will take up the Enterprise Nation and GS1 barcode offer for our most popular products to list them on Amazon and have a longer term goal of barcoding all products.
We'd like to expand our online presence, both on our own website and through partner channels such as Amazon and other online retailers. We are rethinking our marketing strategy and how we can make this happen.
What are the plans for the future of your business?
We are about to put up an art exhibition in Daniel's View Gallery at the Mercury Mall Romford showcasing some of the work of local artists from our forthcoming art book. The book is due out in Spring 2021 and we are currently crowdfunding the printing, book launch and exhibitions. Closing date for pledges is 14 December 2020 so we'd appreciate a pledge of just £2 to show support. If you can afford more, pledges of £25+ receive a copy of the book.
We would like to be visible on trade sites for product sourcing, particularly those frequented by our target audience of architects and interior designers. We'd like our wallpaper designs to be in sample libraries internationally, and are interested in hearing from anyone reading this who can make this possible!
We want to do more artist collaborations with well-known brands, where we help create outstanding limited-edition products by supplying our weird and wonderful prints to be used to decorate iconic items. We prefer to work with high-end brands as this fits our price point and company positioning.
What are your tips for business success?
Find a business partner you can trust. We've been friends since 1986 so we can trust each other with our lives, but many business partnerships fall by the wayside as the partners values are not aligned or they are not fully committed.
You're never too old to learn new tricks. The Enterprise Nation Lunch and Learn sessions are great for bitesize content, and the Amazon Small Business Accelerator turbo videos are great as they were aimed at established and growing businesses like Brennan & Burch.
Work with trusted business organisations. Be careful not to get caught up in people's sales pitches when they promise you the earth, instead get advice from reputable sources who are not trying to make a buck off you. As well as Enterprise Nation, some amazing organisations who have helped us over the years include:
Join your local chamber of commerce and get the benefit of referrals and local contacts, opportunities and knowledge. You make some great business connections who also become good friends and ambassadors keeping an eye out for you in the local community. Here in Romford we sit on the borders of London and Essex so joined our local chamber in Havering plus Brentwood too (as it is just across the M25 from us):
The free Amazon Small Business Accelerator e-learning programme is advice from more than 30 business experts in 218 bitesize videos.  
 
If you're already an Enterprise Nation member, log-in to your learning dashboard to access the e-learning. If you're not an Enterprise Nation member, you can join the Amazon Small Business Accelerator for free here.
Please note that links in this article to third party websites do not denote an association with or endorsement by Amazon.
Brennan & Burch is a British interiors brand where Lisa Brennan's fantastical, colourful illustrations and hand-drawn characters decorate wallpapers, furniture, rugs and prints.