BLOG
Made in the UK? The pros and cons of outsourcing clothing manufacture overseas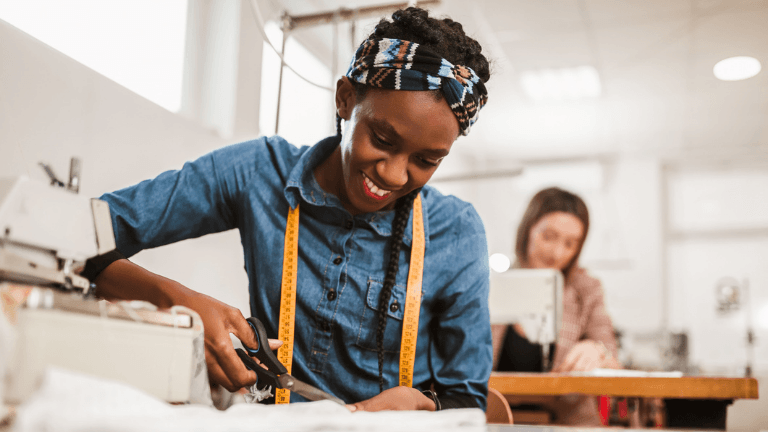 ---
Posted: Tue 5th Oct 2021
Alison Lewy MBE, director of Fashion Angel, discusses whether to use a UK supplier or one based overseas.
It is usually practical and cost-effective to produce goods overseas if you are ordering large quantities. If you are manufacturing offshore, it is helpful if you can produce your first samples in the UK to ensure you get the pattern and the fit right; this will minimise the chances of mistakes when the full run is then made offshore.
Consider getting manufacturing quotes for both UK and overseas production so that you can offer competitive prices to a buyer wanting to place a large order.
The benefits of producing overseas
Costs: offshore production is generally more cost-effective, especially when producing large volumes. Production costs will vary from country to country.

Machinery and technology: unfortunately there has been a lack of investment in manufacturing for many years in the UK, and offshore factories are more likely to have the most up-to-date machinery and CAD/CAM systems. This is particularly applicable to accessory and shoe production.

Large pool of skilled labour: some countries still have a pool of skilled labour of specialists workers, particularly in craft areas and embellishment. If the process is time-consuming, with cheaper labour you are able to be far more adventurous.
The disadvantages of producing overseas
Costs: economies of scale dictate that small volumes would not achieve favourable costs, and some factories have high production minimums. This is changing, however, and more and more overseas units are gearing up for smaller volumes. Also, you will most likely be subject to currency fluctuations which can affect your profit margin.

Quality control: it will be harder for you to control your production. You will have to factor into the production cost your travel expenses to visit the factory. You can sometimes work through an agent; however, they will charge you a fee and it is not always easy to find an agent you can trust to adhere to your high standards

Communication: does your factory have English-speaking staff, or can you speak the local language? How easy will it to communicate what you want? You also have to take into account the time differences and whether they have good broadband connections.

Logistics: if you are having samples made overseas you will have to allow for the courier costs of sending raw materials/toiles/samples back and forth. Some of this would be avoided if the factory are sourcing materials locally for you. When working out your production schedule you must allow shipping time (could be several weeks) and also be prepared for production getting delayed or goods stuck in customs. Transport, delivery and insurance costs will also need to be factored in.

Cash flow: until you build a relationship with a factory, they may well want 30 per cent payment upfront and the final payment when goods are collected.
The benefits of UK production
' Made in UK' can add value to your brand.

Costs: your production costs may be higher, but you will have more control over them and they won't fluctuate.

Smaller quantities: UK factories are more willing to produce small quantities.

Control: you will be on hand to check the quality and deal quickly with any problems that may arise.

Communication: you still have to be organised with your production processes, but communication will be much easier.

Scheduling: you will be able to produce orders more quickly as you won't have to allow extra shipping time.

Delivery costs: these can be kept to a minimum and you don't have to worry that your goods will get stuck in Customs.
Disadvantages of UK production
Cost: labour costs are far more expensive in the UK, and therefore the price of production will be higher.

Skilled labour: the situation is improving, but manufacturing has been in decline and therefore it can be hard to find good sample and production machinists and cutters. Craft workers for processes such as embroidery, applique, etc, are also in short supply so costs may be increased and turnaround times may be longer.

Machinery: there is a lack of machinery investment, so it may be hard to get your product made.

Digitisation: manufacturing processes have been vastly improved with CAD/CAM systems. However, the cost of these systems has been prohibitive for many UK factories.
Consider getting manufacturing quotes for both UK and overseas production so that you can offer competitive prices to a buyer wanting to place a large order.
Enterprise Nation has helped thousands of people start and grow their businesses. Led by founder, Emma Jones CBE, Enterprise Nation connects you to the resources and expertise to help you succeed.