MEMBER STORIES
Losing it all and building again – Yevheniia Lukash on fleeing the war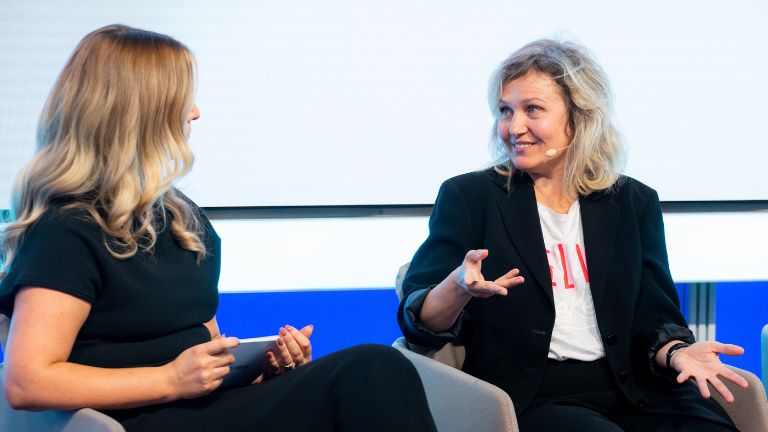 ---
Posted: Mon 31st Oct 2022
At the recent Enterprise Nation Festival of Female Entrepreneurs event at Meta offices in Dublin in partnership with AIB, Sage & GS1 Ireland, the audience was treated to an inspiring and emotional interview with Ukrainian businesswoman Yevheniia Lukash.
Yevheniia shared her story from being a successful businesswoman in Ukraine, to fleeing the war and starting over with a new business in the UK, where she currently lives.
Her story is a powerful one and we wanted to share it with our Enterprise Nation members.
Born of frustration
In 2012 Yevheniia was feeling frustrated with life. Often businesses are born out of adversity, none more so than Evgakids, a clothing brand for kids.
"I had three children under six and I realised I was fed up with being poor – we could only afford meals for the children, we couldn't afford to use the car every day because petrol was expensive for us and I decided to make a change," says Yevheniia. "I decided to have more freedom, to eat what I want and to be where I wanted to be. I started my own business from home with only £200."
Yevheniia designed kids t-shirts and sold them at local markets and on social media.
"I worked 16 hours per day, I almost did not sleep," she explains. "I realised that social media was a better route to market – after one year I had a team of three, my husband, my brother in-law and me."
From £200 to 200 people
She grew the Evgakids team over the next few years and after six years she had grown the workforce to more than 200 people.
"We never raised any capital, it all grew from that £200," explains Yevheniia. "It was a direct to consumer clothing business, we were selling on social media and we released six collections a year. We designed, developed, promoted, sold and processed our orders all by ourselves, in-house.
"Social media is the reason why we grew so fast – there was three key things to our success. First of all we were very transparent. We were very open about who we were and showed (our audience) the truth about ourselves – we never pretended to be Zara, or Loreal – it was important," she says.
Being transparent
Yevheniia showed the behind the scenes journey of her products and all the 'challenges' and 'fails' that came with it.
"Secondly we were very direct, we told them what we wanted from them. We told them that we wanted them to buy our products and they did. And the third thing was, we did target advertising and worked on good content," she explains.
By sharing and creating relevant content with her customer base, she was able to grow her sales.
The revolution
Now, this tale might sound somewhat amazing to most small business owners, but even more outstanding is that this business was grown throughout the political unrest in Ukraine. The recent war is not the first struggle Ukrainian businesses have had to face.
In 2014 the revolution broke out to oust a corrupt president.
"I remember the feeling of wondering if our money was safe in the bank, whether we would be able to pay our team from our bank account, whether we should take new orders, would we get paid for them – when would life be normal and would our customers come back?" she says.
"It was the first time we had experienced an existential crisis – could the business survive? In that moment I understood that we needed to be very flexible, we switched to survival mode, we stopped all expenses and focused only on selling."
Within a month the situation improved and the business survived.
Unfortunately, the next existential crisis was too big for the business to overcome – Russia brought war into Ukraine.
And then they came
By February 2022 Yevheniia had five children and a very successful business. Overnight everything changed.
"The battle began on the bridge near us on the first day of war, after lunch. On the Saturday Kherson was surrounded, on the Tuesday it was fully occupied.
"We had planned our Spring collection to open on 28 February, it was on the production table and has never been produced," says Yevheniia. "We stopped our business from the first day of war."
"Russians occupied my city, my country and even my office," she adds.
Members of the Russian army could be seen on CCTV roaming around the offices.
"It was hard because they stole the value of our 12 years of hard work. In one day we had normal lives and a successful business and then we hid in basements without electricity, lack of food and our houses shaking from missile attacks," she says.
Leaving it all behind
It took two attempts and 44 days of war for Yevheniia and her family to get out of Ukraine.
"I fled with four of our five children because my oldest son is not allowed to leave Ukraine. He is 20, he's a student but the government can call him to war anytime," she says.
Initially they arrived in Belgium but found somewhere to live in the U.K. Yevheniia had to leave her business behind but she had brought with her that steely determination.
"I realised that I lost my home, I lost my business but I'm alive. I still had me, my knowledge, my experience, my passion and my outlook on life and I wanted to share it," she says.
"I saw how amazing the environment is here. Do people see how lucky they are and how great it is to do business here? – there's so many opportunities here and of course I wanted to use it and take advantage of it," she says.
Starting over
Yevheniia started a new business online. It is a 10-step programme for women from Ukraine to help them build their business through Instagram.
"I could see a lot of businesses were struggling with Instagram, they forget why they are there – they do posts just to put up a post, and do stories just for putting up stories but they don't get results from this," she explains.
"I know how to be successful (in business) on Instagram, so my course helps start-ups to develop and implement strategies of how to perform on Instagram," she says.
Yevheniia has, just in the last three months, had 65 students complete her course, all from various different businesses.
You can find all the information you need on Yevheniia by following her Instagram page.
Words to live by
Yevheniia leaves us with these wonderful nuggets of advice.
Don't dwell on the losses, see what lies ahead and use it

Be flexible and nimble

Live life in the moment

See what you have now and appreciate it
Read other inspirational member stories on Enterprise Nation
Enterprise Nation has helped thousands of people start and grow their businesses. Led by founder, Emma Jones CBE, Enterprise Nation connects you to the resources and expertise to help you succeed.