BUSINESS NEWS
What the government's 'levelling up' white paper means for small businesses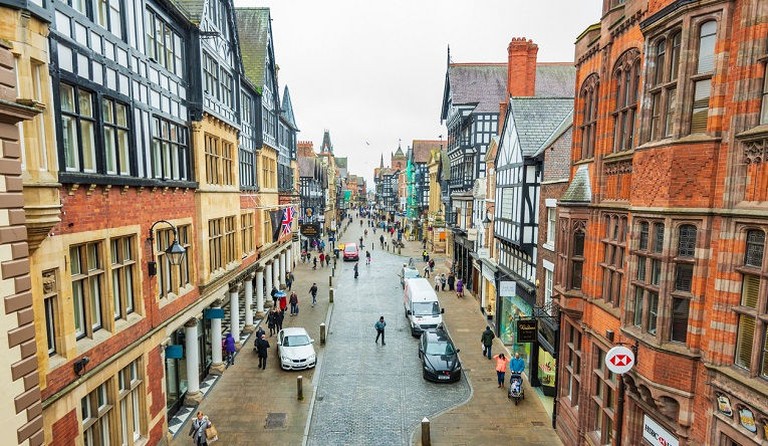 ---
Posted: Wed 2nd Feb 2022
The government's long awaited 'levelling up' white paper has finally been published. Aimed at closing the gap between rich and poor parts of the country, the document outlines the measures the government will take until 2030 to improve local services, support businesses and balance the economy.
At 332 pages, it's a huge document and you can read it in full here. If that isn't for you, we've highlighted measures of specific interest to small businesses owners.
If you'd like to share your thoughts on the white paper, connect with Dan and send a message.
The government says the levelling up white paper represents "a devolution revolution" and the largest transfer of "power from Whitehall to local leaders across England in modern times".
A key measure in the strategy is the introduction of more locally elected mayors. The first areas invited to begin negotiations are Cornwall, Derbyshire & Derby, Devon, Plymouth and Torbay, Durham, Hull & East Yorkshire, Leicestershire, Norfolk, Nottinghamshire & Nottingham, and Suffolk.
Putting more power in the hands of local officials, the government says, will boost businesses, improve productivity, support workers and close the inequalites within the economy.
The Labour Party and others criticised the white paper for including no new funding announcements, but Michael Gove told the BBC it is about ensuring money is spent effectively on local priorities rather than new schemes.
So how do small businesses feature in the levelling up agenda? There's a massive amount of detail in the document but here are some relevant points we've picked out.
High Street retail
One of the government's key aims is "restoring a sense of community, local pride and belonging". Key to this is thriving local high streets.
The report references how changing consumer habits such as the switch to shopping online has led to "tired high streets" and an "atmosphere of decline".
The government published its High Streets Strategy last year which aims to make it easier to convert empty shops into new uses such as high street homes; grant automatic rights for pubs, restaurants and cafes to allow takeaway and al fresco dining; and make high streets safer and cleaner, with a focus on tackling litter, gum staining and graftti.
It also also launched the High Streets Task Force to help communities regenerate their high streets. To date, 84 local authorities have been supported and the levelling up white paper announces another 68 areas, including Southend-on-Sea, Somerset West and Taunton, Rossendale and Dudley.
The white paper says the government will also give new powers to local authorities to require landlords to rent out long-term vacant properties to prospective tenants, such as local businesses or community groups.
UK Shared Prosperity Fund
Another key area included in the white paper is business finance.
When the UK was part of the European Union, it received regional development funding of around £2bn a year from the EU, much of which went to businesses. Following Brexit, the government said it would replicate the funding with the new UK Shared Prosperity Fund.
The white paper confirms that the fund will be worth £2.6bn until 2023-24, increasing to £1.5bn a year by 2024-25.
Earlier this week, the Welsh government accused the UK government of breaking its promise to match EU funding. It said Wales would be "close to £1bn" worse off over the next three years.
However, in the white paper, the government says: "Alongside commitments to support regional finance funds through the British Business Bank, this exceeds the UK government's commitment to match EU Structural Fund receipts in each nation of the UK and in Cornwall and the Isles of Scilly, while reducing the levels of bureaucracy associated with EU funds and better targeting the priorities of places within the UK."
The document adds that local leaders will be "empowered to direct funding towards their own, locally identifed priorities". Examples given include promoting new outdoor markets, reducing litter, grafitti and anti-social behaviour, reviving high streets, supporting local businesses and introducing skills provision.
A new document with pre-launch guidance on the UK Shared Prosperity Fund has been published alongside the white paper.
For businesses, the document says the priorities of the fund are:
Creating jobs and boosting community cohesion, through investments that build on existing industries and institutions, and range from support for starting businesses to visible improvements to local retail, hospitality and leisure sector facilities.

Promote networking and collaboration, through interventions that bring together businesses and partners within and across sectors to share knowledge, expertise and resources, and stimulate innovation and growth.

Increase private sector investment in growth-enhancing activities, through targeted support for small and medium-sized businesses to undertake new-to-firm innovation, adopt productivity-enhancing, energy efficient and low carbon technologies and techniques, and start or grow their exports.
Example interventions may include support to increase town centre footfall, outdoor markets, the development of cultural, visitor and heritage assets and targeted business growth and innovation support.
Other small business funding
The white paper also recognises the struggles that many businesses have in accessing finance, driven by inequalities across the UK. It says "SMEs are the backbone of the economy" but many "promising businesses fail or do not grow because they cannot access finance", with the challenges felt disproportionately by firms outside London and the South East.
"Many SMEs currently suffer from the "liability of distance" – a lack of access resulting from investors not being close enough to form the relationships and collect the information necessary to make investment decisions," the document says. "More than eight in 10 equity investment relationships meet the "two-hour travel time" rule, leaving SMEs outside London and the South East with more costly options, such as overdrafts, lines of credit and bank loans."
The white paper highlights large pools of underutilised capital across the UK that could be used to support small businesses, such as Local Government Pension Funds which have assets with a combined market value of £326bn. It adds that "there is huge scope to mobilise more fnancing from UK institutional investors in local projects".
The government is also exploring giving local communities more powers over funding that directly benefits their areas. An example is the £44m in unlocked funding from the Dormant Assets Scheme which includes £20m for over 1,000 charities and social enterprises, particularly in more deprived areas in England.
The white paper also points to announcements made in the 2021 Spending Review of £1.6bn for the British Business Bank's regional funds in Scotland, Wales, Northern Ireland, the North, the Midlands and the South West.
Innovation
To support innovation and encourage strong local business clusters, the government is investing £100m to pilot three new Innovation Accelerators in Glasgow, West Midlands and Greater Manchester. They will "aim to replicate the Stanford-Silicon Valley and MIT-Greater Boston models of clustering research excellence and its direct adoption by allied industries".
Productivity
One of the UK's current big challenges is productivity. In 2019, it was ranked fourth behind the US, France and Germany. The white paper says economic growth and the higher productivity is over-concentrated in the South with " a long tail of low-productivity businesses and places" the reason why UK productivity growth is too low compared to international competitors.
Productivity is mentioned many times in the white paper but the government's overall aim is to "boost productivity, pay, jobs and living standards by growing the private sector, especially in those places where they are lagging".
It says if the performance of the bottom-performing quarter of places by productivity were to be "levelled up" to the median, the boost to productivity would be equivalent to a pay rise of around £2,300 for individuals in the poorest areas. For the UK economy as a whole, this would deliver a GVA gain of around £50bn per year.
Key to improving the productivity of businesses is the adoption of technology. The white paper highlights the Help to Grow programme which aims to help 30,000 SME leaders enhance their management capabilities and support 100,000 SMEs to adopt digital technologies.
There have been calls for the programme to be extended to more businesses to further boost productivity. It is currently limited to companies with more than five employees.
A report last year by Enterprise Nation and Dropbox called for the programme's eligibility to be widened and Enterprise Nation also supports the Sign for Small campaign which says the economy could be boosted by another £3bn if businesses with a minimum of two employees could join Help to Grow.
In other measures on business productivity, the white paper says it "will embed adoption and difusion into its business support schemes, particularly in areas with low productivity, and encourage collaboration with similar schemes in Scotland, Wales and Northern Ireland.
"The new Levelling Up Advisory Council will launch an expert sub-committee on regional adoption and difusion infrastructure – exploring how to improve the uptake of productivity-enhancing technologies and management practises by businesses."
Digital connectivity
The government pledges that the UK will have nationwide gigabit-capable broadband and 4G coverage, with 5G coverage for the majority of the population by 2030.
The white paper says the coronavirus pandemic has demonstrated the importance of digital infrastructure for business continuity. Improved connectivity can improve growth and productivity, but there are signifcant disparities in the quality of broadband and mobile networks, with rural areas likely to experience worse digital connectivity than urban areas.
The government has agreed a £1bn deal with mobile operators to deliver the Shared Rural Network programme which aims to increase 4G coverage to 95% by 2025.
Since 2017, £200m in funding has been provided for 5G Testbeds and later this year, the government will publish the Wireless Infrastructure Strategy to "review how far the private sector will go to deliver wireless infrastructure – including 5G – across the country, and determine whether there are any market failures in places that need to be addressed".
Public sector procurement
Helping more small businesses and social enterprises win public sector contracts also features in the white paper.
Public procurement is worth £300bn a year, but the government says: "the current regime creates too much red tape for buyers and suppliers alike" which "results in attention being focused on the wrong activities rather than outcomes, value and transparency".
The white paper says the government is encouraging public sector buyers to give more weight to bids that create jobs, help the recovery from the pandemic and support the transition to net zero carbon emissions.
"The UK government will legislate to reinforce the message that public procurement should take account of these wider benefts and place a duty on all contracting authorities to have regard to national and local priorities, including creating new jobs and skills, encouraging supply chain innovation and supporting strong, integrated communities," the document says.
"The new measures will make it easier for small businesses and social enterprises across the country to bid for and win public contracts.
Last December, the government announced plans to create a "single, uniform framework" so businesses only have to register once to qualify for any public sector procurement.
The '12 missions to level up the UK'
Key to the government's strategy is 12 national 'missions' which it intends to achieve by 2030. They are:
By 2030, pay, employment and productivity will have risen in every area of the UK, with each containing a globally competitive city, with the gap between the top performing and other areas closing.

By 2030, domestic public investment in R&D outside the Greater South East will increase by at least 40% and at least one third over the Spending Review period, with that additional government funding seeking to leverage at least twice as much private sector investment over the long term to stimulate innovation and productivity growth.

By 2030, local public transport connectivity across the country will be significantly closer to the standards of London, with improved services, simpler fares and integrated ticketing.

By 2030, the UK will have nationwide gigabit-capable broadband and 4G coverage, with 5G coverage for the majority of the population.

By 2030, the number of primary school children achieving the expected standard in reading, writing and maths will have significantly increased. In England, this will mean 90% of children will achieve the expected standard, and the percentage of children meeting the expected standard in the worst performing areas will have increased by over a third.

By 2030, the number of people successfully completing high-quality skills training will have significantly increased in every area of the UK. In England, this will lead to 200,000 more people successfully completing high-quality skills training annually, driven by 80,000 more people completing courses in the lowest skilled areas.

By 2030, the gap in Healthy Life Expectancy (HLE) between local areas where it is highest and lowest will have narrowed, and by 2035 HLE will rise by 5 years.

By 2030, well-being will have improved in every area of the UK, with the gap between top performing and other areas closing.

By 2030, pride in place, such as people's satisfaction with their town centre and engagement in local culture and community, will have risen in every area of the UK, with the gap between the top performing and other areas closing.

By 2030, renters will have a secure path to ownership with the number of first-time buyers increasing in all areas; and the government's ambition is for the number of non-decent rented homes to have fallen by 50%, with the biggest improvements in the lowest performing areas.

By 2030, homicide, serious violence, and neighbourhood crime will have fallen, focused on the worst-affected areas.

By 2030, every part of England that wants one will have a devolution deal with powers at or approaching the highest level of devolution and a simplified, long-term funding settlement.
I'm a freelance content creator and event host who helps small businesses and the organisations that support them. I'm also Enterprise Nation's Local Leader for Bristol. I have 20 years of experience as a small business journalist having interviewed hundreds of entrepreneurs from billionaires like Sir Richard Branson to the founders behind brand new start-ups. I've worked for a range of leading small business publications and support groups, most recently as head of content at Enterprise Nation where I was responsible for the prolific output of content on the company's blog and social media. I now freelance for Enterprise Nation including hosting the Small Business sessions podcast. I'm based in Bristol where I run and host regular events with the local small business community in my role as Enterprise Nation's Local Leader for Bristol. I also have strong connections with other major business organisations in the south west region. In total, I've hosted over 100 events including conferences with an audience of hundreds for international brands like Xero and Facebook and live web chats from inside 10 Downing Street. With my partner, I co-run Lifestyle District, a lifestyle blog focused on culture, art, theatre and photography.