BLOG
Five legal advisers to connect with on Enterprise Nation today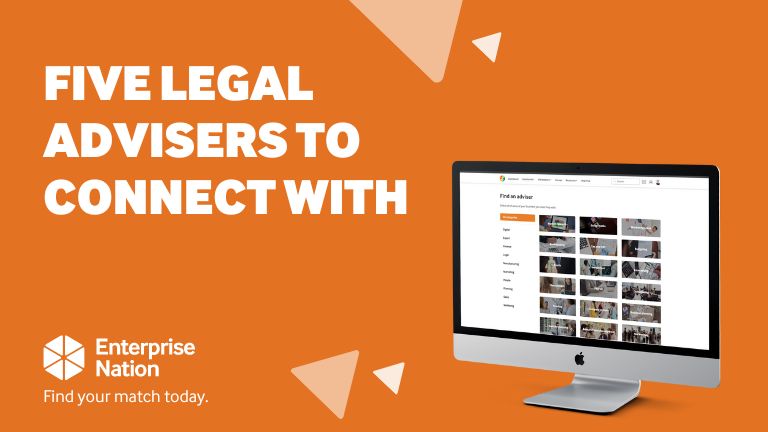 ---
Posted: Thu 9th Jun 2022
Enterprise Nation's bank of expert legal advisers is unparalleled.
Whether you're looking to protect your idea, settle disputes or brush up on employment law, you can be sure an adviser on Enterprise Nation will be there to help.
Take a look at five brilliant legal advisers to connect with on Enterprise Nation today.
Michael Buckworth
A qualified lawyer of the Supreme Court of England and Wales and founder of Buckworths, Michael works exclusively with start-ups and high growth businesses, hence his popularity on Enterprise Nation!
Michael has advised countless start-ups over the last 10 years across a multitude of sectors, so don't hesitate to reach out to him about any legal matter.
See more from Michael
Ingrid Fernandez
 Founder of Dec + Dash Legal Consulting, Ingrid provides support to SMEs and freelancers on legal matters in a straightforward and digestible way.
Ingrid's brilliant templates ensure you will always be legally compliant.
See more from Ingrid
Stephen Thompson
Our Local Leader for Cardiff & south-east Wales, Stephen has broad commercial experience working with many businesses of a range of sizes, particularly in the world of manufacturing, education, housing, construction, IT/software, medicine and biosciences.
For those based in and around Stephen, be sure to sign-up for his local meet-up on Wednesday 15 June.
See more from Stephen
Michelle Bishton
Michelle is one of our more unique legal advisers, whose flexible approach has seen her business, Vault IP, stand out in the IP market.
While Michelle runs a relatively small business, the agility with which she can work has proven immensely popular for many Enterprise Nation members.
See more from Michelle
Elliot Francis
Finally, we have Elliot, an associate at Edwin Coe LLP who provides advice for a large range of employment-related matters than can affect all new and developing businesses.
Furthermore, Elliot is also an expert on employee wellbeing and mental health.
See more from Elliot
---
If you haven't already, sign up for free to become an Enterprise Nation member and enjoy the wealth of support on offer.
Enterprise Nation has helped thousands of people start and grow their businesses. Led by founder, Emma Jones CBE, Enterprise Nation connects you to the resources and expertise to help you succeed.