MEMBER STORIES
The seasoning company founders inspired by spicy discoveries on their travel adventures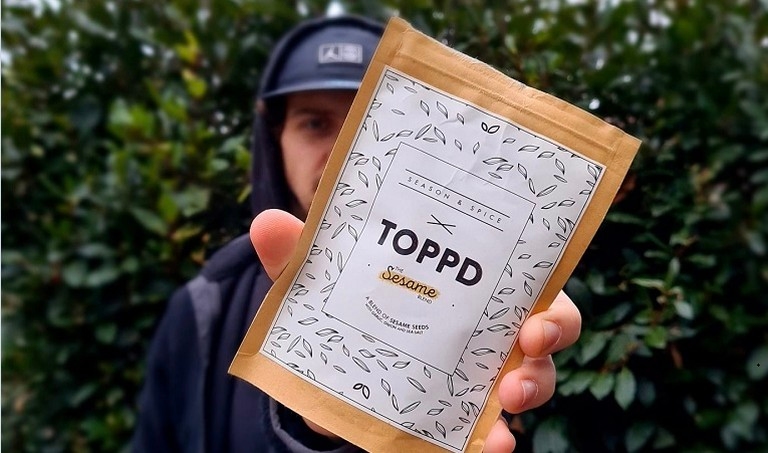 ---
Posted: Fri 18th Jun 2021
Lauren Chell is the co-founder of Toppd, a company selling seasoning and spices.
The entrepreneur and her partner had wanted to start a business for a long time after discovering many different spices while travelling. They finally set up their own company during the lockdown in 2020.
The founders launched their own website and, after taking part in a Bootcamp through the Amazon Small Business Accelerator, also started selling products on Amazon's online store.
Lauren shares her story.
The free Amazon Small Business Accelerator e-learning programme is advice from more than 30 business experts in 218 bitesize videos.
If you're already an Enterprise Nation member, log in to your account and go to go to this page. If you're not an Enterprise Nation member, you can join the Amazon Small Business Accelerator for free here.
How did you come up with the idea for your business?
"My partner and I have wanted to start our own business since we first met. We wished to combine our love for food and travel by starting up a cafe or restaurant, bringing flavours we had discovered on our travels to the UK. However, neither of us was in a position to quit our full-time jobs and open a bricks-and-mortar business, so we decided to create food products that we could sell online.
"With lots of ideas in mind, our vision became clearer during a trip to the USA when we discovered the huge range of seasonings and spices that we did not have available in the UK. We became obsessed with the infamous 'Everything but the Bagel Seasoning' and decided to trial our own version of it, launching with 'The Sesame Blend'. After trialling it for months we realised we were always adding a few chilli flakes to it too. So, that's when we released 'The Sesame Blend with Chilli'.
"Our aim is to continue on the route of discovery for flavours from all over the world and bring them to the UK."
What start-up challenges did you face and how did you overcome them?
"One thing that always stays with me is the saying you must work 'on' your business not just 'in it'. With us both working other full-time 9-5 jobs, this was a challenge for us and something we are still working to overcome. Finishing the day job and then delving into more work is difficult but you have to have the end goal in mind and you have to love what you are doing. We set ourselves time blocks in the morning to complete admin tasks before we get started with our 9-5. That way our evenings and weekends are still available for Toppd but for the areas we love working on like manufacturing and recipe development.
What is your marketing strategy for engaging with customers and making sales?
"Building a community on social media has been really important to us and we want those people to ultimately buy our products. We have focused less on getting followers and more on marketing our product through other food pages on Instagram. We have sent samples to 'micro influencers' who will post pictures of our products and share recipe ideas. This has driven traffic to our site and increased sales a lot more than paid Facebook advertisements did, and it's a lot more cost effective!
Despite not finding paid Facebook ads effective, we have found the Amazon advertising campaigns hugely successful. The use of sponsored products with keywords has increased our sales massively on Amazon, so we will continue to use this to increase sales."
How has COVID-19 affected your business?
"Our business launched in the first lockdown so it's all we have ever known business-wise. If anything, it gave us the time to kickstart something we have talked about for years.
"We aimed to be a fully digital business. However, early on into our journey, we realised that selling locally to small food retailers was something we wanted to be involved in. We were able to do this during the summer but unfortunately with lots of small businesses struggling because of the pandemic, it was hard to maintain. This made us put all our efforts back into selling directly to customers but we hope we can revisit our B2B offering soon."
Why did you decide to join the Amazon Small Business Accelerator Bootcamp?
"We received an email about joining the Amazon Bootcamp and didn't think twice about signing up. If you tell people you are selling on Amazon, you automatically gain more respect as a business. People know how to access it, they have their cards set up for automatic buying and it's the place lots of people go when they are looking for a product online. We knew we needed to get on it not only to grow our business but also to be recognised as a serious seller."
What were the key benefits of the Amazon Bootcamp for your business?
"The Bootcamp was essential for us. We learnt so much about how and where to begin with getting our products on Amazon. We also learnt a lot about things that we hadn't fully understood when first launching our business, such as the GS1 standards for barcodes and trademarking.
"One aspect of the course we loved was the 'business hours' that took place in the afternoon. This was an opportunity to consolidate the information you learnt in the morning and get advice on the specific areas you had questions about."
What actions did you take after taking part in the Bootcamp?
"We dedicated a full week to the Bootcamp. We took part in the webinars in the morning and then used the afternoon to complete the tasks we had learnt about in the morning. This allowed us to really learn and get things started. We had our products live on Amazon the following week and began selling. Continuing to recap on things like advertising as we went along by re-watching the webinars."
What is your strategy for making sales on Amazon?
"We are currently focusing on sponsored product advertisements. Even with a small budget, we have found our sales have rocketed since we started using advertising based on keywords related to our product. Once you set up advertisements on Amazon you also get helpful tips emailed to you on ways you can continue to improve your campaign. For example, we increased our daily budget by only £1 and our sales increased.
"We have also used the vouchers offering 10-20% off a product and this has also helped people to find us via the deals pages.
"These strategies help customers to find us among the many products available on Amazon. And then we focus on quick delivery and good products to bring people back."
What tips have you picked from the Amazon Small Business Accelerator e-learning programme?
"The e-learning programme has been fantastic. I found the advertising on Amazon module really helpful for when I was creating my first campaign. I watched the module and followed along to make sure I was doing everything correctly.
"Now that we have launched on Amazon, we are starting to try to understand how to continue growing. We have found the growth mindset module really helpful. We have picked up specific tips on how to create a detailed strategy for growth.
"The bitesize video on 'a plan for growth' lays out in detail how to create this plan and clearly define our goals and the steps to reach them. This is something you think you do early on but looking back we had been too busy launching that we never took a step back to think about the growth."
Which other entrepreneurs inspire you and why?
"Danny Meyer, owner of Shake Shack, is someone who has always inspired us. In an era where rapid expansion and high growth success stories are typically in the technology space, Daniel Meyer took hot dogs and burgers and created a globally recognised brand from what was just one mobile cart in New York.
"For a food-based business like ours, it's a truly inspiring story about how success can be found in the simplest ideas, services and offerings. By focusing on quality products and the customer experience as Daniel did with Shake Shack, we hope Toppd can, as a by-product, grow into a successful seasoning business."
What are your top tips for business success?
"No matter the size of your budget, it is helpful to spend some money to make money. We started on a shoestring budget and although we are still fairly frugal with our spending we quickly realised that for things like advertising on Amazon, you do need to spend the money to get people to find your products and know your brand.
"So, we try to spend our budgets on areas that have proved successful and quickly pivot when we try something and it doesn't work. For example, we completely stopped paying for social media adverts and instead used Instagrammers to market our product instead. This brought our costs down but also gave us a two-in-one service as we get some great photo content we can re-post too!"
The free Amazon Small Business Accelerator e-learning programme is advice from more than 30 business experts in 218 bitesize videos.
If you're already an Enterprise Nation member, log in to your member dashboard to access the e-learning. If you're not an Enterprise Nation member, you can join the Amazon Small Business Accelerator for free here.