MEMBER STORIES
'Mama's going to make you a pair of red shoes': The promise that became a business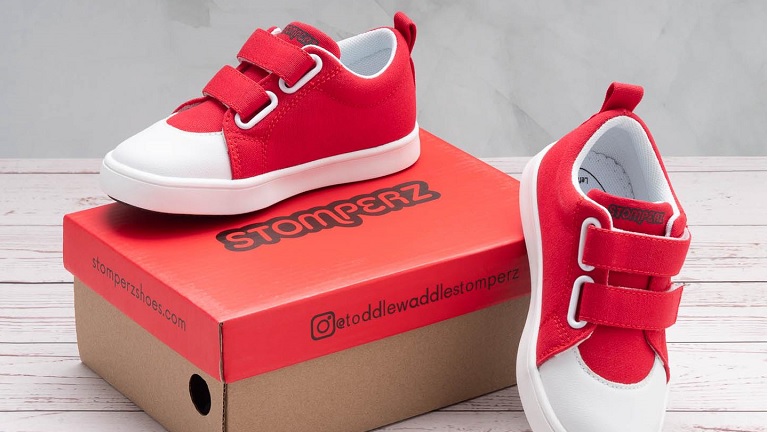 ---
Posted: Tue 20th Sep 2022
Struggling to find shoes for her son's wide feet and his love of the colour red was the inspiration behind Stomperz, the wide fitting children's shoes brand started by entrepreneur Laura Gillett.
She will soon be launching her products on Amazon's online store after picking up lots of advice through the Amazon Small Business Accelerator e-learning programme.
Laura shares her inspiring business story.
---
The free Amazon Small Business Accelerator e-learning programme is advice from more than 30 business experts in over 200 bitesize videos.
If you're already an Enterprise Nation member, log in to your learning dashboard. If you're not an Enterprise Nation member, you can join the Amazon Small Business Accelerator for free here.
---
How did you come up with your business idea?
"My business came after a promise to my son: "Mama's going to make you a pair of red shoes". He was measured as having extra wide feet when he started walking and he has always loved the colour red. We struggled to find shoes to fit him, and never any red ones.
"He was crying in a shop one day after being told to try another pair of red shoes so I made him the promise that I would make him some. I then went home and announced to my husband that we were starting a shoe brand. I called it Stomperz, inspired by the way my son stomped about.
"First of all we came up with a design that we could take to suppliers, and got our trademark and website domain registered.
"After that it was a case of finding a factory that could make what we wanted in a wide fitting. This led us to have some amazing conversations with people all over the world before we settled on a lovely manufacturing company in China.
"Once we got our first samples we did some extensive testing with our son. A couple of tweaks needed to be made but we finally settled on a final product we were happy with. It took about two years from initial idea to having our first stock delivered."
What start-up challenges did you face?
"Having absolutely no experience in either the shoe industry or starting and running a business was a huge challenge for us.
"We had to learn everything from scratch. Organisations such as Enterprise Nation has helped enormously. There is a vast amount of information and resources available. I have also been lucky to have met some lovely people on my journey, all experts in their fields and very willing to answer the many questions I have had along the way."
What is your marketing strategy for engaging with customers and making sales?
"We are using Facebook and Instagram as our main social media platforms, although I am hoping my teenage step daughter is going to give me a crash course in TikTok soon as I hear that is the place to be!
"Google is really important and we are focusing on getting our products as high and as detailed as possible.
"Amazon is going to play a big part. It will help with the Google as it's one of the first places people look for such items. Therefore we are treating Amazon as it's own separate entity with specific marketing and positioning strategy.
"As a problem solving, parent brand, we also know that word of mouth recommendations are going to be a critical part of building our business so we have made sure that the quality of our product is such that people will feel confident recommending to friends."
How has COVID-19 affected your business?
"COVID-19 probably added a good eight months to our development timeline. We have had to contend with reduced factory and office hours, and much longer shipping lead times. It has also pushed our costs up.
"It hasn't affected demand – there are always children (maybe even more after lockdown, we ended up with another ourselves!) and those children will always need shoes.
"It has affected the financial positions of parents though and we appreciate this. We have made our shoes good enough quality to be handed down, sold on or donated to get the most out of the lifespan and make them more accessible than just a new purchase."
How has the Amazon Small Business Accelerator e-learning programme helped you?
"I would definitely consider myself an advanced Amazon shopper, but as a seller I had no idea. As a competitive marketplace, it was so important to learn how to position the brand and place the product so that I stood out from the crowd. Having this extensive free resource available was a real lifeline to a newbie
"The e-learning programme provides a fantastic introduction in how to set up on Amazon's online store and get selling in easy to follow, bitesize videos.
"My favourite feature is there are screen recordings to follow, not a presentation to try and translate to screen. I also loved how they are no more than four mins per video. As a working mum my time is very limited. It makes the resource really accessible as I can grab a few minutes here and there far easier than I can grab an hour or two.
"Particular advice I found useful included learning how to properly list a product and showcase my brand in the brand store as well as what is critical information to include and where. Going through the process step-by-step and how it was broken down into tiny pieces made the whole process seem far easier and less daunting than it initially sounded.
"I also love how the e-learning programme isn't just about selling on Amazon but also how to start the business and get to the stage where you are ready to have a product to list. Hearing from various successful Amazon sellers was really inspiring. We all have bad days and seeing real people who were running successful businesses helped keep me motivated.
"One point that really stood out to me was that I was seeing Amazon as a market place, but it is really a whole distribution network that you can tap into even as a micro business. The whole world is literally within reach through Fulfilment by Amazon (FBA) and evens out the playing field between large, established household names and new businesses who might not be able to scale or work internationally as quickly."
What actions have you taken after watching the e-learning videos?
"I was a total newbie so I am following step-by-step. I have completed registration with Amazon and am now listing my products and setting up my brand page. I am taking my time to make sure all my Amazon listings are correct and I am following the rules on what to include in the bullet points and further information sections.
"I feel confident to open my store and start building my storefront ready for launch. I also learned about FBA which I hope to move into using as I grow the business."
What are your top tips for business success?
"Have patience. It sounds like a cliché but you are very unlikely to build a business empire overnight. If you believe in your idea then keep going and don't give up when you have a bad day.
Which other entrepreneurs inspire you?
"Jennifer Bailey from Calla Shoes has built a beautiful shoe brand that serves a gap in the market for women with bunions and problem feet.
"I also really admire the team behind Stamptastic. They have excellent social media pages which I genuinely enjoy following.
"I am a big fan of Sara Davies too, although Dragons' Den would be my worst nightmare!"
What are your plans for the future of your business?
"Right now the focus is to get the UK business flowing smoothly through Amazon, our website and social media channels.
"Once we have got some good momentum there, we will look to expand overseas. We definitely want to increase the colours and designs we have on offer too."
---
The free Amazon Small Business Accelerator e-learning programme is advice from more than 30 business experts in over 200 bitesize videos.
If you're already an Enterprise Nation member, log in to your learning dashboard. If you're not an Enterprise Nation member, you can join the Amazon Small Business Accelerator for free here.