BLOG
Kitchen table to 2,300 stores: The story of Pip & Nut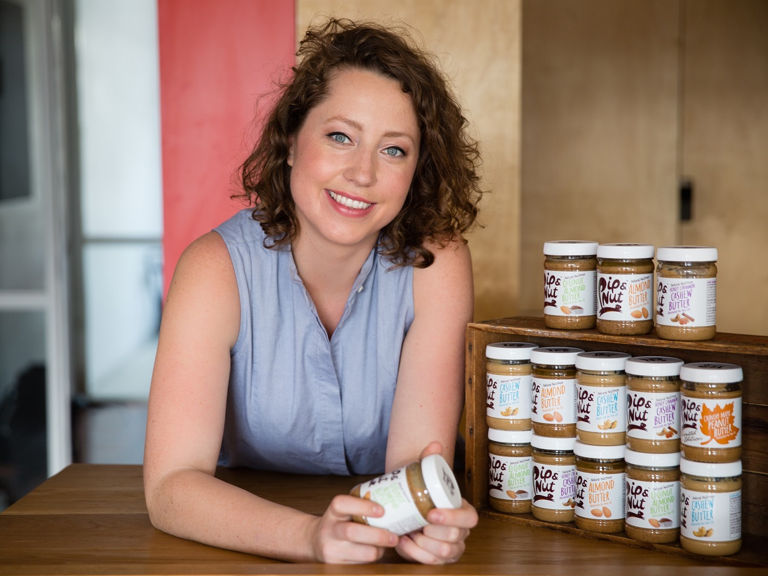 ---
Posted: Wed 17th Aug 2016
In just four years, Pippa Murray has taken her nut butter brand from a kitchen table start-up to a team of eight employees with products stocked in more than 2,300 stores.
The Enterprise Nation Classic member and founder of Pip & Nut shares her inspiring story.
Meet Pippa at the Food Exchange in Birmingham on 16 September. The event also features other inspiring food entrepreneurs plus top buyers from retailers Sainsbury's, Selfridges and Holland & Barrett. Book a ticket here.
How did you come up the idea for Pip and Nut and turn that idea into a business?
The initial idea for Pip & Nut came about four years ago and it emerged through my passion for running. I have run quite a few marathons and during training I would always eat peanut butter on toast as a post-run treat. It struck me that most peanut butters were packed full of cane sugar and palm oil, which really didn't sit well with me. The healthier versions were all marketed as pretty unexciting, specialist health products and I felt there was a gap in the market for something new that appealed to a broader, younger demographic.
I spent my weekends in the kitchen playing around with recipe ideas, but keeping the focus on simple, natural ingredients, as well as some innovative flavour combinations. After testing my creations out at Maltby Street Market in Bermondsey, I realised that there was a real demand for the product and this propelled me to properly think about how I could scale the business.
I found out about Escape the City's Escape to the Shed competition and entered on a massive whim. When I got the phone call telling me I had won I realised I was actually going to have to go ahead with my plans. I quit my job as a producer at the Science Museum about an hour later!
What start-up challenges did you face and how did you overcome them?
There are so many different challenges you face as a start-up, however I think the biggest one is having to be mindful of cashflow. It's certainly not the most exciting part of job but it's the lifeblood of the business and you've got to keep growth steady and manageable.
How did you fund your business?
I've done a real mix of fundraising for Pip & Nut: crowdfunding, equity and debt. The first major round was on Crowdcube before the brand launched. I raised £120,000 from 80 investors in order to get the capital to go into production. Since then, I've raised further funds from private angels and combined these rounds with debt financing. We're growing pretty fast as a company, so it's important to support this growth with external financing.
How did you persuade major retailers to stock your products and what advice would you offer to other entrepreneurs wanting to do the same?
It's all about persistence! Sometime you'll be lucky and a buyer will just 'get' your product. This was the case for us with Sainsbury's, our largest retailer. They first starting stocking Pip & Nut in October 2015, which was a really pivotal moment for the business. Relationships with these major retailers are incredibly important so it is crucial to nurture them and invest time in keeping the buyers up to date with everything you're up to: from new product development, to awards and great press coverage.
What are your three tips for running a great food business?
1. Make sure you have an awesome product that's been tried and tested. It sounds obvious, but if you nail your product and you know it's better than the competition, the journey will be so much easier!
2. Get the best possible people involved in your business. Having a great team around you is so key and these are the people that will really help you to shape the business. Having a mentor has also been an invaluable help to me and is something I would recommend to any new entrepreneur.
3. Don't be afraid of asking for advice. The food industry, particularly amongst the start-up scene, is incredibly supportive and people are generally very willing to go for a quick coffee and chat through ideas or problems; you just need to ask.
Why would you recommend that people come to the Food Exchange?
There's no one size fits all with food and drink so coming to Food Exchange will give a great cross section of different approaches on how to build a successful food and drink brand. You should come away brimming with inspiration that should help nudge you in the right direction.
Meet Pippa Murray at the Food Exchange in Birmingham on 16 September. The event also features other inspiring food entrepreneurs plus top buyers from retailers Sainsbury's, Selfridges and Holland & Barrett. Find out more here and book a ticket below.
Enterprise Nation has helped thousands of people start and grow their businesses. Led by founder, Emma Jones CBE, Enterprise Nation connects you to the resources and expertise to help you succeed.