MEMBER STORIES
The entrepreneur connecting, inspiring and cultivating a love of nature through plants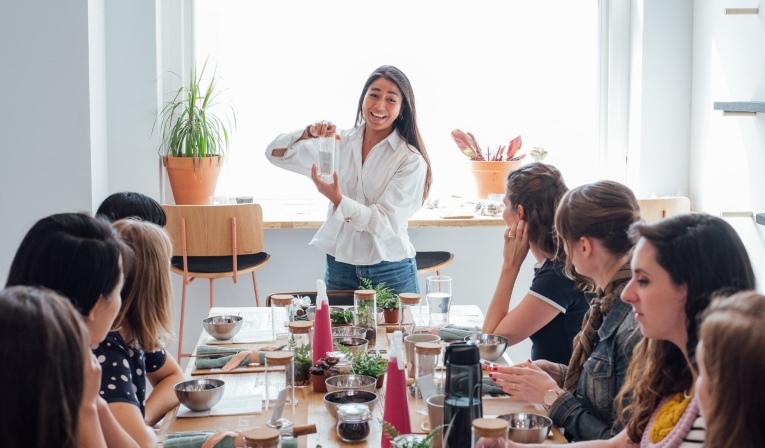 ---
Posted: Fri 13th Sep 2019
Kay Suppamas is the founder of Leafage, which provides terrarium workshops for fun and passionate plant enthusiasts. The Enterprise Nation member shares her story.
How did you come up with your business idea?
Leafage was born from the simplest of desires; to connect people and to inspire and cultivate a love of nature.
I realised the potential of plant power after the tragic loss of my father in 2016. As my biggest role model and source of inspiration, I set out on a path to find meaning and purpose in my life.
Having always been ardently interested in the natural world, I decided to share my knowledge of plants and terrarium design to others who were in the same boat.
Leafage is built around the idea of helping people realise that their well-being is important. Through the interactive, creative, and engaging workshops that Leafage offers, our guests often leave with a tremendous sense of serenity.
What start-up challenges have you faced?
The fear of failure and not knowing what I don't know in business.
Everyday is a school day when you have your own business.
My start-up challenges include trying things out and hoping things will work out! I'm a creative person, so learning about the finance side of the business has also been challenging for me - in a good way though.
I overcome these things by reaching out and asking for insights and advice from people who have more experiences than me. Great people are everywhere and most of the time, they are happy to help!
What has been your biggest achievement so far?
Turning my side hustle into a full-time job without an actual business plan as I didn't think it was possible!
Learning by doing is great and don't be afraid to start before you're ready.
What is your next big business goal?
Dominating the world of wellbeing through plants, human connection, and creativity in London.
What do you think will be your biggest challenge?
I'm more of an action person, so coming up with a long-time plan/vision for the business will be my biggest challenge that I am strangely excited about!
How has Enterprise Nation helped your business?
I've heard amazing things about Enterprise Nation from my entrepreneur friends and I decided to sign up not long ago. I hope to meet likeminded people who are on the same journey, learn and contribute to the community. No man is an island.
Which other entrepreneur inspires you and why?
1. Andy Frisella is an American entrepreneur, the CEO of 1st Phorm International and the host of the MFCEO Project podcast. I listened to his interview with Lewis Howes back in May 2017. This guy is not for everyone (he swears a lot and does sound aggressive to new listeners haha!) but he revealed his vulnerability and shared his journey in the interview that really touched me. He talked a lot about "perspective in life" Since that day I have listened to every podcast episode that has been released and he's pretty much my virtual mentor.
2. Yvon Chouinard is my one of my business heroes. I love how he turned his vision, passion and belief into a great lifestyle brand. Patagonia has always believed that doing good is good for its business. I've been his fan since I listened to his interview on 'How I Built This' with Guy Raz. Great guy!
What are your three tips for business success?
1. The power list: Complete five critical tasks that move you one step closer to your goals.
2. Plan in advance the exact time in your diary that you are going to do those tasks. This will help minimise your thinking time when it's time to do them!
3. Make time for other areas in your life to avoid the burnout (health, friends, family, your hobbies and don't skip your holiday!)
We're proud to have entrepreneurs like Kay as members. Join Enterprise Nation and become part of an amazing community of small businesses.