MEMBER STORIES
A day in the life of an Enterprise Nation member: Julie Hawkins, Single Mums Business Network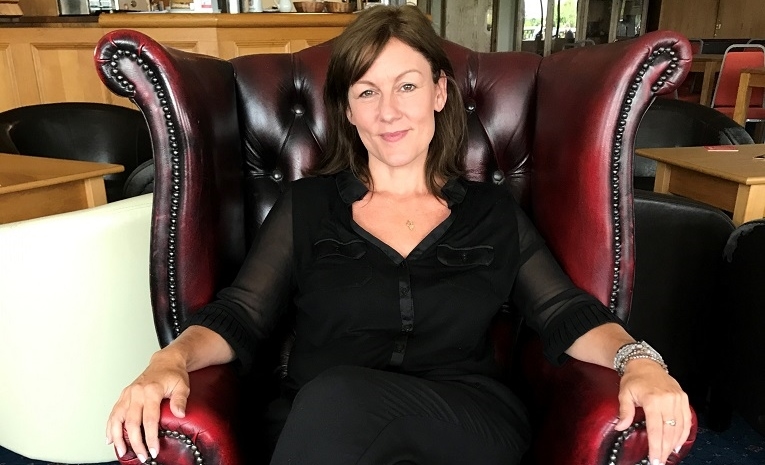 ---
Posted: Fri 6th Sep 2019
_Julie Hawkins is quite the entrepreneur. She runs the Single Mums Business Network, is the inventor of the KIH Bed Pregnancy Cushion and has a law degree! Unsurprisingly the Enterprise Nation member has quite a lot to fit into her day and she shares some insights here.
Julie will be sharing advice in the adviser zone at Festival of Female Entrepreneurs in Bristol on 18 October. Book a ticket here._
My alarm goes off…
My alarm is set for 7am, which is wishful thinking! I keep it set in the hope that one day it will wake me up. But normally I have fed the dog, the kitten, my child and am having my first cup of coffee by then!
My morning rituals are…
Once the dependents are fed and watered we all chill out for half an hour whilst I enjoy my coffee and see if there's anything that's come in over night that I need to prioritise during the day.
Once the school run is done I will head into the woods for a dog walk and forest shower to make sure I am grounded for the day ahead.
My morning commute is…
I am either travelling to a networking meeting or a follow up meeting and that can be anywhere in the UK. My regular networking meetings keep local to me, so preferably no more than an hour commute, but I will travel further for the SMBN as I need to see women all over the UK.
If I do not have a meeting I will catch up on admin, which can either be from home or a café.
My typical day…
I take each day as it comes. It is really hard to plan as I am fully dependent on external factors, so if I have an order in for a KIH Bed I will prioritise fulfilling that order, if I have a new member I will prioritise their PR, if I have a client at KIH Holistics I will be there, and if I have an e-mail with a litigation job that will be my priority.
The only 'routine' is school run and bedtime, around which I just do what I need to do. For me talking to my daughter and seeing how her life is going is the most important part of every day.
My responsibilities are…
I work and live alone (subject to dependents), and so have full responsibility for everything. I am either chasing invoices, fulfilling orders, updating the website, blogging, managing the household, working on social media, arranging meetings, ordering stock, renewing insurance, bookkeeping, checking up-to-date legislation, business planning; it is endless really, there isn't anything I'm not responsible for.
My most memorable moment is…
Feedback. I love awards, they have been so helpful in boosting my personal and professional confidence and raising my profile but it's all about feedback, those are the moments that really touch me and they are the memories that make it all worthwhile.
Sometimes I have great feedback about the KIH Bed, sometimes great feedback about legal assistance, sometimes great feedback about the ethos behind the SMBN and how people are so pleased to have found it. Every comment that tells me I've done something or am doing something good to help another person is a collective memorable moment in my life.
Why I love my business…
I love utilising my skillset, and working within available public childcare, or school mostly. I love that I am fighting not only for me but for millions of people who are underpaid and struggling in an archaic work culture. Self-employment is about taking back control, and refusing to underutilise your skills for low pay, just because you have dependents.
The most challenging task is…
It's challenging chasing payment, normally from the big guys, that has a knock-on effect as I need to pay people and it would be helpful if larger companies didn't hold money for the sake of it.
After work …
I don't have after work as such, but I do have down time, and I like to swim, play the guitar, or do some DIY to relax. Very occasionally I'll watch TV, but only the very best of humanity (DIY SOS, Rich House Poor House, Long Lost Family etc) I refuse to watch TV that judges and puts people down.
When I grew up I wanted to be…
A nun, an actress, a mechanic, a judge, a dance teacher. Essentially, I just wanted to use my voice and my hands.
The best business tip I've ever received...
My sister told me "there are those who wish it would happen and those who make it happen".
Only you can stop you, the only way to predict your future is to create it. Collaborate do not compete. We are all human!
I swear by these sayings every day but I cannot recall the original source. And more recently I was told not to assume I was seen. I have never wanted to 'spam post' but I was told that it's like listening to someone whispering with loud headphones on - and that I needed to make more noise!
We're proud to have entrepreneurs like Julie as members. Join Enterprise Nation and become part of an amazing community of small businesses.
I set-up my award-winning company KIH Products in 2013 after designing the KIH Bed – a Pregnancy Cushion used by Massage Therapists, Osteopaths and Chiropractors to enable clients to lay on their bellies at variable stages of pregnancy, in 2011 when I was heavily pregnant. I had also embarked on a Law Degree when I fell pregnant in 2011 and once I graduated in 2016 I published Finding Happiness and Freeing Your Spirit to help others help themselves move forward in a positive way. Whilst I had worked full time age 15-35 my world changed when I became a single mum in 2012. Moving from paid employment and home ownership onto income support and rental property gave me a painful insight into how bad I would be made to feel for claiming those contributions and being a tenant. Desperate to continue my love of working but also desperate to be a full-time mum started a long and painful journey of fighting for family and financial independence. Whilst I continually attempted to find work in sync with school that paid a decent wage, this proved very difficult. My journey has taught me more than I ever wanted to know and now I have set up the SMBN to connect and support other hard-working single mums.