MEMBER STORIES
Helping former military and emergency services personnel start their own business – Ren Kapur MBE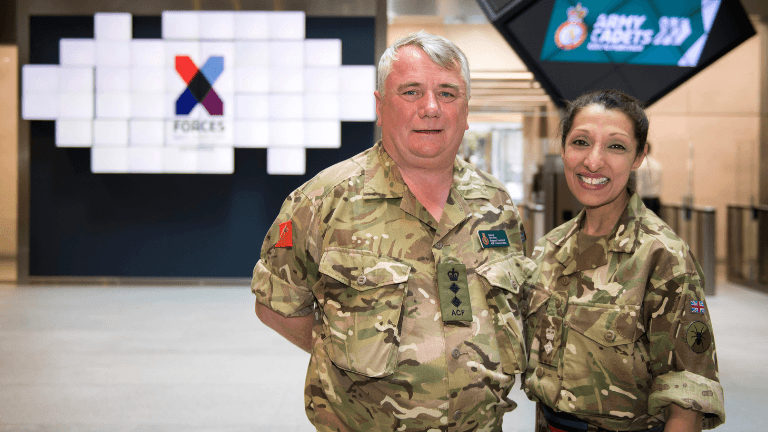 ---
Posted: Thu 2nd Dec 2021
Ren Kapur MBE knows a thing or two about overcoming adversity in business. Here, the founder and CEO of X-Forces and the pioneer behind X-Emergency Services (X-ES) talks about race, women and advocating change.
---
An advocate for change
In person, Ren is a powerhouse of energy. She's worked tirelessly to bring together corporations, government and charities to support under-served communities while advocating systematic change for entrepreneurial women.
Awarded an MBE in 2016 for her services to entrepreneurship, Ren reckons her willingness to tackle adversity – from an early exit from education to the challenges of an arranged marriage – has been a driver in supporting change for others.
Which makes her latest challenge – a recent diagnosis of cancer – one that has seen her barely miss a beat.
"If I fall, at least I fall spectacularly," she says. "I'll always give it a go. And I'm fine about my condition – there are good and bad days – but everything's moving quickly with my cancer treatment.
"I know the next 12 months will be tough. But I want to know exactly what I'm doing because I know that if I had to jump off a plane, I'd want to be first in the queue, so I don't have to worry about it."
Face the fear (and do it anyway)
That ability to stare down fear is a trait that Ren advises other would-be entrepreneurs to embrace.
"Always know your red lines," she says. "What's the worst that can happen, and how can you mitigate that worst from happening? That's all connected to fear when it comes to starting a business. Am I going to put loads of money in and lose it? Have I got the money to put in in the first place? Am I going to lose time? What if it doesn't work?
"To make a success of your start-up, you need to understand your fear and then put in some real risk mitigation. That's where being clear on where your own red lines are is so important."
It isn't just fear of failure that grounds start-ups before they take flight. Ren has been a passionate advocate in supporting women, Black, Asian and Other Ethnic Minority entrepreneurs overcome inherent bias in the system.
Tackling race bias in business
"I'm more aware of bias and discrimination now, especially with the unrest that has happened around the world," she says. "There seems to be more segregation kicking in during the pandemic."
"I've got some good Black friends in business and outside of business. And I think the BAME agenda is different for Asian business owners compared to Black business owners – and Black entrepreneurs have a harder time of it. We really do need to unpack that.
"If you look at the elements that an investor is looking at, it's obviously the business idea and the numbers, but they're also looking at the people.
"It's not just about educating investors about race and bias; it's about being authentic to the investor. Those glass ceilings are eroding, but part of the issue is that people are not rocking up for the opportunity as much as it is for investors to be able to understand the opportunity."
Supporting female entrepreneurs
The burden of childcare is a particular focus for Ren – she had two children before she was 20 – and she knows caring for children can prevent female entrepreneurs in particular from gaining traction with their business.
The solution, she says, is in part down to larger corporates stretching out a hand to all-female businesses.
"In the UK, around 27% of household expenditure goes on childcare. The average in Europe is 13%," Ren says. "This is a total inhibitor in preventing women from starting a business, and that needs fixing. Cost-effective childcare gives more freedom and flexibility to mums starting a business. Childcare needs to be part of the agenda for mum entrepreneurs.
"There are some good policies in other parts of the world, especially in terms of supply chain diversity for female entrepreneurs," Ren adds. "We really need to put an emphasis on supply chain diversity for women-led businesses, with larger businesses being more flexible and accommodating working with women-led businesses."
Emergency and military services
Ren's passion has been supporting both former military and emergency services personnel transition to life outside of service. She founded X-Forces in 2012 to further enterprise learning and bring more successful business start-up models into the market.
"I've always firmly believed that the armed forces and emergency services have incredible values that make personnel well suited to starting a business, which is where X-Forces and X-Emergency Services came about," Ren says. "If you look at their values, skills and attributes, it's all about being resilient, being adaptable, about trust and about digging deep.
"All the idiosyncrasies of running a business – the competencies, finance, planning, managing cash flows, running a P&L, taking a brand to market – you need to learn many different things really quickly. Military and emergency services people have the core inner strength and they have great skills, and they get it really quickly."
Introducing X-Emergency Services (X-ES)
Outside the emergency services community, it can be daunting for former emergency workers to make the transition into 'what next', which is where X-Emergency Services (X-ES) comes in.
Fully taking flight in 2021, it provides enterprise training, career transition support such as advice and CV writing, and new business funding as a delivery partner of Start Up Loans, including free training and mentor support for successful applicants.
Modelled on the success of X-Forces, it offers support for those who have served in the emergency services to excel in their post-service life, from career development to launching their own business.
So far, X-ES has provided over £4 million in funding right off the starting blocks and has already put in place support for nearly 400 businesses run by former emergency workers.
Overcoming adversity
Ren's personal experiences with adversity underscore her passion for helping others make the best of major career and lifestyle changes, whether advocating support for mum entrepreneurs or facilitating funding for start-ups by former military and emergency services personnel.
"If you look back at the times I've faced adversity – from exiting education at 15 to going through an arranged marriage to being diagnosed with cancer and facing an uncertain future – it's actually made me stronger. You're not born with that. You acquire it through overcoming challenges."
And Ren's plans for the future? Meeting it head-on with her characteristic high energy levels.
"If somebody tried to stop me from doing something, it brings out a very different type of energy within me," she confesses. "It always has done."
I'm one of Enterprise Nation's content managers, and spend most of my time working on all types of content for the small business programmes and campaigns we run with our corporate, government and local-authority partners.