BUSINESS NEWS
'An incredible opportunity for my brand': Inside Enterprise Nation's Oxford Street pop-up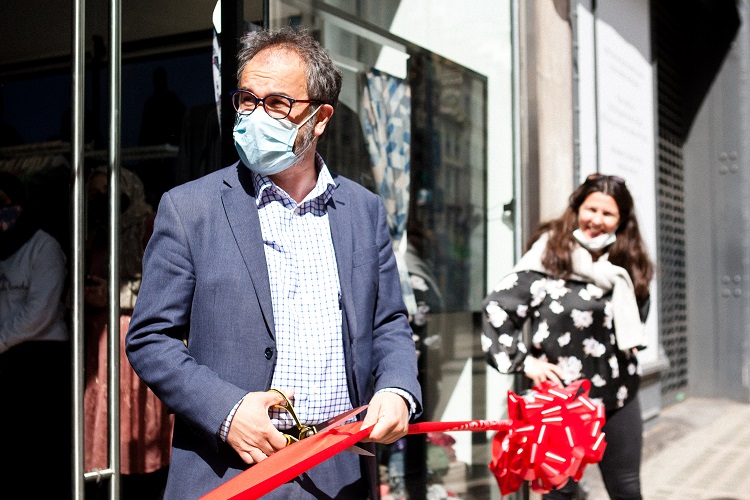 ---
Posted: Thu 13th May 2021
"I declare this shop officially open!", said minister for small business Paul Scully last Tuesday as he launched Enterprise Nation's new pop-up store on London's iconic Oxford Street.
The exciting initiative is part of Hello, World, a campaign in association with SumUp that is helping businesses return to meeting customers in a physical format.
As we all know, it has been a very tough 15 months for retail so it is wonderful to see a bunch of enthusiastic, innovative and ambitious small businesses showcasing their awesomeness in our store on Europe's busiest shopping street. Watch a video inside the shop here.
Britain's High Streets were facing challenges even before the coronavirus pandemic but Enterprise Nation believes pop-ups will play a key part in their future success. With innovative spaces like Sook, which is hosting the Hello, World shop, small businesses can book in online, display content on the digital screens throughout the store and start selling.
Online retailers experiencing physical retail
A key aim of Hello, World is to give online retailers the chance to experience in-person retail. The majority of small business owners showcasing their products in-store don't have their own physical retail presence so the pop-up is great for them to meet new and existing and customers face-to-face.
"It's been encouraging to see entrepreneurs across the UK going digital to adapt their businesses in these challenging times, but we also know that thriving high streets are at the heart of strong, vibrant communities", Paul Scully said.
"With so many businesses looking forward to serving their customers in-person, this initiative from Enterprise Nation and SumUp is a welcome boost to our plans to build back better from the pandemic."
But it's not just about selling; pop-ups open you up to getting valuable feedback about your products and the chance chat to fellow business owners about possible future collaborations.
"An incredible opportunity"
Gulten Geneci, founder of jewellery company Fidan London and one of the sellers in store during the first week, said: "The pop-up was an incredible opportunity to showcase my business in person as I've always wanted to adopt a hybrid model of online and pop-up trading.
"Highlights of the day included meeting Paul Scully, the teams from Enterprise Nation and Sook and journalists. They all gave me positive encouragement, feedback and sales! It also gave me ideas for how my target audience should be widened.
"The pop-up brought legitimacy to my business and having the digital content on the screens generated more followers which have translated into new sales.
"The experience confirmed to me that the hybrid model is the right way to go and my followers have already started asking about my next pop-up!"
Sophinne Aikins-Sancho from home fragrances company Aya Aromas and another seller in the shop was similarly enthusiastic. "Having the opportunity to host a pop-up shop on Oxford Street was an amazing opportunity for our brand," she said.
"We were able to finally meet some of our customer base which we have spent the past 10 months growing online and provide them with a chance to smell our products first hand. We were also able to meet and connect with new customers due to the benefit of being on one of the biggest shopping streets in the world.
"All in all, it was a fantastic experience and we are already planning our next pop-up shop!"
Nathalie Wakim from KNATURECARE said: "I had a great experience as it was the first time we had met our customers face-to-face. I was so excited to see the happy faces while trying our oils on their skin. What a beautiful feeling of satisfaction that you can't ever experience online.
"The shop layout was really easy for the products to be displayed and the digital screen added a touch of luxury. I had the shop ready for opening in 30 minutes.
"Also, meeting other entrepreneurs and sharing our experiences and support was priceless."
Modest Trends founder Rifhat Qureshi added: "Featuring my brand on Oxford Street was a great experience for me and my business. It helped me to regain my confidence in dealing with customers in real life. I was so happy to finally get in front of my customers and show them the latest collection.  It was also a great opportunity to network with other brand owners.
"Dan from Sook Spaces was always on hand to help with any logistics and operational issues issues and I will definitely be booking the space with them again.
"The space and location really bolstered my brand image created the desired affect of representing a more diverse image of the High Street. In the words of one of my customers 'It's not everyday you see an Abaya and Hijab shop on Oxford Street! I just had to come in!'"
Also in the store during the first week was Planet Nature and Calla Shoes.
For the second week of the shop, we welcomed Bobbi | London™, Flowery Whiff , Something Organic, Seekology, Lava Cap and Talolo Boots.
During week three, we hosted The Painted Peacock, Candy Lab, Very Craftea, Trimingham, Altr London, Stroodles, Tom's Teas and Teddö Play.
This week (24 - 27 May) is week four and you can meet Darwin & Gray, Heavenly Homes and Gardens, The Bead Shop, Möki Studios, Lola & SiDney, Bundle Bean, Glissybrow, La Basketry, Yemisi & Co., Zac & Bella, Young Mary's and Wendy Penrose Jewellery.
A post shared by Seekology | Beauty + Wellbeing (@seekologyuk)
Tips for pop-up success
We asked some of the sellers for their tips on how to make a success of a pop-up store.
Sophinne Aikins-Sancho said: "Use social media and your email lists to your advantage. Your customers would love to meet you! Also, stock up on flyers and don't be afraid to approach people on the street. It's daunting but we were able to gain new customers from doing so."
Gulten Geneci said: "Have an interactive element to the experience. We had set up a simple photobooth with our Instagram cut out and encouraged members of the public to take photos. I also had a unique discount code on the day using scratch cards which made the shopping experience more exciting.
"Study the target audience in the location of your pop-up and tailoring your design and presence tailored to them. For example, my target audience is 16-25 year olds having the Instagram cut out and photo opportunity was eye-catching and relevant.
"It is also important to have some support as it can be difficult to transition from having an online business to a swarm of people come in to look at your products. My friends made it a more enjoyable experience by taking care of certain aspects and allowing me to focus on sales and press interviews."
If I was to give one tip to others on how to use the space it would be to build your following on social media and make sure you shout about really loud about where you will be and when. Take along flyers for customers and business cards for networking. Use the space to capture content and above all have fun!"
Rifhat Qureshi said: "Build your following on social media and make sure you shout about really loud about where you will be and when. Take along flyers for customers and business cards for networking. Use the space to capture content and above all, have fun!"
You can visit the store at 58 Oxford Street, London every Monday - Thursday from 10am - 8pm until 27 May. Discover more about the businesses you can meet here.
I'm a freelance content creator and event host who helps small businesses and the organisations that support them. I have 18 years of experience as a small business journalist having interviewed hundreds of entrepreneurs from billionaires like Sir Richard Branson to the founders behind brand new start-ups. I've worked for a range of leading small business publications and support groups, most recently as head of content at Enterprise Nation where I was responsible for the prolific output of content on the company's blog and social media. I'm based in Bristol where I run and host regular events with the local small business community and have strong connections to major business organisations in the south west region. In total, I've hosted over 50 events; from intimate meet-ups to conferences with an audience of hundreds including events for international brands like Facebook and Xero. I'm also a big fan of podcasts having hosted Enterprise Nation's Small Business Sessions as well as lots of online events including Facebook Live interviews, webinars and three live web chats from inside 10 Downing Street. With my partner, I co-run Lifestyle District, a lifestyle blog focused on culture, art, theatre and photography. I'm here to help. I'm volunteering free advice calls of up to an hour as part of the Recovery Advice for Business scheme, over the next 6 months. Please get in touch to see how I can help your business.