MEMBER STORIES
'I want to put a stake in the ground': The Enterprise Nation member book publisher who's educating children & fighting animal extinction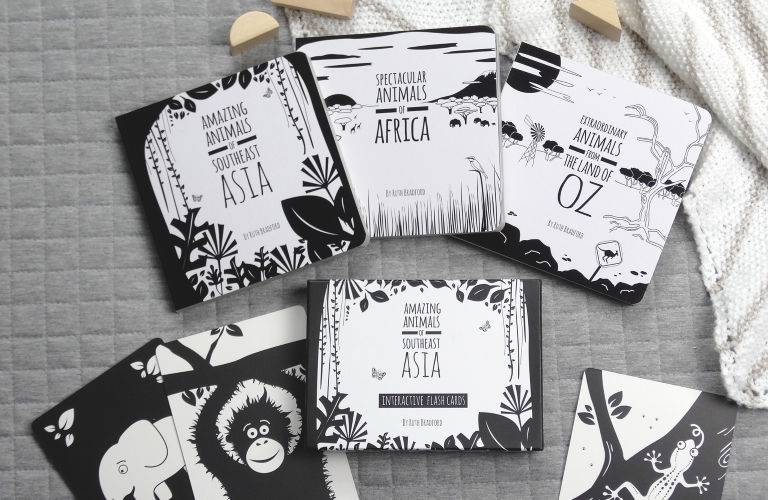 ---
Posted: Fri 4th May 2018
Ruth Bradford is the founder of the Little Black & White Book Project, a range of books and flash cards which bring animals to life for babies and toddlers.
Less than a year in to the business, the Enterprise Nation member has already beaten book publishing giants Penguin to an award and is running an event with Waterstones.
Ruth tells the story of starting the business in Singapore, moving to Bristol and how our business isn't just about education but also about supporting animal conservation projects across the world.
Join Enterprise Nation today and we might tell your story.
**
**Describe your business in one sentence.
A collection of monochrome board books and interactive flash cards for babies and toddlers showcasing animals from around the world.
How did you come up with your idea and turn it into an actual business?
Whilst pregnant with my son in 2016, I was searching for some well designed, interesting baby books that would be suitable from birth to help his development. Searching online and in the local bookstores I was really underwhelmed by the lack of books on offer.
As a graphic designer, it is in my nature to create bespoke items for friends and family and I couldn't help but feel like I could create what I was looking for myself. So I decided to put my 13 years of experience in the advertising and design industry to use and dream up something special for our little boy.
From a personal project for our baby, The Little Black & White Book Project has now grown into a business that provides a range of books, flash cards and prints showcasing animals from different countries and habitats on our amazing planet.
I am excited to combine my love for animals with my new passion as a parent and to share my illustrations with Mums, Dads and little people all around the world.
What start-up challenges have you faced and how have you overcome them?
We moved from Singapore to Bristol in August 2017 so I was juggling starting the business with packing up our life and looking after our little boy full time.
When the very first batch of stock arrived in the UK it was delivered to my parent's address as we were still homeless and jumping between friends and family. It was a mad dash to Norfolk to package up my very first orders and get them out to my customers, many of whom had made their purchases back in May 2017.
My biggest challenge now is trying to build retail relationships. I am naturally an introvert so cold calling and networking is all pretty daunting.
That and finding time for the business around childcare and freelance design work, like all working parents out there!
Selling books online is tough. They are so tangible so I know that building partnerships with local shops will be key if I am to build the brand.
What has been your biggest achievement with your business so far?
In March I found out that I had won a silver award at the MadeForMums Awards 2018!
We came second to Usborne Books and Penguin Random House achieved bronze, so for a little independent like me to be placed among such publishing giants, I really couldn't be prouder. Especially as we are not yet one year old.
These awards are judged by real mums as well as an expert panel so I am thrilled to have received such an award so early on in my business journey.
![](https://enterprisenation.blob.core.windows.net/enterprisenation/90325fd2e14ee811a958002248072cc3/books_fc_set (2).jpg)
What is your next big business goal?
As already mentioned, my biggest goal at the moment is to find some retailers and build relationships with local stores.
My business model is centered around donating 25% of my profits to animal and wildlife charities worldwide.
I have already made my first donation in January 2018 and I want to be able to make my next by end of the second quarter. So it is key to boost sales as much as possible in order to make as sizeable contribution as possible.
What do you think will be your biggest challenge getting there?
I think finding the right contacts who can offer me advice and also are willing to trail my products in their stores. It's so tough trying to track down the right person, catching them at just the right time where they have time to read an email from me, let alone respond.
I know it only takes one or two lucky breaks but it's tough to consistently see a blank in box. I need to keep motivated and plug away until that lucky break happens!
How has Enterprise Nation helped your business?
I've only been a member for a few months but so far I really love the platform.
I recently attended my first networking meet up in Bristol which was a bit of a breakthrough moment for me. I usually shy away from such events but I found this one great, pitched just right for me and I met some lovely people.
At the meet-up Enterprise Nation put me in touch with Waterstones.
I had a chat with the contact I was given and we have arranged to do an event on 20 June at the Clifton store in Bristol to meet parents and tell them about my books! Although it's a bit nerve wracking, I'm really looking forward to it and hoping it leads to eventually getting stocked in their stores. It's a huge foot in the door for me.
I also love the Enterprise Nation podcasts and online content. It makes me feel less isolated and that there is help waiting if I need it.
Which other entrepreneur inspires you and why?
For me I think I am inspired more by individual brands than specific entrepreneurs. Brands such as Toms, Rapanui, Patagonia, who have built a culture of change where they give back, concentrate on sustainability and where people and planet can be protected and helped.
What are your three tips for business success based on your experiences so far?
No matter how young your business is, live it. Get an email address, print business cards, always introduce yourself as the owner/CEO/creator...whatever your title is.
If you take yourself seriously, others will too. Plus you'll find you get better responses from a business address than a personal one.
Jump in! I am terrible for trying to run before I can walk but I do believe there is a time for planning and a time for action.
Get some products in your hand that you can share with other people. It's so much easier than having to paint a picture in people's imaginations.
Spend some time on your story. Get to know it inside out so you can talk about it succinctly but with passion.
A clear brand vision, with strong values will stand you in good stead. Keep checking back in with these often to make sure you stay on track. Businesses with a compelling story can't help but be authentic.
Anything else you would like to share?
I have been truly surprised and humbled by the last year. From sitting at my computer, bouncing on a yoga ball, listening to white noise whilst my baby slept on me in a sling (total madness I know!) to launching the business which now has seven products and more in development.
Every nook and cranny in our house is stuffed with stock, every spare minute is spent Instagramming, Facebooking and tweeting. Learning the ropes of accounts and tax and inventories. It's an incredibly steep learning curve for someone who really just wants to sit and draw all day!
I have a really long term ambition which is what keeps me going. One day, I want to sell enough books to have my own fund which charities can apply to, to help fund research projects and conservation efforts.
I want to be able to award grants and bursaries to those who are trying to protect our planet for future generations. I want to inspire children to love the wildlife around them and be the caretakers of the future.
I don't think it's ever too early to start and I hope The Little Black & White Book Project will go some way to getting them hooked from birth.
I want to prove there is a different way to do business where people and planet can profit. I want to put a stake in the ground.
Join Enterprise Nation today and we might tell your story.
Black and white board books and flash cards for babies and toddlers showcasing animals from around the world. 25% of profits are donated to worldwide wildlife and animal charities.