INTERVIEWS
How to test flavoursome food start-up ideas to see if they have potential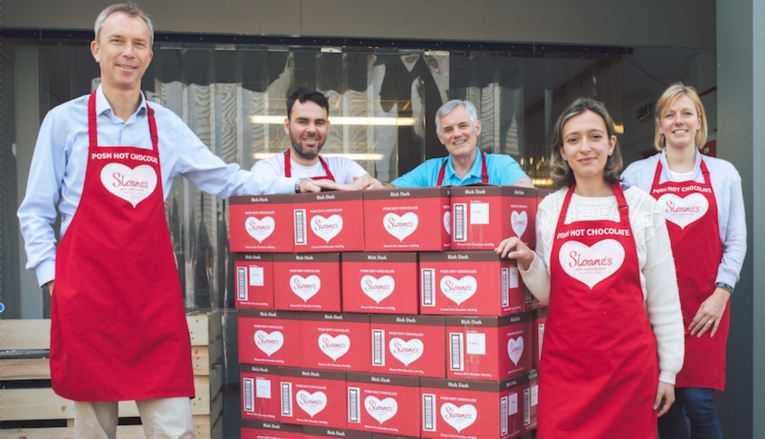 ---
Posted: Wed 5th Jun 2019
From food giants like Tofurkey to hot chocolate entrepreneurs in Byfleet, Surrey, you'll find food entrepreneurs testing kitchen table ideas with friends and family. But what's the best way to figure out if you're on to something? 
 
We spoke to two experienced food entrepreneurs about how they develop products when they first launched and what they've learnt since.
The passion to experiment
Creating a unique product takes time. Lucinda Bruce-Gardyne, founder of Genius Gluten Free Foods and a speaker at Festival of Female Entrepreneurs in Edinburgh on 7 June, spent years trying to create a gluten-free bread recipe that was tasty and fresh. The inspiration came from her three-year-old son being diagnosed with a severe gluten intolerance and the lack of options this created.  
 
Bruce-Gardyne leveraged her experience as a Michelin star chef to develop the product and has even gone on to write books on cooking for people with food allergies. 
 
"When I learnt to cook nearly 30 years ago there was no training in special diets, which meant I was a complete beginner. But because I was a very confident cook, it gave me the confidence to make stuff I've never had before," she said. 
 
Sloane's produces "posh hot chocolate". The company's first recipe was created with an obsessive approach to testing different blends of coco. 
 
"There were four of us in the early days. We were just tasting and tasting and tasting. We were buying in varieties and blending until we got the taste we thought consumers were interested in," aid Sloane's manager and Enterprise Nation member Brian Watt.  
 
"We're always trying to put more coco and less sugar. Lots of big brands are 25% coco. We want to put in more than that, to make blended milk varieties at 34% coco and we've developed dark chocolate ranges from a powerful 77% cocoa for chocolate aficionados."
 
The team tasted a lot of competitors' products, comparing them to their own inventions in blind taste tests. They developed a big map with a dark and sweat axis, discussing where each variety should go and looking at the gaps in the market. "We thought that there was a huge opportunity. We saw that so many of the big brands are very sugary drinks with not a great coco taste," Watt added.
Taking your creation to the general public
In the beginning, Bruce-Gardyne's children were her chief taste testers. She said you can start with friends and family but need to talk to people in your target market quite quickly. 
 
"It's very easy to find yourself down a rabbit hole and not taking on people's concerns," she explained. "Don't be scared to share your creations with the people that are going to buy your product. They will be your first and most loyal customers." 
 
Sloane's early testing was done at food shows. They still get customers to try new blends alongside the products they already have in the market. 
 
Cooking equipment can play a big part in commercialising recipes too. Bruce-Gardyne spent the first two years in her kitchen at home. That was followed by doing two years of night shifts in a local bakery. She leveraged the staff's experience to see how her home recipe could be produced at commercial volumes.
Free email course on growing your business
Get tips on scaling your company from Enterprise Nation founder Emma Jones and successful members directly into your inbox.
Sign up for the free email course
Researching food trends and talking to retailers
Watt uses Google research, Instagram and food magazines to figure out what the trends are. For example, the number of articles mentioning turmeric highlighted an opportunity to develop a new flavour that might be popular. 
 
"We brought in on-trend spices. We took turmeric, which is very on trend, we started blending it with different chocolates - the first time it almost blew our heads off!" recounts Watt. Sloane's now offer varieties such as Dark 53% and Terrific Turmeric. 
 
Sloane's works closely with retailers to get feedback and develop products that will help secure and develop relationships. In one instance, they were selling to a large country market, which was looking for hot chocolate that would appeal to adults and children.  
 
"They sell 10,000 cups a year, so they only wanted one type of hot chocolate," Watt explained. "We blended five with different levels of milk and chocolate and we sat down with them and they gave us feedback. They found one they liked, we adjusted it more and then we gained the listing. They ended up selling 40,000 cups!"
 
In another case, they worked with a top-end restaurant to create an original recipe based on Sir Hans Sloane's background. He helped invent hot chocolate and make it a staple of the Royal Family, and introduced avocadoes to the UK. Playing on that history helped them come up with an individual avocado blend for their client that had a powerful story.
Using social media to tell your creation story
Bruce-Gardyne started working on Genius Gluten's recipes in 2005 and launched the business in 2009. The business scaled rapidly and now employs 280, shipping products to Europe, North America and Australia. She highlights how social media, something that was in its infancy when Genius Gluten launched, has empowered people to tell their story and test demand. 
 
"Now that social media is so well developed, don't be afraid to talk about what you're creating. Take them on the journey while you're creating it. That's another way to really generate some interest. When you know you've got something and you know people want it you can then go to see big customers," Bruce-Gardyne advised.
 
How about showing the world your passion for experimenting? Sharing your story is a great way to build brand advocates and figuring out what people are interested in.
Recommended member content
You need to sign-in to view these links. If you're not a member, find out more about signing up here.
Chris has over a decade of experience writing about small businesses and startups. He runs Inkwell, a content agency that helps companies that sell to small business owners grow their audiences through content marketing. You can find him on Twitter at @CPGoodfellow.