BLOG
How to perfect the art of networking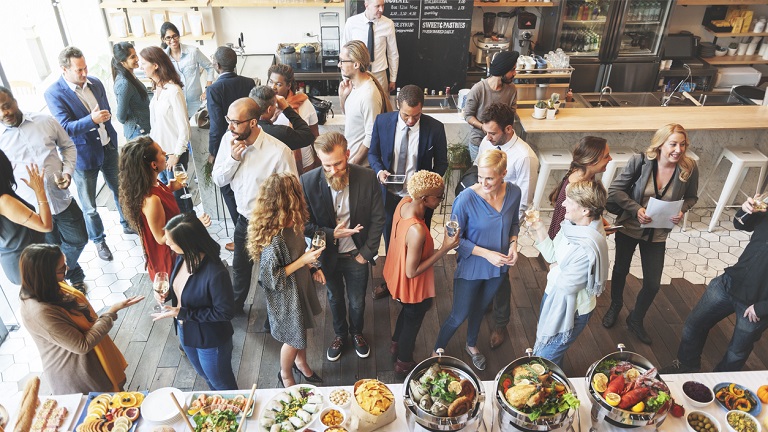 ---
Posted: Thu 24th Nov 2022
Attending networking events is a vital part of growing a business, but how can you master the art of making new connections?
Making connections with like-minded entrepreneurs can inspire and educate in equal measure.
Do your research
Networking events come in all shapes and sizes. From breakfast meetings and lunch dos to afternoon gatherings and evening drinks, you could network every day of the week if you wanted to!
However, you need to make sure you're attending events that are suitable for you and your business and you don't waste your time.
Local events are a good place to start because you'll have an immediate connection with other attendees.
Enterprise Nation runs regular small business meet-ups in several locations, which provide networking opportunities aplenty.
Be prepared
Before attending a networking event make sure you're well prepared.
Come armed with business cards and if the event you're attending publishes a guest list in advance, spend time highlighting the key people you want to meet. Write notes if necessary.
If you're new to networking or nervous about attending events, practice some questions that you could ask and think about how you can quickly describe what your business does.
Listen and help
It can be intimidating walking into a room of people you don't know and it's tempting to launch into a massive pitch about your products or services to break the ice.
But the best way to make the most of any networking situation is to think about what you can do for others rather than what you can do for them.
Introduce yourself and ask questions about them and their business to show that you're interested.
When it's your turn to speak, be clear about what your business does and focus on what you offer and how you're different to the competition.
One of the main benefits of networking is of course winning a new client or customer and you should listen out for attendees who fit your products or services, but networking is also about helping others.
If a new contact mentions a need that an existing contact could fulfil, recommend them. If you do that, there's a good chance people will remember you and return the favour by recommending you.
Remembering people's names is an important part of networking but it's can be easy to forget when you're just met them.
Some techniques to remember someone's name include repeating it silently to yourself when they introduce themselves, and using their name when talking to them and introducing them to others.
Good follow up
Following up is absolutely vital.
An effective method is a brief email when you get back home or to your office suggesting a future meeting to discuss collaboration.
You should also keep good records rather than just leaving a pile of business cards on your desk that you'll soon forget about.
If you do just rely on business cards though, it's a good idea to write a note about the person and the event you met them on their business card.
Adding your new contacts on LinkedIn, Twitter and other any social networks they use for business purposes is also recommended.
Go online
But it's not all about face-to-face events. The explosion of social media means it's possible to make valuable connections online.
On Twitter, there are thousands of regular chat sessions, which usually last for an hour and allow business owners to network about a particular area, sector or business subject.
There are also plenty of online events on Enterprise Nation, including meet-ups and Lunch and Learns.
Relevant resources
Enterprise Nation has helped thousands of people start and grow their businesses. Led by founder, Emma Jones CBE, Enterprise Nation connects you to the resources and expertise to help you succeed.