BLOG
How to make a good first impression at your trade stall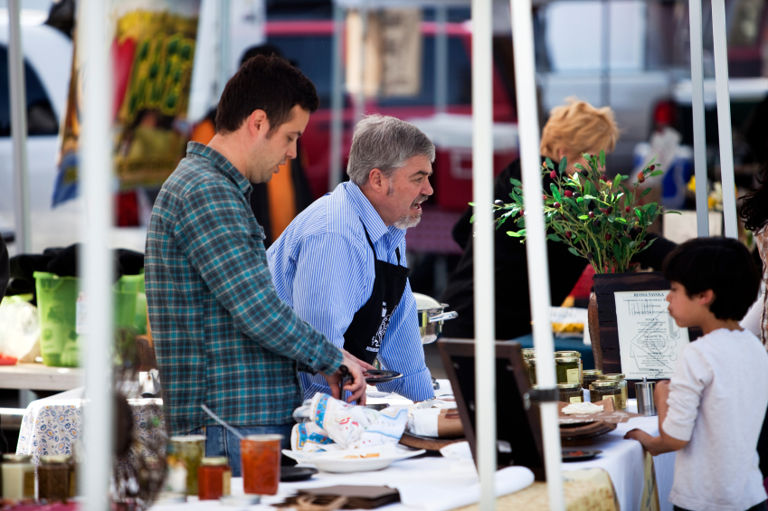 ---
Posted: Tue 21st Jan 2014
Potential customers browsing your stand at a market, trade fair or festival will decide in seconds whether to stop, peruse and buy. Converting them into fans and long-term customers takes longer.
Attending such events demands lots of preparation, not least booking your table space months in advance and then ensuring you bring sufficient supplies of your product. Some events, for example the BBC Good Food Shows runs over five days, whilst Country Living magazines shows last four days. Thus, to win and then keep visitors interested in your stand and product, you need to create a great first impression.
When planning a stall, most sellers spend more time organising their side of the table and not the display their customers see and experience.
Designing your space, you'll need to consider how to engage your prospective customers' roving eyes and attention. What is it about your stand and display that makes those vital connections and gets your customer to spend and perhaps sow the seeds for a long-term relationship?
Competition is everywhere; whether you are selling online, on the high street or at a street market. In the online world there are thousands of competitors, whilst at big trade shows you may be pitching for customers' cash against dozens of stallholders.
So, how do you compete in the real world at a market square fair or at a national exhibition?
Designing your stand. Give your display height so visitors can see you from a distance. Use props to give the products a sense of place, history and how they could become part of your customers' lives.

Take advantage of modern technology. Accepting credit card payments using a mobile phone, or using business card scanners at trade shows to build up your email marketing database all help to build up an images of an efficient, effective company at ease with the advantages of modern technology and moving forwards - even if you are selling vintage clothes or antiques.

Window dressing. You'll need to be careful to avoid creating a fussy display - too much choice in a small space will discourage buyers. For smaller products, say artisan chocolate or hand-stitched shoes, add a couple of large, blown up photos to attract attention.

Packaging. For food products in particular, stay away from white, home-printed labels. The inks run in damp weather and when the jar is stored in a fridge the labels quickly become smudged in moist atmosphere. Embellish clear, see-though cellophane bags with ribbon to add colour and interest. This also suggests to buyers it is a gift-wrapped present.

Call to action. Whether you are selling at a farmers' market with five other stalls or a trade show with hundreds, you need your customer to repeat buy from your website. Offer them discount voucher for their first purchase made through the site, and incentivise them to follow your blog or get a regular email newsletter.

Staying in the memory. Finally, whether they make a purchase or not, hand them information with easy to find contact details, and a little bit about you and your products. It'll jog their memory long after they leave the buzz of the event behind.
In a market, you never know who might be looking at your goods - perhaps a powerful buyer from a supermarket chain seeking new products to freshen up their displays. Or perhaps someone might recommend you to a local café, only for them to place an order for your cupcakes, home made bread or sloe gin!
So, next time you plan your stall, consider the impression you're making from the other side, from your customers point of view.
Bruce McMichael is author of Cook Wrap Sell (@CookWrapSell) and passionate about local food and food businesses
Enterprise Nation has helped thousands of people start and grow their businesses. Led by founder, Emma Jones CBE, Enterprise Nation connects you to the resources and expertise to help you succeed.