BLOG
How to get your sales mindset right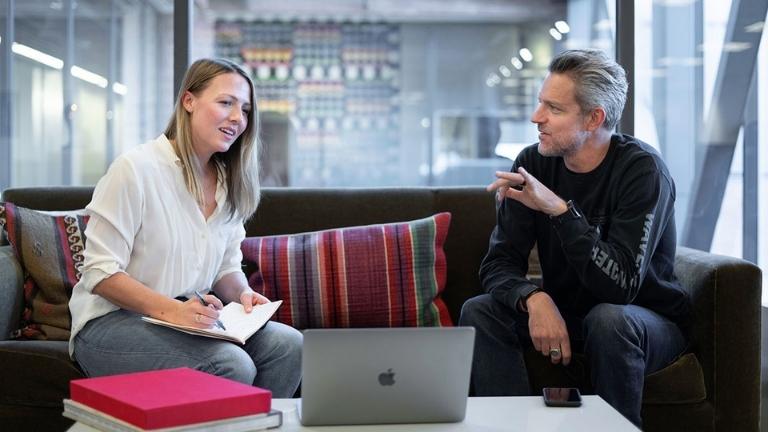 ---
Posted: Thu 16th Jun 2022
Do you truly believe in the value that you bring for your clients?
OK, let's reflect on that question… and then I'm sharing three tangible things you can start doing today to help you portray the epic value you offer your clients.
Believing in your value
If you don't deeply believe in your value, if you notice any little weakness in your mindset, then ask yourself this question: "If I don't deeply believe in my product, my service, my price, my offer, how can I expect anyone else to believe in me? How can I expect anyone else to value what I don't value?"
So, when you go into a live pitch, maybe a live video, or a sales call, how could you expect people to really trust your credentials, your offer, your value, your price, if you're not portraying it in a way that demonstrates what you truly believe?
I want to encourage you to do this when you wake up tomorrow. Once you've got your cup of tea or coffee, I want you to write down:
all the reasons why you're amazing

all the reasons why your service is going to deliver fabulous results for your clients
Put those reasons somewhere visible to remind yourself constantly that you are worth the price tag, you are worthy of winning that client, because you have to believe more than anybody else.
The outcome
My second point to get you really thinking, is this… are you attached to the outcome? And can you detach yourself from it?
So, for example: when you're going into a sales call, do you have thoughts that the outcome of that sales call is justification around whether you are good enough? Whether you are worth it? Whether you are liked? Does the outcome of a sales call make you feel judged or anything less than what you want to be?
Now I'm going to suggest that your sales mindset will be much healthier if you can detach yourself from the outcome.
There are always going to be people who say "no". I have been in sales for 25 years, never once have I met a salesperson who gets a "yes" 100% of the time. It just doesn't happen.
So, you have to therefore expect and accept that you're going to get "no's".
What I'm inviting you to do is to see those no's as an opportunity to learn.
What went wrong?

What could you have done differently?

Or is it just a circumstantial thing?
Maybe you did everything right, but it was the wrong client in the first place. There's lots of reasons why a sale won't be met with a "yes", but what I want you to do is to be able to detach yourself from when that is the case.
Getting a no doesn't mean you're a bad person. Getting a no doesn't mean your product is rubbish. Getting a no doesn't mean anything other than at that precise moment it wasn't a good fit for you and your client.
Building a connection
The next tip is about connection.
If you struggle with your sales mindset, I would suggest that it's because you haven't built enough of a connection. If you truly have connected with the person you're trying to sell to, then you won't worry about rejection. People buy from people.
You need to create that sense of trust. It takes anything from seven to 20 touchpoints to create enough trust for somebody to invest with you. Think about what your opportunities are to accelerate this. Are you showing up enough, or are you visible enough?
What I would say to you about trust and showing up is this one word which is really, really important: consistency.
When you show up to your audience and consistently deliver value, your audience starts to get a feel for what it's like to work with you.
You know some days I can't be bothered. Some days I would rather just curl up and watch Netflix. But I don't, because I'm ambitious and I know that I've made a commitment to my audience that I'm going to show up!
I know that if I don't show up, I'm going to start getting messages from my lovely community asking if I'm OK. That's because I'm visible, I show up and people expect me to be here to serve my community.
That's how I built my business and that's how I want to encourage you to build yours.
Imagine what your audience would think if there's one particular week where you're really on it and you're live every day, you're posting every day and you're really visible, but then all of a sudden, you're not there?
What does that say to somebody? Does that say that your commitment waivers? Does that say that you're an 'all or nothing' kind of person?
They might think "Well, if I was to work with her would she behave the same way? One minute she's everywhere and the next minute I'm not going to hear from her? I want to work with somebody who's consistent, I want to work with somebody that's going to be there to support me."
When I say 'consistent' I don't mean you have to be there every day, but you can't be present one minute and then disappear the next minute. So, carefully select how frequently you want to show up and don't let that sales mindset get in the way.
Practical tools and tips
The final point is to think about what tools and tips you can use in your day, your week, your month, to help you manage time and optimise the visibility you can achieve for your audience.
So now I want to give you some practical things that you can do to manage your sales doubt and your mindset challenges.
Keep a journal
I want you to journal about how much value you bring. How much experience you bring, your credentials, why your clients are lucky to work with you…
We're in the service industry because we've got gifts, we've got expertise, we've got knowledge and experience and we want to share that as much as possible and get paid well for doing it.
Visualisation
Every morning visualise yourself on the sales calls that you've got in for that day and visualise them going amazingly.
Just take three minutes to sit and close your eyes and visualise it because your brain is not clever enough to detach the fact that that visualisation and the real event are two different things.
So, by the time you get to the real event your brain is already pre-programmed that it's going to be amazing.
Visualise your sales conversations going smoothly and getting the lovely "yes" that you want at the end for the client to dive into your programme willingly and easily.
Do a mood board
Create a mood board which is you in your most confident self – not a mood board about your vision or where you want your business to be, but a mood board that describes the version of you that you want to be when you feel that you've mastered sales. When you feel that you're as confident as you can be at selling and selling conversations.
So maybe on the mood board you'd have yourself in a polished outfit, you might have you with your favourite accessory. It's not all necessarily attached to how you look, but those things will matter.
Create a visual representation of how you will look and feel when you are your most confident self.
Pick your top three words that would describe you when you're feeling super confident and get them on your mood board.
Got any questions about sales mindset, any blockers that you're struggling with, any challenges? Maybe you've had a sales call today and it didn't go well? If you have any questions for me, reach out.
Hi, I'm Rachael and I'm on a mission to help coaches, consultants and online course creators to build and scale their business, so that they can celebrate sellout program launches and create passive income streams. As a sales mentor and business strategist (with 25 years experience), I get so much joy from enabling fellow online entrepreneurs to scale to 6 figures and beyond through strategy, training and coaching. And I provide everyone in my network with free resources in my Members' Zone, which you can access for free here. The online coaching and course creation industry is so vast and still growing, and so there's a huge opportunity for you to create impact in the world by sharing and monetising your expertise. I work with ladies all over the world, helping them to build a powerful online brand to support their business and enable them to attract clients with ease and confidence. I help my clients to; - Build a business model to start, grow and scale an online coaching business - Create a profitable online course, program or membership and launch it successfully - Attract new clients through the use of magnetic social media and online sales systems - Design high conversion funnels to achieve reliable enrolment into your programs and courses - Set and achieve high ticket income goals and build a passive, evergreen strategy for growth - Scale up their business, embracing a CEO Mindset and outsourcing for long term success Here's some of the programs I offer; 🌟 Powerful 1 hour session to Build a 100k Business Model $127 👩🏼‍🎓 Authentic Sales Success School - a sales-focussed membership 👸🏼 Online Sales Confidence Accelerator - 5 week program 💰 Profit Project Program - 12 week program 🔮 Beyond the Next Level Mastermind - launching July 2021 💎 Attracting Clients with Ease - 1:1 Coaching Program for 12 weeks 💎 1:1 Coaching Program 6mth and 12mth If you're a coach or cousre creator with big ambitions, I'd love to speak with you. Here's a bit more information about me as a person; MY VALUES 🌟honesty 🌟integrity 🌟simplicity 🌟empowerment I BELIEVE 🆙 We rise by lifting others ✳️ Facilitation is a lifelong transferable skill 🆘 When business feels hard, stick to simple ✅ Control the controllables, let go of the noise WHO AM I REALLY? 👩‍❤️‍💋‍👩 Collaborator & Community Builder 🌱 Always learning & growing 📝 Sales Strategist for simple success 🔮 Eternal Optimist 😇 Your New Biz Bestie I'd love to meet you - you can book a Personal Breakthrough Call here