BLOG
How to get your business ready for the Christmas season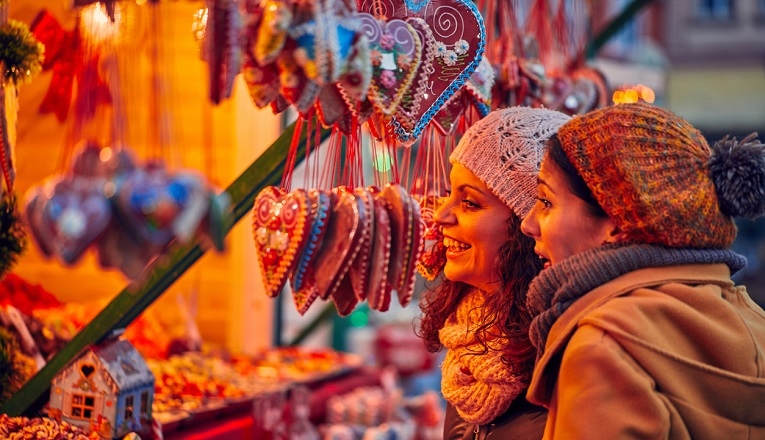 ---
Posted: Wed 28th Aug 2019
The UK just had a heat wave and the leaves haven't started to change colour, but small businesses across the country are busy getting ready for the Christmas rush.
We spoke to entrepreneurs and Enterprise Nation advisers about how to get the most out of the holiday season, from dealing with big retailers and the media to manufacturing.
Taking advantage of Christmas markets
Christmas markets are a great way to get your products in front of lots of shoppers who are keen to buy gifts.
Enterprise Nation member Nina Allwood said her business Bristol in a Box receives about half its orders during the Christmas period. Market stands are an important opportunity to expand her reach and that means the Christmas countdown starts in August when many markets are looking for retailers.
"Market stands are usually confirmed in October and I immediately start promoting it on social media so people can get the date in their diary. In late November, I update the headers on my website, Etsy shop and social media profiles with market information and a Christmassy design," she said.
Allwood is planning to take part in the market at The Festival of Female Entrepreneurs on 18 October (Enterprise Nation members can find out more about getting a stand here).
Updating products for the Christmas season
Ashley Cavers, Enterprise Nation member and co-founder of The Wonky Food Co, is adapting products for the Christmas season.
"We're currently sourcing appropriate packaging, so we can sell our range of three relishes as a Christmas gift pack," she explained.
It can be hard to judge the amount of demand the Christmas season is going to create. It's The Wonky Food Co's first Christmas too and they don't want to invest precious budget in packaging that doesn't get used, so they're using plain boxes and attaching a Christmas label to them.
Manufacturing is an important part of the planning process. If you have too many Christmas-branded products you can get stuck with them for at least a year, too little stock and you'll miss out on sales.
It's worth talking to your manufacturer to check how busy they are during the peak season. Cavers' manufacturer got in touch to say October and November are very busy and asked them to get their production runs booked early.
Working with large retailers
Enterprise Nation member Rebecca Saunders is a former John Lewis buyer and founded Seekology to help emerging beauty and wellbeing brands. She said large retailers start thinking about their strategy for Christmas in January when they attend trade shows, adding she added she once attended a Christmas kick-off meeting in November to start planning for the following year.
"By the summer, it's unlikely you'll be able to develop new relationships with larger retailers, but you may be able to add further products with existing stockists if you are performing well versus forecasts," said Saunders.
She recommends getting in touch with large retailers to see if there are Christmas activities you can participate in.
"It could be anything from catalogues, which are usually planned through the summer for launch in October, to in-store events. Ask if it's possible to be featured in emails, on the retailer's key landing pages or in prominent locations in stores such as windows or promotional sites," she said.
Saunders recommends thinking of ways you can give value back to the retails, like offering exclusive products, value-add promotions or helping in store.
Smaller retailers are more flexible about the timing of decision making for Christmas and a yuletide listing might still be possible.
Marketing products to Christmas shoppers
Think about marketing partnerships that could help expand your audience during the Christmas season.
"We're looking at brands that we can partner with to offer Christmas promotions via social media," said Cavers. "For example, offering Christmas hampers that use complementary products like relish, cheese and crackers. We're talking to other local producers as well as other sustainably-sourced brands."
Lots of publications have gift guides, which are a great way to get in front of shoppers. PR Dispatch's Rosie Davies said the submission deadlines depend on the medium, recommending small businesses have great imagery and approach editors as soon as possible.
The monthly glossies like Cosmopolitan and Country Living plan three to six months ahead of when they're published.

Sunday supplements and weekly magazines like Grazia plan Christmas articles between two weeks and three months ahead.

Online Christmas gift guides such as the Guardian can be anything between three weeks to one week ahead of being published and can be launched online between November and the 23rd December.
Watch Davies' webinar on getting featured in Christmas gift guides.
Allwood offers reduced prices for Bristol in a Box's lightboxes if people buy more than one during the Christmas period and sometimes reduces pricing towards the end of events. She also switched to free UK delivery last year.
"For online orders, I offer hand delivery in Bristol until very close to Christmas, which is an incentive for last-minute shoppers or those keen to meet the artist behind the product," she said.
Entrepreneurs are often quick to admit there's more they could do to maximise Christmas sales - Cavers said his team is "kicking themselves for how late we've left Christmas preparations". But whatever stage of you're at there's opportunities to take advantage of, just make sure you get started as soon as possible!
Chris has over a decade of experience writing about small businesses and startups. He runs Inkwell, a content agency that helps companies that sell to small business owners grow their audiences through content marketing. You can find him on Twitter at @CPGoodfellow.