BLOG
How to find new customers for your start-up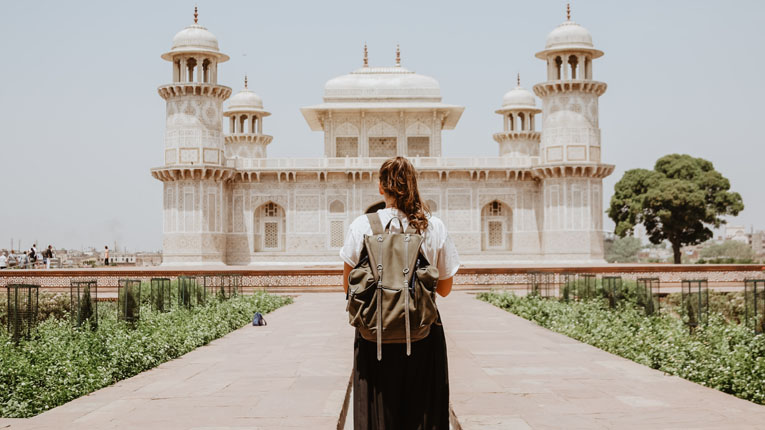 ---
Posted: Tue 29th Sep 2020
When Charlie Gilbert started his own travel business, it was the one question he was constantly asked: "How will you find customers?"
It was a valid one. Holidays, after all, are expensive. Especially when they involve travelling all the way to South Asia - a region well covered by other, more established operators.
Here, Charlie tells his story.
Value proposition
I had created a model I was happy with. The product undoubtedly represented good value. The backend - from accounting and insurance to trade association membership and website hosting - was shipshape. The brand was pretty strong. Its web presence was as good as it could have been. Dare I say it, but the value proposition wasn't bad, either.
Surely it was only a matter of time before customers, tired of paying over the odds with samey tour operators, discovered it?
Well, kind of. There was a steady trickle. They were generally a mix of people who'd found the business on Google (organic and paid) and friends of friends who'd heard about what I was doing.
The former, by and large, couldn't have given two hoots about the brand - which is fair enough. They wanted the best deal on a family holiday to India, or a honeymoon to Sri Lanka, and they saw mine as potentially being the business to provide it. Trouble is, they often disappeared after a couple of interactions. One disappeared after about 20, one of which involved tentatively sourcing a band to play at their Goa hotel on her husband's 60th birthday, and finding a cake with the requisite number of candles.
The latter were willing to spend far longer talking to me - in other words, exploring the product - because that crucial element of trust had already been established. They knew someone who knew me. This group was easier to sell to, but the volume just wasn't there. It also didn't feel like the business was completely standing on its own two feet.
So, here are three things I did to find new customers (and which you can do too, especially if your business's product or service is expensive).
1. I told my business's story in the right place at the right time
Big companies have the luxury of advertising budgets, from which stories are spawned and audiences, and channels, identified. Small companies don't. They do, however, have heart, soul and authenticity - the power of which, in a storytelling sense, shouldn't be underestimated. But these stories need to be told at the right times and in the right places.
A case in point: on a cold February afternoon in 2015, when people were dreaming of escaping to warmer climes, I took part in BBC Radio 6 Music's Good Day Bad Day feature, where a listener is invited to, you guessed it, reveal whether they're having a good or bad day (before choosing a song to match it).
Steve Lamacq inevitably asked me what I do, which was of course a perfect way in to talking about my business. I didn't receive a flood of enquiries, but enough came in to make me realise I was on to something. Within 48 hours, I had sold a family holiday to Sri Lanka, for six people, for three weeks.
As much as I'm advocating being an opportunist on national radio, this obviously isn't the only way to go. I would, however, strongly recommend getting your voice out there on channels and platforms that aren't your own, and which are engaged with by your potential customers - a webinar, a podcast, an Instagram Live.
2. I interviewed my first customers to create really powerful testimonials
Being on intimate terms with your customers is another massive advantage of running a small business. This is especially true when selling holidays - craft a trip tailored just for them (their needs, their tastes, their interests, their budget), and you'll establish a rapport that leads to a) repeat business and b) new business from their friends and family.
Get a testimonial from them and you can also generate new business from others, too. Because you're on intimate terms, you don't need to send them a soulless email asking for a testimonial. I mean, you shouldn't do that anyway - everyone else does, all the time, and chances are you'll only end up with a bland "I was really happy with everything thanks highly recommend".
Pick up the phone instead. Again, it comes down to storytelling. You want to bring out your customers' stories. Get them to talk about their experience in detail. What did they like about your product or service? What did they get from it? How did it differ from competitors' offerings? Would they recommend it?
By the time you hang up, you'll be armed with a powerful selling tool that isn't, by virtue of it being someone else's voice, salesy. Carve it up, pull out the best bits, and roll it out across your website and any other collateral. Get a few and they'll build trust among people new to your business, and help those with doubts overcome their scepticism.
3. I relied on the help of brand advocates
Everybody I held dear to me, and everyone I worked with when setting up my business, I tried to turn into an advocate for my business. Though not initially, for some reason. Maybe, as already alluded to, I assumed potential customers would just get in touch as soon as the launch button was pressed.
But then it hit me. I had spoken to a lot of people about my business. The lawyer who wrote all my booking terms and conditions. The designer who visualised the brand and the website. The developer who built the website. Mentor #1, whom I was put in touch with after successfully pitching for a start-up loan. Mentor #2, a former colleague and the former chief executive of a travel company. The person who helped me set up card payments. My contact at the Travel Trust Association. My mum. My best friend. My soon-to-be wife. Steve Lamacq.
All of these people had, to some extent, 'bought in' to the business (often after a protracted grilling). Would they, I asked politely, mind spreading the word? I ended up selling at least one of these people a cost-price holiday to India - a token of gratitude, if anything - which obviously aided them saying "Yes".
And it worked. My advocates didn't just talk about my business to their family, friends and contacts; they recommended it. The customers who then got in touch had, to some degree, already been nurtured. They were genuinely interested. They wouldn't get any nasty surprises ("Sorry, how much?"). And, crucially, they could later spread the word to their own family and friends.
What happened to my business in the end, I hear you ask? Well, that story will have to wait for another post…
Enterprise Nation has helped thousands of people start and grow their businesses. Led by founder, Emma Jones CBE, Enterprise Nation connects you to the resources and expertise to help you succeed.