MEMBER STORIES
How to employ an apprentice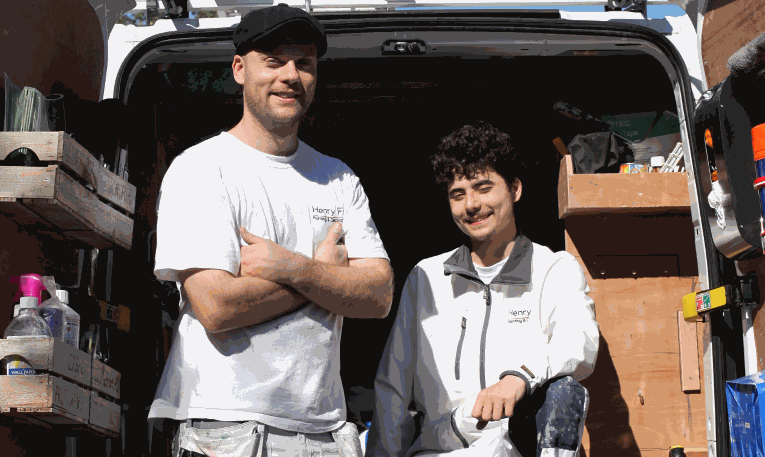 ---
Posted: Mon 4th Mar 2019
The government is keen to encourage businesses of all sizes and the chancellor announced in his 2018 Budget that the share of training costs small businesses must pay will be cut from 10% to 5%.
Employing an apprentice can bring many benefits to your business but there are challenges.
To mark this week's National Apprenticeship Week, we're republishing this article in which we look at the key factors small businesses should consider with insights from some Enterprise Nation members who have employed apprentices.
1. What benefits do apprentices bring to small businesses?
Apprentices are new or current employees aged 16 or over who combine working with studying to gain skills and knowledge in a specific job for which they'll receive a qualification.
When considering taking on an apprentice, it's important to understand the value they will bring to your business. What role will they play and how much support do they need?
Jack McCaughtrie, the founder of social media marketing company Core Tree, hired apprentice Georgia as his first employee.
"I was looking at increasing the capacity within the business so assessed a number of options," he said. "I arrived at the decision to take on an apprentice as it is great way to mould and shape someone who has a keen interest in what the company does.
"Georgia is an enthusiastic young person who provides us with a different way of thinking and new ideas that have allowed me to sustain and grow my business. Bringing in a different way of thinking is great when we're planning campaigns for clients and implementing new ideas."
The benefits of inspiration and creativity are often mentioned by small business owners. Serviced office company Obsidian has employed several apprentices. Centre manager Vicky Harris said the business benefits from the new perspectives they bring.
"Apprentices often bring life to stagnant projects that have been forgotten and get other employees excited about them again," she explained. "They also bring a different perspective to the business and highlight things that perhaps we didn't think about before."
Apprentices also provide an opportunity to train new employees from scratch rather than hiring someone with experience.
Kim Spooner, co-founder of Henry Fix Painting & Decorating, took this route. "We wanted to grow our business and have some extra help on site," she said.
"We had tried this with 'experienced' tradespeople but it did not go as smoothly as we planned, so we thought that getting someone fresh in and teaching them our way of doing things would be a better plan."
It's important to understand the benefits apprentices get and why they chose this route too. Keeping them engaged and happy requires having a good understanding of what they want from their role and career, just like any other employee.
2. How can small businesses recruit apprentices?
To employ an apprentice, you need to work with a training provider who will deliver the off the job training that forms part of the apprenticeship for which the apprentice receives a qualification.
Apprenticeships have the following equivalent education levels so you need to decide which is most appropriate for your business:
Intermediate: level 2 (equivalent educational level of 5 passes at GSCE grades A - C).

Advanced: level 3 (equivalent to 2 A Level passes)

Higher: Level 4,5,6 and 7 (foundation degree and above)

Degree: Level 6 and 7 (bachelor's or master's degree)
You can find apprentices by approaching training providers and local colleges directly, using job boards or searching on the government's website.
The National Apprenticeship Service also has a telephone helpline at 0800 015 0600.
Georgia completed several work experience placements with Core Tree before joining as an apprentice. McCaughtrie and Georgia looked at training providers together to help ensure the course was relevant.
It's important to plan the interview process. Ask questions about the future, what they want to do and what gets them excited.
It could be their first interview, so take steps to reassure candidates by being enthusiastic and accessible, and avoiding technical industry questions. Find out more about what they have achieved outside of work.
Obsidian's Harris said the interview process is crucial for the employer and apprentice.
"For a long time we used the local college but we were never very impressed with the candidates and support that was offered," he said. "I think our main difficulty was finding someone to fit in with our team. The college would send us someone and that would be it."
"But for about three years we have been using Arch Apprentices and they are fantastic."
3. How much time and money does it take to manage an apprentice?
While of course you must pay your apprentice at least the minimum wage (currently £3.70 per hour), the government will fund most of the training costs.
At the moment, 90% of the costs are covered for businesses turning over under £3m. You need to pay 10% of the training fee direct to the training provider, and the government will pay the remaining amount.
When taking on an apprentice, you must complete an apprenticeship agreement with them.
This covers:
how long you'll employ them for

the training you'll give them

their working conditions

the qualifications they are working towards
The government has provided a useful template here.
You also need sign a commitment statement with your apprentice and the training organisation.
It must include:
the planned content and schedule for training

what is expected and offered by the employer, the training organisation and the apprentice

how to resolve queries or complaints
Apprentices also require a significant time investment. Employers need to plan the onboarding process and ensure the apprentice has sufficient support to learn and grow.
"I wanted to increase the capacity in the company in order to grow and didn't appreciate how much time is taken up with training, answering questions and walking through projects," said McCaughtrie.
"This is all necessary and things that we now do on a regular basis but it took a little time to adjust and embed into what we do."
Onboarding an apprentice takes time. Make a detailed plan on how you will help them become familiar with the company's processes, systems and culture. It could be their first time in a professional environment too, so they may need guidance on professional behaviour such as how to handle clients.
Still thinking about hiring an apprentice?
It's important small businesses have the processes and time to make an apprenticeship placement valuable. That said, the feedback from Enterprise Nation members in response to the government's pledge to halve training costs will save money was overwhelmingly positive.
"If you are thinking about taking on an apprentice, do it," said Harris. "Watching the apprentices grow in confidence and knowledge is really great."
Chris has over a decade of experience writing about small businesses and startups. He runs Inkwell, a content agency that helps companies that sell to small business owners grow their audiences through content marketing. You can find him on Twitter at @CPGoodfellow.