BLOG
How to do business with Crossrail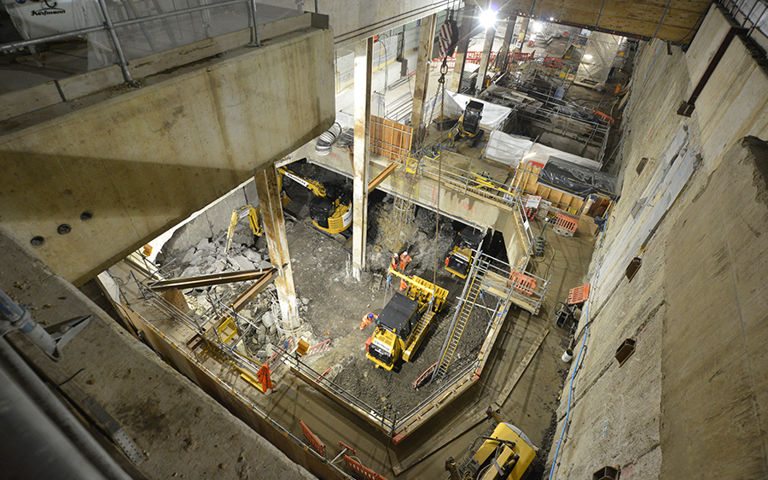 ---
Posted: Thu 8th Oct 2015
Crossrail is the new high frequency, high capacity railway for London and the South East. The multi-billion pound project offers several opportunities for small businesses providing relevant products and services, but how can you get involved? Simon Pain, principal programme supply chain manager at Crossrail, shares advice.
Simon Pain is a speaker at the Government Exchange in London on 12 November. The event will match small businesses with buyers from government departments and large government suppliers looking for small business contractors. Buy a ticket here.
What type of products and services does Crossrail buy?
Crossrail Ltd itself buys relatively few products and services. The great bulk of purchasing activity on the Crossrail project is by our main contractors; the large construction companies and joint ventures contracted to build the stations, dig the tunnels and install the systems and signalling. The project is almost 70% complete and the main contractors have approximately £2bn left to spend, having already spent approximately £5bn. Of that £2bn an estimated 35% will be spent on systems and signalling etc, 50% on stations and 15% on civils. There are still some opportunities in mechanical and electrical and fit out but these are being procured quickly and won't be around long into 2016.
How do you engage with small businesses in terms of promoting procurement opportunities?
We have carried out a programme of supply chain engagement over the last five years which has produced a supply chain comprised of approximately 60% small and medium sized businesses, 70% below tier one. The programme has comprised regional speaking engagements with tier one contractors, to raise awareness of the opportunities, a comprehensive website including an interactive supply chain map and details of all our main contract awards, and the use of the Compete For supplier sourcing tool, which is mandated in all our main contracts.
What would be your advice to a small business wanting to pitch their products and services to you?
Whilst it is less likely that a business would be pitching directly to Crossrail (see point above) I would suggest that they respond in a way that makes it as easy as possible for the evaluator to find the material necessary for him/her to see that the requirements have been met, just like you would for an exam answer or on a CV.
Public sector procurers should state their criteria for contract award and the corresponding weighting/order of importance so pay careful attention to these when framing your answers. Pay attention to page limits and use the space effectively. Don't ramble, address the buyers actual requirements. One of Crossrail's main contractors (not bound by public sector procurement rules) has kindly provided words of advice which I reproduce here:
General
Having the requisite skills is only one part of winning work with a typical tier one contractor.

Do your homework, and understand what the buyer wants, and that you can show you can provide it

Get to know what accreditations, certifications and insurances are required and gain an understanding of types/forms of contract in use

Make it easy for the tier ones to use you. Don't put blocks in the way by having too many nos in completing questionnaires

Be patient. On large projects it can take up to 20 weeks from advertising to award for even small sub-contracts. It is a lot quicker for material supply items, maybe 2-10 weeks

In urgent cases this can be reduced to minimal time periods, but this is not the norm
Opportunities
Use any relevant supply chain advertising services such as CompeteFor for Crossrail. Make sure you completed your profile and have an active email address registered

Apply to tier ones to get on their approved supplier lists

Most tier one contractors will use both these sources to pull tender lists together and let contracts on a combination of price, Health and Safety Executive compliance, quality, capability and capacity

Many tier ones prefer to contract with limited companies or limited liability partnerships and not directly with self-employed organisations
Prequalification
Tier one contractors have several layers of internal approval to achieve before any subcontract / supply contract is let

Have (or at least be aware of) policies for health and safety, quality, environment, training, responsible procurement and have processes and procedures available

Keep up to date with all information to Companies House & get to know about your credit worthiness ratings (eg Credit Safe, Dun & Bradstreet)

Tier ones use these tools to look for financial stability, and may require reasonable assurances that you will be able to complete the work if awarded it

For very small businesses, eg niche specialists or consultants, be aware that if there is a choice of suppliers with comparable skills and experience. Those with relevant accreditations will have the advantage
Assessment
Tier ones will select on the basis of price, financial stability, health and safety compliance, staff plus operative individual accreditation, eg CSCS cards, quality (ISO 9001:2008 accreditation is generally a minimum requirement these days), track record, environmental awareness (policies in place and ideally ISO accredited), treatment of workforce (responsible procurement), capability and reputation, responsiveness to change and ability to collaborate.
Payment
Large government projects use project bank accounts now so payment on time is much less of an issue, although this is clearly not universal.
Reserve your place now at the Government Exchange!
Where? Microsoft, Victoria, London
When? 12 November, 10am to 4pm
Hashtag? #GovernmentExchange
- - -
Event partners:
This event is part of the Enterprise Nation Exchange Series.
Enterprise Nation has helped thousands of people start and grow their businesses. Led by founder, Emma Jones CBE, Enterprise Nation connects you to the resources and expertise to help you succeed.