BLOG
How to create a street food concept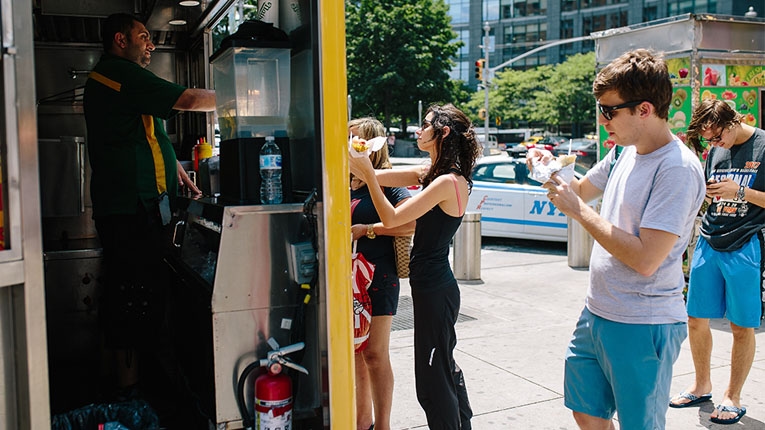 ---
Posted: Thu 24th Aug 2023
The rapid growth of the street food industry in the last five to 10 years is only set to continue in the aftermath of the pandemic.
We live in a world where takeaway food is often considered as substantial an experience as dining in. Street food concepts regularly surpass restaurants in terms of creativity, convenience and affordability.
Coming up with a new street food concept can be fun, challenging and rewarding. Here are the basic building blocks for planning out a new street food business.
Old or new?
To have a successful street food business, you first need a winning concept. Most street food businesses start with an idea, whether it's an obvious gap in the market, an unusual cuisine, or simply food that you're passionate about making at home.
Many consultants will tell you that, to be successful, your idea needs to be completely unique and never seen before. But it's possible to build a new street food business around an already popular cuisine. As long as the concept is fresh, exciting and exceptionally executed, it can still succeed.
Do your research
When it comes to finalising your street food concept, it's essential to do as much market research as possible. Knowing your competition is key to making sure you're confident in your idea.
If you find yourself looking at other street food concepts and feeling tempted to copy what they're doing, your idea simply isn't strong enough and needs developing further. Start by researching food markets near you and a list of their existing vendors. Take note of the following:
Cuisine

Price point

How the food is presented (in a bowl, in a cone, handheld etc.)

How the business operates (from a truck, a gazebo etc.)

Location (is it fixed or constantly changing?)

Demand (is the vendor being booked often? Are people talking about it online?)
Top tip: The best way to conduct your research is to try as many street food concepts as you can. Talk to existing vendors about how they started their business and the challenges they faced and get as much first-hand advice as possible.
Keep it simple
Once you have a fully developed concept, the next step is to determine your menu. A strong menu is undoubtedly the most important part of starting any street food business. As history has shown us time and time again, great food draws people in and keeps them coming back.
A street food menu should be small, concise and well-developed. Depending on your concept, you should aim to offer three to four core items, with room for a few sides and/or add-ons and drinks.
Unless you plan to offer good-value bundles – for example, a burger and fries for a set amount – your individual items should be substantial enough to be enjoyed on their own. Customers don't want to feel as though they have to spend more money to add sides or toppings, just to avoid feeling hungry.
The right menu
Street food is popular because the food is interesting and exciting, and usually not available from a high-street restaurant. Your menu should be compelling, but not overly complicated.
Remember, you'll have a limited amount of time to grab someone's attention as they wander around a street food market. Customers need to be able to absorb your menu quickly and easily, so they can make a decision about where to order from.
How to do it and how not to do it

✘ A wrap with your choice of filling, your choice of topping and your choice of sauce

✘ Marinated and roasted pork loin in a homemade wrap, served with romaine lettuce,  heirloom tomatoes, English cucumber and your choice of sweet chilli or garlic sauce

✓ Pork wrap   |   Lettuce, tomato, cucumber   |   Chilli or garlic sauce
Street food businesses have limited space to display menus, so you need to find the right balance between too general and too descriptive. Writing a street food menu is not a one-off exercise – make sure you continue to review and revise your menu until you're completely happy.
You can also ask other people to look at your menu as if they were customers and find out what they like, don't understand or would change.
Top tip: If people love your street food product enough to share it on social media, or tell their friends about it, they're going to use your language to describe it. Think carefully about how you name your items to make sure they're memorable and easy for one person to describe to another.
The extras
Once you've developed your street food idea and completed the menu, the next step is to launch.
You need certain licences in place before you can start trading as a street food vendor. There are plenty of resources out there, like Alliance Online's guide to starting up a fully-fledged street food business.
Make sure you also familiarise yourself with The Nationwide Caterers Association (NCASS). It has lots of useful information for new street food businesses, and you'll want to register before you start trading.
Don't forget about the marketing
If you're ready to take your street food concept forward, you'll need catchy branding, a great digital presence and someone to help you with all the little things that are easy to forget – contactless payment system, anyone?
Relevant resources
Founder and CEO of Food Motion, Peter Farrell, worked in some of the best restaurants and hotels around the World, including one, two and three Michelin starred establishments, before launching and running his own street food and restaurant ventures. With over 7 years in higher education researching food, wine, hospitality and business, and 20 years experience in the restaurant sector in kitchen, front of house and senior management roles, launching over 10 restaurants along the way, Peter has a wealth of knowledge and contacts in all areas of this sector.Food Motion is a modern, creative and professional food business consultancy with a wealth of knowledge and experience. Food Motion offers a range of support services to people who wish to start, grow and succeed in the restaurant and food sector. Whether you have an idea that you would like to develop and validate, or have an existing business that you would like to refine or grow, we can assist you with planning and fulfilling your ambitions. We offer a range of services to suit your needs delivered through our in-house team of consultants, each of whom have many years experience in the food sector. We also offer a range of other complimentary services, from digital marketing to legal and accounting, through our very carefully selected group of fulfilment partners who were all chosen standard of service and focus towards early stage food and drink businesses.