BLOG
How to build an email marketing list from scratch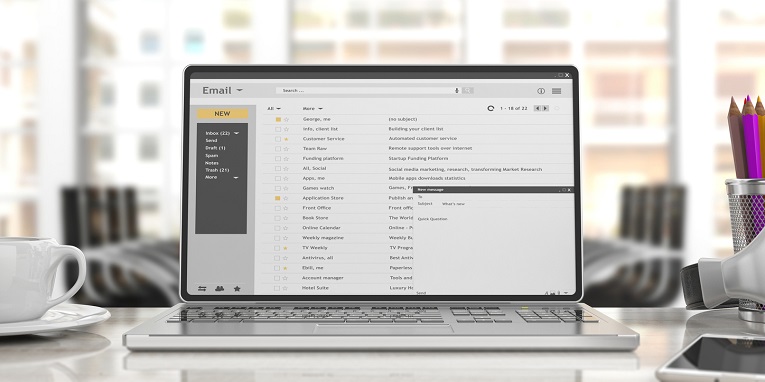 ---
Posted: Wed 14th Aug 2019
Email offers a reliable way for small businesses to reach their customers. Unlike social media platforms, you have access to your entire audience and can easily build profiles and relationships.
But building an email list from scratch takes time. We spoke to small business owners about the tactics they used to create email lists, what content they include and the expectations of the value they can get from the list.
The role of email in marketing
Kathy Ennis, Enterprise Nation member and director of Little Piggy, mentors small business owners and helps them develop marketing strategies. She is a big advocate of email and stresses the value of building a list.
"The interesting thing about email marketing is it swings in and out of fashion. I've always said email was the first social media. People have forgotten that. There's always a sparkly new thing and people think: 'Oh my God, if I don't know how to use a sparkly filter I'm not going to sell anything'."
Kathy discovered the value of email through her own experience, saying keeping contacts warm through email was the only way her business survived a difficult period three years ago.
Finding opportunities to promote your email list
Email lists act as a great anchor to other marketing activity. People have become more hesitant to subscribe – we normally only share an email address if we're buying something, get value back immediately in the form of a deal or exclusive content, or a brand has built up trust over time.
The barrier for following someone on social media or getting them to read a blog post is lower. That means these channels provide a great way to build trust and create a funnel where the goal is to get them to subscribe to your list.
Kathy Ennis says:
"The newsletter and blog is the basis of what I share on Facebook and LinkedIn. It's this cycle process. If we miss email out, we can stop ourselves from nurturing people who are more likely to buy more next time. The second purchase is always a higher price purchase."
Bex Band, founder of Love Her Wild, leverages social media and blog posts to build her email list by including a call to action to sign up.
"If anyone joins my Facebook group, they need to join the mailing list, which has proved to be a really effective way to grow numbers. Retention rates for this has been surprisingly high. If I ever run a competition or event, I'll also have an option for people to sign up to the mailing list as part of the booking form."
There are a number of tactics that have helped Bex incentivise people to join the list:
Using something that's really exciting or that she knows her followers want to hear about and sharing it exclusively in the newsletter.

Providing a teaser on social media a week or two before sending out a newsletter.

Making sure there's something in each newsletter that the reader finds valuable. This is usually in the form of a competition or an opportunity to join a free event and not just a promotion.
Bex started building the list two and a half years ago and now has 6,000 subscribers. She noted that email platforms will often make you start paying once you reach a certain number, so it's important to do a regular "sweep" to remove anyone that hasn't opened an email in a long time.
"Each newsletter will normally lead to five to 10 new sales. Unlike social media, you can have lots of ideas and messages in one place and also know it is guaranteed to be seen, so it's a great area in which to invest your time."
What to include in marketing emails
There needs to be a balance between sales messaging and providing value to your subscribers. Getting this balance right can be tricky, but we all have a sense of when we feel like someone's selling to us too aggressively. Kathy Ennis includes two types of emails in her strategy.
Front-of-mind emails
These provide a touchpoint for customers who might buy something in the future. She recommends that these aren't too long and don't include too many links.
Kathy uses the example of a photography company that simply sends their favourite photo from the week, explains where it was taken and the technical details for any photography fans. They aren't asking the recipient to take any action – they are just sharing something that will provide a moment of joy.
Campaign emails
These are the ones that include direct sales messaging, such as a limited-time offer to buy one of your products. Emails can of course include an element of both sales messaging and other content, but it's great to be able to send a front-of-mind email that doesn't ask for any money.
Nellie PR founder Ellen Carroll has grown her email list organically. She sends messages roughly once a month and focuses on sharing advice.
"They're quite a mixed bag. It's strategic in that they follow a theme – communications and PR – but I can go off topic for something of value. I might send a promotional email, but that's once in a blue moon and there will be a discount code.

"In the main, it's content about the importance of communication. You can bring in examples of PR and marketing campaigns that are valuable."
The topics can be personal. In one example, Ellen talks about recording family stories and her own experience of recording her mum and aunts on tape.
Tracking email data
Kathy suggests business owners regularly review their emails' performance. How often you do this will depend on the size and scope of the marketing activity, but a monthly check is a good place to start. The reviews are as much about knowing what activity to increase as much as what to stop.
Throughout the process of developing your email marketing strategy it's important to experiment. If you're trying a new email format or incentive to sign up, think set a period of time you want to test it over and what results you're expecting.
The data that can help inform your list building strategy includes the following:
Open rate: The share of people who opened an email. You can look at individual emails as well as how your list average changes over time.

Click-through rate: The number of subscribers who have clicked on at least one link (remember to check what's popular!).

Subscribers: The number of people on an email list. It's important to qualify the list size by how active subscribers are – don't get distracted by vanity numbers!

Active subscribers: Subscribers who have opened an email within a certain time period.
Active subscribers is a crucial measure. There's no point having people on your email list if they aren't interested. Email programs like Mailchimp make it simple to identify people who haven't opened an email in some time, allowing you to remove them from a list or run an engagement campaign.
Using a discount code or setting up tracking links will help to measure how email activity converts into sales.
The end goal is to have an understanding of the results a certain level of activity will create. A high-quality email may lead to five to 10 new sales.
Managing expectations when you're building an email list
Hopefully, the techniques outlined in this post will have given you ideas for building your email list and an understanding of the strategy behind it. It's worth remembering that building an active email list takes time.
Ellen Carroll explains:
"Don't feel pressured and stick to your own values. People can be sidetracked by gurus on the web. There isn't a right or wrong way, there's only the way you want to do it and what's right for your audience."

"I write it when I'm really excited about it. It's great to get positive feedback. I want people to come and work with me when they want to, not because they've been bombarded."
Relevant resources
Enterprise Nation has helped thousands of people start and grow their businesses. Led by founder, Emma Jones CBE, Enterprise Nation connects you to the resources and expertise to help you succeed.