INTERVIEWS
How PhoneHug's efforts to professionalise their accounts led to investor interest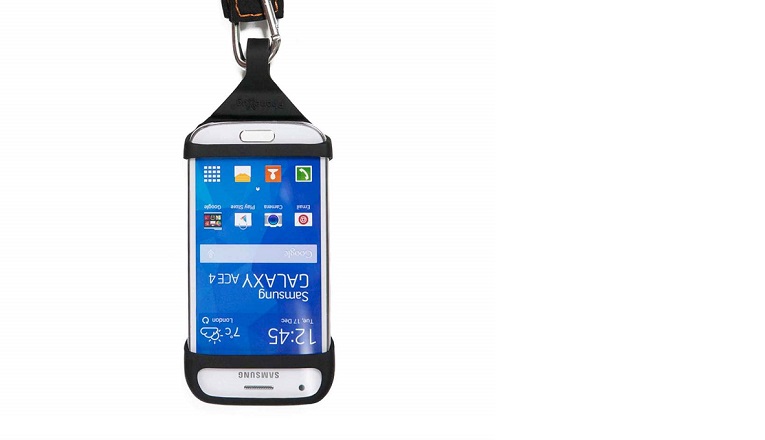 ---
Posted: Thu 26th Sep 2019
Sam Fairbrother, founder and director of PhoneHug and Enterprise Nation member, launched her business after years of misplaced devices, cracked screens and one unfortunate incident that left her rescuing her phone from the depths of a toilet.
The lightbulb moment came when she was trying to take a precarious shot.
"I was hanging over a bridge trying to get a photo, but didn't want to risk it. When I had a look at the market to find something that would help me keep hold of my phone, there wasn't anything that was strong and secure enough," Fairbrother said.
The early days of PhoneHug
Working with co-founder Geoff Barke, Fairbrother drew the design she had in mind and made it out of paper. Then she trawled international trade site Alibaba to find a manufacturer.
"We went through three different suppliers before we found a factory. After that, we needed someone that could use Computer-aided design software. The first guy said it couldn't be done, but we found another guy who was a friend of the family and is still with us today," she explained.
Fairbrother resigned from her job as a photographer in March 2017 and was selling PhoneHug by November. Since then, the company has turned over £50,000 in revenue.
Connecting with an accountant to grow the business
Fairbrother uses Xero to keep up with their accounts, but they needed help to get set up properly. They found bookkeeper Mina Leal-Birch, managing director of Tamesis Partnership, through Enterprise Nation.
"We'd rushed to get started on Xero and I wasn't properly trained. Nina went the extra mile for us. She put our Xero where it should be, made sure it was set up with the correct categories and that we could submit VAT. Now, our accounts are in order and we're continuing to get training to see what we should be looking at every day," Fairbrother said.
One of the biggest benefits has been having someone on hand to translate complex accounting terms - "I can't fault them at all," Fairbrother added.
With their accounts in better shape, PhoneHug has received interest from investors. The company is raising £50,000, with their first proposal submitted last week.
Leal-Birch said Enterprise Nation's planform has enabled the business to showcase its services and expose the firm to its target market - start-ups and other small businesses.
Keeping finance in mind for the future
If she could start all over again, Fairbrother admitted that she would make finance more of a focus. In particular, she believes a bookkeeping course would have helped her understand cashflow better. In December 2018, as PhoneHug were gathering momentum, the company ran out of stock - "it was great that we sold out, but frustrating," she recounted.
The next goal for the business is to reach £100,000 revenue. They're in the process of using Amazon to launch into Europe and the US, and have interest from distributors in Australia.
"We still need to get the packaging sorted and there are marketing costs too. But we understand it all more now. It's about keeping an open mind and being open to learning," Fairbrother said.
It's also important for the company to keep their eco-friendly roots. For Fairbrother, protecting phones isn't enough of a reason to work as hard as they do. PhoneHug gives back to charities, plants trees and supports communities, and the team also make their products using food-grade silicon, which can be ground down and used again in other products like yoga mats.
The team culture at Enterprise Nation's Clicks and Mortar event
PhoneHug is currently taking part in Enterprise Nation's Clicks and Mortar campaign in Manchester. Fairbrother first heard about the campaign at an event with Emma Jones, and followed up with Enterprise Nation's marketing and campaigns manager Holly Jones.
"I told Holly we were starting to sell on Amazon and would love to raise the profile of our brand in Manchester. I wanted something to start local to focus the marketing more, so this popped up at the perfect time.
"The people here are really supportive. If I can't get in because I have to collect things, people look after our pop-up shop. I'm a photographer, so I've taken shots of people's products as well. It's a team environment," she said.
Chris has over a decade of experience writing about small businesses and startups. He runs Inkwell, a content agency that helps companies that sell to small business owners grow their audiences through content marketing. You can find him on Twitter at @CPGoodfellow.