MEMBER STORIES
How a fruity boost during ill health inspired a successful food business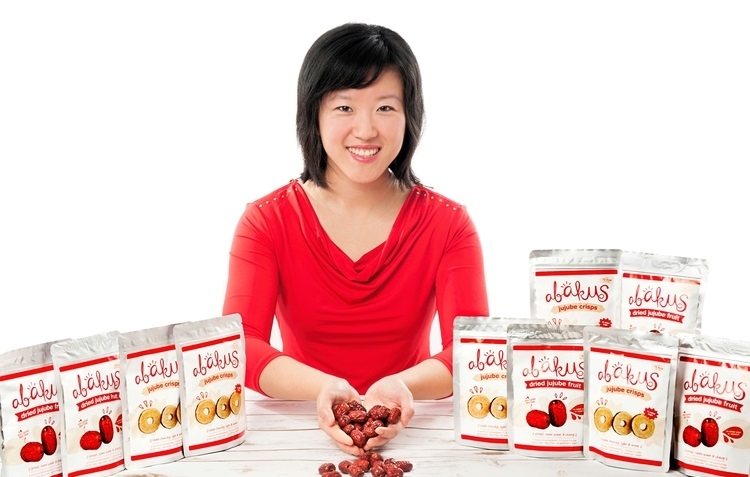 ---
Posted: Fri 29th Mar 2019
The benefits of the jujube fruit during a period of ill health inspired Helen Wang to start her own business. Abakus Foods is now stocked in the likes of Planet Organic and Whole Foods. The Enterprise Nation member shares her story.
Describe your business in one sentence.
Abakus Foods is on a mission to make healthy eating easier and more enjoyable for busy people, with our range of red dates superfood snacks, available in crunchy, soft, and chocolate coated from www.abakusfoods.com.
How did you come up with your business idea?
I was working long hours in finance and my health was deteriorating. My mum sent me care parcels containing the jujube fruit and told me to eat them every day. They gave me good energy and were naturally sweet without added sugar. I thought they were amazing being so naturally tasty, versatile and with great health benefits, and they should be made available in the UK so that everyone can benefit from them.
It took several years from the initial idea to actually starting the business which I spent on research, contacting suppliers, contemplating and gathering courage. It definitely did not happen overnight.
What start-up challenges have you faced?
When we first brought the jujube fruit to the UK, people were not very familiar with them and we didn't know exactly how to explain it. So, we just started sampling them to a lot of people and listened to what they told us about the jujube fruits. For example, when people eat our jujube crunchy crisps, they often say that they taste like toffee so we started to use 'nature's toffee' on the pack and people loved it.
What has been your biggest achievement so far?
Getting the products stocked at amazing retailers in UK such as Whole Foods, Planet Organic, Ocado, Grape Tree, Revital and lots of lovely independents) as well as exporting to over 10 countries was fantastic.
A real highlight was also when our jujube fruits were featured on Channel 4 Sunday Brunch and celebrity chef Adria Wu made a superfood mince pie with them.
What is your next big business goal?
We are all about helping people harness the power of natural foods. We want to help more people discover natural and nutritious alternatives to processed foods. We also have some exciting new products in the pipeline.
What do you think will be your biggest challenge?
We are a small team in a little office in the South-East London and everyone is super busy working on some great things and constantly stretched. Working weekends and past mid-night is not uncommon for me because I don't want to leave customer enquiries unanswered.
We are constantly looking for new people to join us. Right now, we are bursting out of our tiny office and would need to move to a bigger place soon.
How has Enterprise Nation helped your business?
It a fantastic organisation for entrepreneurs, a great place to find resources and to connect with fellow business owners.
For example there is the annual Food Exchange event which has a line-up of amazing food entrepreneurs sharing their experiences. I was impressed by the meet the buyer opportunities.
The events have given me access to a great amount of knowledge and I have met some amazing people.
The next Food Exchange takes place on 12 April in London. It features successful food entrepreneurs and buyers from Selfridges and Sainsbury's. Book a ticket here.
What are your tips for business success?
Getting direct feedback from customers early on and trying to understand what they think of your product, how they use it, how they would describe it etc helps you learn how to position your product and how to take it forward. Then use what you have learned to continuously work on improving your offering.
Do not overspend at the beginning. We did small packaging runs which allowed us to make changes and stay agile.
We're proud to have entrepreneurs like Helen as members of Enterprise Nation. Join Enterprise Nation today and become part of an amazing community of small businesses.
Founder Helen Wang, who was born in China, raised in Germany, moved to London to work in finance, was sent care packages including jujube fruits by her mom to help with stress - and they worked so well that Helen decided to bring them to the UK and make them available for everyone to enjoy.