MEMBER STORIES
Atcha: Bringing healthy India-inspired food to the grab-and-go market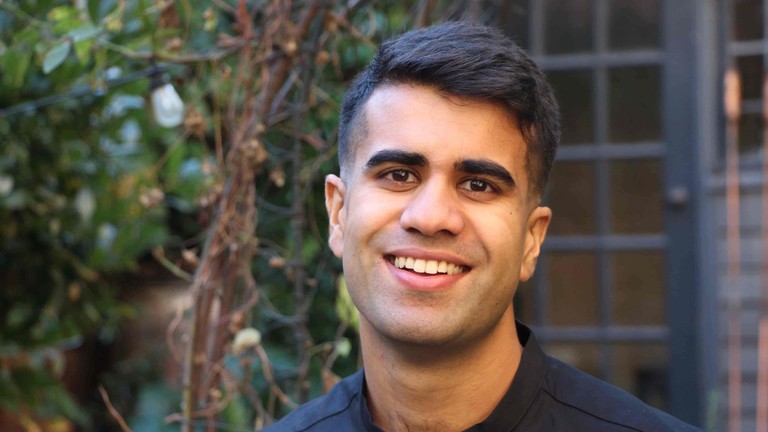 ---
Posted: Tue 22nd Jun 2021
Frustrated by the lack of high quality, home-style India-inspired food, Aadit Shankar decided to quit his day job and launch Atcha. In just three years he's gone from street food seller to Selfridges. We caught up with Aadit to find out more.
Aadit, where did the idea for Atcha come from?
I've always been obsessed with Indian food. My family is from India so I visit regularly – and food is always the highlight. It connects me to my heritage, cutting through what was otherwise a very traditional British upbringing.
But this obsession was always tinged with frustration: Indian food is the most popular cuisine in the UK, but no brand has been able to bring high-quality, healthy, fresh Indian fare to the grab-and-go market . I felt I had a clear vision of what was needed; something that would appeal to everyone, not just curry fans. So in October 2017 I took the plunge. I quit my job in investment banking and founded Atcha.
Tell us more about that vision. What sets you apart from other Indian food brands?
Indian food is everywhere. I wanted to create something healthier and more laid-back, inspired by home cooking from across the country. I'm not a chef myself, so I combine my research with family recipes - especially my mum's - to create the healthiest and most homely versions of those dishes. Under the guidance of our Head Chef, Mohan Madan, we've created a menu that isn't necessarily authentic Indian, but rather fuses the best of home-style, regional Indian. Our entire ethos is grab-and-go, bringing together the flavours we love to create convenient, nutritious Indian food.
You've seen huge growth in the last three years. Walk us through your journey.
We began with a brief stint on the street food circuit, offering a 'ready-to-eat' menu of hot rice bowls, India-inspired salads, toasted sandwiches, and more. Then we pivoted slightly, moving into a shared kitchen space and launching our delivery service. Selling through our own website and third-party delivery platforms our unique creations were soon reaching customers all over London. Offering a delivery-only service allowed us to sufficiently prove our concept before moving into the High Street.
The delivery service did well, and we soon changed premises and opened our own kitchen in Cambridge Heath. Many of our orders were from corporate companies in the City, catering for team meets, lunches and events.
Being quite heavily reliant on corporate customers, would it be fair to say that Atcha suffered as a result of the pandemic?
Definitely. We were very dependent on that market so when the City went into lockdown we had to move fast in order to survive. We continued to provide home deliveries to our domestic customers, but that alone wasn't enough - particularly once you factor in the commissions charged by third party delivery companies. I decided to pivot once again with a range of heat-at-home products that we could sell via retail outlets, such as ready meals, tiffins, prepped sandwiches and spice pastes.
We designed our new menu and started reaching out to delis and cafes across London to start securing pre-orders.
To make our new products we required new equipment. Quite a lot of equipment, in fact. A blast chiller, a vacuum packaging machine, heat sealer, a commercial food processor, new tamper-proof packaging...the list went on.
We applied for a Tower Hamlets Pivot Project grant through Enterprise Nation and were fortunate enough to be awarded funds to help with our purchases. It wasn't long before we started producing our new menu, and selling it through our website as well as in other stockists such as The Grocery Post in Highgate, The Quarter Store in Hackney, Popin in Pimlico, and Trude's in Clapham. We love each and every store we work with: their ethos, the people, and their other suppliers.
It's been a big change of direction for us, but it's also been really exciting. In August 2020 we actually opened a second kitchen in Battersea.
We love to hear how companies have pivoted during these uncertain times. Will you continue to focus on your at-home range now that lockdown measures are easing?
Being forced to pivot our business has been a blessing in disguise. Corporate catering is slowly coming back. In fact, we recently moved to a kitchen in Mayfair to give us better access to those clients. But I think we've proven that there's space for Atcha in both markets. Just last month we opened a pop-up counter in Selfridges offering flavour-packed Indian food to go.
We want to be the go-to place for healthy Indian food in the UK - and beyond. One of the things that I find quite interesting is that the majority of our customers are non-Indians: we are first and foremost a healthy food brand that takes inspiration from South Asia.
Now we need to scale in a careful and sustainable way, whilst always focusing on quality and keeping our team happy. Our team has grown to 16 now.
From street food seller to Selfridges in three years. That's incredible. So what's next for Atcha?
We're working to add new items as we'd like to do a lot more rotating of the menu in accordance with seasonality and feedback. Of course we'd like to get into more stores too. We currently have ten stockists; I'd love to double that by the end of the year.
The dream for us would be to open more sites, both grab-and-go outlets and delivery kitchens. And of course we'd love to work with supermarkets. In fact we've already approached M&S.
So far it's been a wild, intense, and beautiful ride.
Do you have a success story you'd like to share with the community? Tell us your story.
Enterprise Nation has helped thousands of people start and grow their businesses. Led by founder, Emma Jones CBE, Enterprise Nation connects you to the resources and expertise to help you succeed.