BLOG
Help to Grow: Management – A mentor and mentee discuss the benefits of mentoring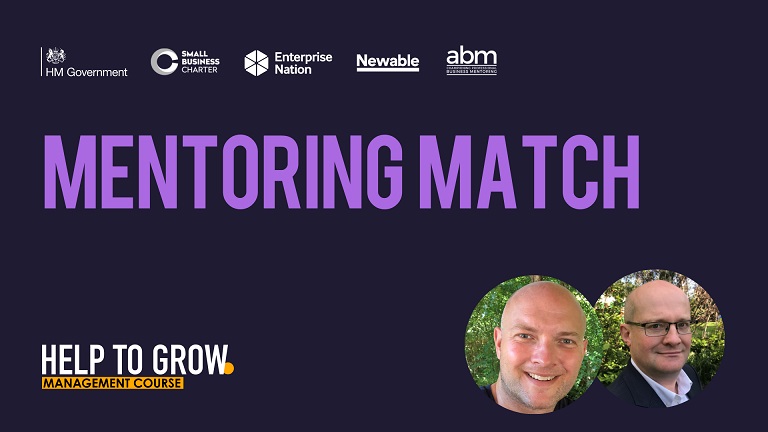 ---
Posted: Mon 6th Feb 2023
Enterprise Nation is one of the small business support providers delivering voluntary mentoring as part of the government's flagship Help to Grow: Management Course.
Ninety per cent subsidised by the government and delivered in collaboration with industry experts and experienced entrepreneurs, the 12-week course provides a combination of online sessions and face-to-face learning, delivered by business schools. It's aimed at senior leaders of small and medium-sized businesses with five or more employees.
Mentorship is a crucial element of the course, with mentors providing insight into business processes and management, acting as a personal sounding board, facilitating networking, and encouraging creative thinking.
Senior business leaders who want to pursue mentoring can match with a mentor through the Help to Grow: Management Course platform. Once connected, they have access to 10 hours of one-to-one support.
In this blog, we talk to one of our recent mentoring matches:
Mentor Matt Rowell has years of business coaching experience and has joined the course to support entrepreneurs and business owners.

Mentee Laurence Bishop is head of business development at ApconiX, a business that provides toxicology, ion channel screening and drug target safety assessments to the large pharmaceutical and biotech sectors.
Read on to find out how Matt and Laurence have found value in their mentoring relationship…
Can you summarise your professional background up to this point?
Matt Rowell: My main discipline is tech, with a strong background in SAP (systems applications and products in data processing) and business transformation. That led on to my current consultancy work within the field of agile and digital business transformation.
I currently work for a small to medium-sized high-end consultancy, but previously my background was within pharmaceuticals. I've also spent time in the financial sector and held roles within small businesses relating to sales and sports.
My career has taken me around the world, working in a variety of countries and even living in America for two years.
Laurence Bishop: My professional background is very much pharmaceutical drug development. I started in the lab fresh out of my PhD in 2000, working in both contract research and Big Pharma, before moving into more of a commercial role about 15 years ago.
I've always very much enjoyed working with people, understanding their needs and building long-term and trusted relationships by providing solutions to help them.
ApconiX is a team of world-renowned non-clinical safety experts with a combined experience of more than 500 years in the discovery and development of new medicines. We work with our clients to provide the advice they need, at the right time, to make better decisions on drug safety, from project initiation through to worldwide marketing approval.
I actually approached ApconiX around three years ago about helping them grow and I haven't looked back on that decision.
How did you learn about the Help to Grow: Management Course?
Laurence: I saw it advertised on Facebook and LinkedIn and felt it was very appropriate for my experience and where ApconiX currently is. I considered the programme for a couple of months before signing up.
Why did you want to become a mentor for other business owners?
Matt: These days, it can be tough owning and running a business so I wanted to see how I could potentially help those great entrepreneurs and business leaders any way I could.
I know I have skills and experience I can share, as well as failures. All of which can help people move forward to achieve their goals. Plus, two minds are better than one.
Small businesses see significant development through mentoring: Become a mentor and provide 10 hours of one-to-one support. Find out more
What specific areas were you looking for help with?
Laurence: Sharing experiences and ideas – mulling things over with a peer with very different experiences. Personal development, prioritising, and accepting perfection is a goal but not always achievable.
As a mentor, what do you look for in a mentee? And what made you decide to work with Laurence?
Matt: I look for a connection, a feeling. I want to be excited to speak to my mentee each week and look forward to hearing all about the progress they've made.
I decided to work with Laurence for a number of reasons. The first was that our values aligned closely and we both put people at the heart of our decisions. Second was that he works in an industry in which I have over a decade of experience, so I could relate to what he was trying to achieve.
Finally, speaking with Laurence during our introduction call, he wanted to work on some interesting topics both personally and professionally. I believed I could add value and guidance to those.
What made you work with Matt and how often have you been meeting?
Laurence: I was looking for someone with similar personal and professional values to my own. Someone who's easy to chat to rather than too formal.
We meet once a week, remotely, for around an hour. Matt taught me to aim for a shorter meeting and run over if we really need to. We've missed a couple of sessions due to work commitments, but we can catch up on them.
How has mentoring Laurence benefited you?
Matt: The biggest benefit was expanding my network in a meaningful way, with connections that will last. Mentoring gives me an energy and is a high point in my week – it's most definitely something I look forward to on the calendar.
Inspiration isn't something I initially thought I'd get from mentoring someone, but I've learned so much about other people's businesses and how they operate.
Finally, what's the main thing that you've learned from speaking to Matt?
Laurence: Not to be too hard on myself! To stop and think and, at least once an hour, just stand up and look around and appreciate what I achieve.
Want to help a small business grow?
Being a mentor goes far beyond the rewarding feeling of 'giving back'. Mentors gain a range of personal development benefits from the experience.
Become a voluntary mentor for the Help to Grow: Management Course and commit 10 hours over 12 weeks to support businesses with their growth action plan. Sign up today
---
The national mentoring element of the Help to Grow: Management Course is being delivered by a partnership of Newable, Enterprise Nation and the Association of Business Mentors on behalf of the Department for Business & Trade.
Enterprise Nation has helped thousands of people start and grow their businesses. Led by founder, Emma Jones CBE, Enterprise Nation connects you to the resources and expertise to help you succeed.