BLOG
Help to Grow: Management – How mentoring helped For the Love of the North prosper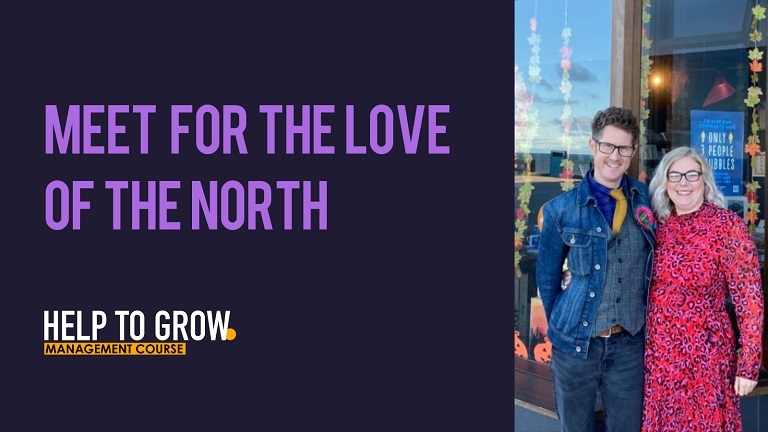 ---
Posted: Wed 26th Oct 2022
Enterprise Nation is one of the small business support providers delivering voluntary mentoring as part of the government's flagship Help to Grow: Management Course.
90% subsidised by the government and delivered in collaboration with industry experts and experienced entrepreneurs, the 12-week course provides a combination of online sessions and face-to-face learning, delivered by business schools. It's aimed at senior leaders of small and medium-sized businesses with five or more employees.
Mentorship is a crucial element of the course, with mentors providing insight into business processes and management, acting as a personal sounding board, facilitating networking, and encouraging creative thinking. Mentors also support participants in working towards a growth action plan for their business.
Senior business leaders who want to pursue mentoring can match with a mentor through the Help to Grow: Management Course platform. Once connected, they have access to 10 hours of one-to-one support.
We've already met our first mentoring match. In this blog, we spotlight For the Love of the North, a brilliant small business that has prospered since successfully matching to a mentor of its own.
Tell us how your business came to be.
For the Love of the North is based in Whitley Bay on the north-east coast and sells the work of artists and creatives from all around the north of England, including prints, cards, gifts and souvenirs.
It was co-founded by ourselves, Lucy and Paul Hull, when Paul took redundancy from the local authority after the tourist information centres he used to run had closed.
We have a website and a brick-and-mortar shop located in the iconic Spanish City Dome. We employ a team who work in the shop and fulfil online orders. There's an amazing community around us who support us, and we receive lots of visitors who are holidaying in the region.
We work closely with artists and creatives on designs for our own-brand products. A significant development of the business has been a move into wholesaling and corporate gifting from businesses and organisations across the region.
We're on a mission to be as sustainable and eco-friendly a business as we can and currently employ 11 staff in part-time roles. All our products are manufactured in the UK.
How did you learn of the Help to Grow: Management Course?
Through the emails we received from Enterprise Nation. Signing up was a smooth process, and I was allocated a mentor who is a very good fit for my business.
Small businesses see significant development through mentoring: Become a mentor and provide 10 hours of one-to-one support. Find out more
What areas of your business did you want a mentor to help you with?
Getting our ethos and values much more visible to our customers and how to develop our journey of being as sustainable a business as possible.
What were you looking for in a mentor?
Someone who is on the same page as us in terms of ethos and values, and who understands the ups and downs of running a small indie business.
Our mentor, Sarah – who's very experienced, and has her own business Y.O.U Underwear – absolutely ticks those boxes and I really respect her views and input.
How regularly are you meeting with your mentor? And for how long?
We'd been meeting via Zoom on a weekly basis, because we live in different parts of the country. But our busy times are the summer holidays as we work in the shop to cover staff leave and working on our product range for Christmas.
We've just come back from our "summer holiday" so shall be resuming the sessions with Sarah.
What's the main thing you've learned so far from your sessions with your mentor?
That, as a business, we're doing really well and on the right path in terms of our plans for growth. Also, that we have good values and a clear mission statement. What I totally love about Sarah, our mentor, is that she "gets it".
She's a fellow small indie business owner and recognises that we can't implement every single aspect of the Help to Grow: Management Course at once. It's about concentrating on the areas that are relevant now and doing them well. 
Want to help a small business grow?
Being a mentor goes far beyond the rewarding feeling of 'giving back'. Mentors gain a range of personal development benefits from the experience.
Become a voluntary mentor for the Help to Grow: Management Course and commit 10 hours over 12 weeks to support businesses with their growth action plan. Sign up today
---
The national mentoring element of the Help to Grow: Management Course is being delivered by a partnership of Newable, Enterprise Nation and the Association of Business Mentors on behalf of the Department for Business & Trade.
Enterprise Nation has helped thousands of people start and grow their businesses. Led by founder, Emma Jones CBE, Enterprise Nation connects you to the resources and expertise to help you succeed.