BLOG
Happy birthday to me - Or 12 things I've learned in my first year as a freelance writer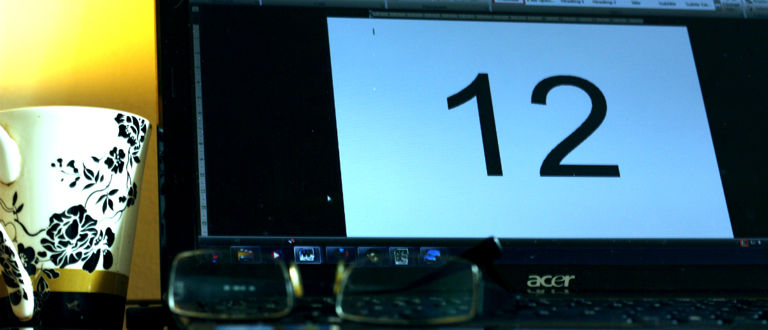 ---
Posted: Thu 5th Jul 2012
Like a good number of Enterprise Nation readers, I run my own homegrown business, writes EN editor Simon Wicks. In fact, I'm a freelance writer and editor, and Enterprise Nation is a major part of my broader portfolio of work. Today marks the first anniversary of my independence and I've been thinking about what I've learned about running a business during my first 12 months as a freelancer.
Prompted by EN's founder, Emma Jones, I decided to share my thoughts with you - maybe they'll strike a chord. 1. ALWAYS do a good job, no matter how little you're being paid. It may lead to an offer of more work that pays better.  Besides, if you accept the commission, it's a matter of honour that you do your best. 2. Be absolutely clear about the brief. Clarify everything, from what you're actually being asked to do to the delivery date, any agreements on amends and how much you're being paid for the work. And get it in writing; don't leave any room for dispute, disagreement or resentment further on. 3. Customer service matters - even for a freelance writer. You're running a business. The people you write for are your customers. They will come back to you if you're easy to deal with, courteous, clear and do the job they ask you to do without fuss. Your customers are paying you to make their life easier for them. So make it easier. 4. Always ask for feedback. People don't like being critical; often they prefer to stay silent, sort things out themselves and then just not employ you again, with no explanation.  But the problem could be easily fixed. Give your customers the opportunity to discuss your work with you and ask you to make any corrections and amends. They will be grateful. 5. Don't be afraid to ask for testimonials, recommendations or even for more work. I've found most people are happy to write a few words - but you have to ask them! Likewise, if you occasionally - politely - remind people of your availability, they will eventually think of you when a job needs doing. 6. Build long-term relationships. Don't treat any piece of work as if it's a one-off, but as an opportunity to get more work, ideally regularly. Also, make an effort to understand your customer's organisation and their wider editorial requirements. They may not be fully aware of what you can do. 7. Pursue the things you like - eventually someone will pay you to do them. I'm passionate about cycling. I live in a London borough that will host the Olympic road cycling events. I wanted to write about this, so I proposed a feature to a local free magazine. They were delighted with the offer and have since asked me to write several more articles. I've earned other cycling-related commissions, too. Among other things, I am becoming a cycling writer, which makes me very happy. 8. Get on top of your finances immediately - and stay on top. It took me about nine months to speak to an accountant and start to get properly organised. I'm glad I did - it meant my first self-assessment was mercifully straightforward. Accounts are a pain, but they have to be done. Talk to an accountant, go on a free HMRC course; understand your accounts. 9. Take breaks. This is something I'm very bad at. I'll often work very long hours and I'm poor at planning time off, both of which lead to unfocused and inefficient working (though I stress, I always meet my deadlines). Time management - day to day, month to month, year to year - is really important. It releases you. 10. Take time out to reorganise and rethink your plans and goals. This is something else I'm not great at; like a lot of people, I leave things that I consider chores and then become very anxious about them without actually doing anything. My accounts are a case in point. I suspect really successful people just get on with these things"¦ 11. Sometimes you will be really, really busy"¦ and sometimes you won't. You just have to be philosophical about this. There have been times when I've been a virtual hermit, I've had so much on; others when I'm wondering what to do with myself (actually, I find myself using that time to do point 10 - I'm trying never to take my eye off the ball). I guess ups and downs are in the nature of freelance work; but I reason that if you keep doing the things above, work will come. It takes time to build a reputation and a customer base. 12. Being independent is much better than being an employee. This is the biggie. As long as you meet the commitments you've made to yourself and your customers (the only things that really matter), you can work in your dressing gown, in a café or at three o'clock on a Sunday morning. Time allowing, you can spontaneously take the afternoon off to see a friend or use your working time to get on with quirky personal projects that might eventually lead to something that earns money. You can call your business whatever you like and make business cards just as you want them with your business name on. You can write about things you like to write about and be paid for it. You can introduce yourself to people as a writer (or designer or sock monkey maker or whatever you like), not a copywriter or a business writer or a content writer or an editorial consultant - just a writer, plain and simple - because that's what you actually do and all you ever really wanted to do with your life. You can do all of these things without having to answer to anyone but yourself. You can, if you really want to, enjoy your life. It's ok; it's allowed. Simon, Enterprise Nation editor
Got anything to add to Simon's list?
What are the key things you've learned from running your own homegrown business? Why do you enjoy being independent? We'd love to hear your comments - you can write them in the Add your comment area at the bottom of the page.
More on freelance working on Enterprise Nation
Enterprise Nation has helped thousands of people start and grow their businesses. Led by founder, Emma Jones CBE, Enterprise Nation connects you to the resources and expertise to help you succeed.