MEMBER STORIES
Growing a business through franchising: Enterprise Nation member Domestic Angels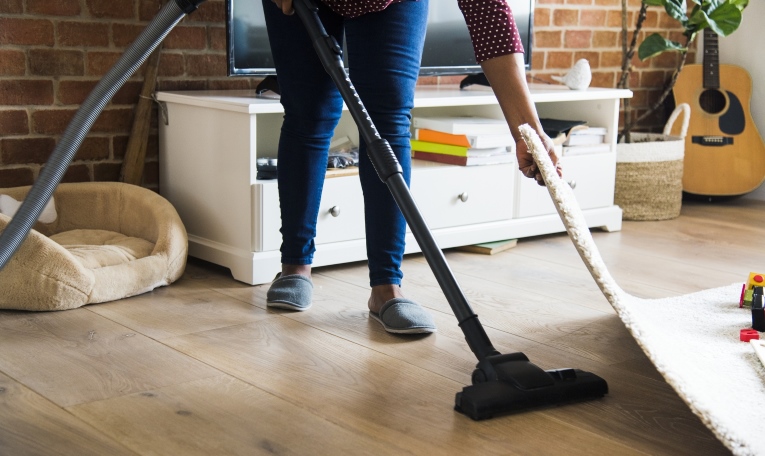 ---
Posted: Fri 31st Aug 2018
Samantha Acton, Enterprise Nation member and Domestic Angels founder, tells the story of how she has grown her home cleaning business through franchising.
We're proud to have people like Samantha as members of Enterprise Nation. Join Enterprise Nation today and become part of an amazing community of small business owners.
Describe your business in one sentence**.**
We give people their time and lives back through our services to customers and to our management franchisees by providing an award-winning model enabling the establishment of successful home-based businesses.
How did you come up with your idea and turn it into an actual business?
I founded the original Domestic Angels in 2002. After winning the award for National Home-Based Business of the year in 2013, I spent time working with my mentor investigating how we could best scale our successful model.
Scaling by multiplying using the model in a franchise format soon became the favourite option.
We realised that we could create the franchise offering whilst preserving our culture and ethics, once we understood this, that franchising wouldn't threaten all that we 'stood' for, there was no stopping us.
Creating the franchise itself predominantly involved extensive process definition, automation wherever possible and an appreciation that the job will never be quite finished, we will always find more to add to the 'to do' list. We carried out the whole process ourselves in-house to ensure we totally understood every element and assumed nothing.
What start-up challenges have you faced and how have you overcome them? *
Because we have transitioned from one form of business to another, knowing when to say that we were finally franchisors was tricky.
The question of whether we were ready and did we believe in ourselves was a blurry moment but actually went along way to ensuring we didn't run before we could walk.
Automating our processes led us to learn how to break everything down and map it all out before passing over to the developer. This saved us lots of money and time wasted on mis-interpretation and amendments for correction.
What has been your biggest achievement with your business so far?
Seeing three franchisees launched, established and enjoying the income of their choice with one of them even taking on their own mortgage.
Empowering people to take their lives and time back is my objective. When it actually happens the 'wow' factor is overwhelming and a very emotional moment.
What is your next big business goal?
To meet and launch our next four franchisees, we are very ready to meet you!
What do you think will be your biggest challenge getting there?
Connecting with the right prospective candidates. The market place has changed dramatically in recent years with prospects not using traditional channels or selection processes.
We've created a very comprehensive experience which launches in September to communicate with potential franchisees, provide them with an educational experience both before and after making direct contact with us.
They will be intelligent, resourceful, researchers and we aim to respect these facts.
How has Enterprise Nation helped your business?
Enterprise Nation has connected me with like-minded business owners and in particular entrepreneurs who have the same disruptive interpretation of the current franchise market place which is a reassuring experience.
The team at Enterprise Nation havs also partnered Domestic Angels with Direct Line for Business making us a feature business in their articles.
Which other entrepreneur inspires you and why?
A chap named Kristoffer Stensrud who founded Skagen Fondene in Stavanger, Norway.
I've known Kristoffer for many years and remember clearly when his business was a combination of thoughts and conclusions and then became a reality, how he preserved the original premise and realised his vision. His passion for business is endless.
What are your three tips for business success based on your experiences so far?
It's all about mindset. There really is an opportunity or a positive in every situation, event or task in business

If your mindset isn't instantly naturally positive about something, leave it to one side, have a cuppa, do something else and allow the right energy to emerge. If you force it, you'll probably make a mistake

Just because a supplier/contractor is a professional, it doesn't make them an expert in your business, remember who is paying the bill!
We're proud to have people like Samantha as members of Enterprise Nation. Join Enterprise Nation today and become part of an amazing community of small business owners.
Samantha Action is something of a Dorset business superwoman. But even this heroine was brought to her knees by the demands of a busy work life and being a new mum. Like any working parent, Samantha dusted herself down, kept calm and carried on, but her role in the cut-throat financial services industry meant a return to work just six months after son Jack was born 17 years ago. The pressures and demands for her time, both at home and at work, sparked a lightbulb moment. After taking the first available opportunity for redundancy, Samantha regrouped and a spur of the moment opportunity presented itself. After helping a close friend find a trustworthy, reliable cleaner, Domestic Angels was born. In 2002, Samantha recruited her first Angel and hasn't looked back since. Despite being a novice in a business sense, Sam's forward-thinking and professional values shone through in the early days of the business and Domestic Angels now boasts as many as 20 staff and more than 130 clients across its four Dorset branches. In 2016, Samantha franchised the business, offering the same flexible home-based management solution that had been the catalyst for her own work / life balance 14 years earlier. A two-time winner of regional and national Venus Awards, Samantha Action is one of Dorset's sharpest business minds and a true champion of women in business.