BLOG
Green & Black's founder, Jo Fairley, on StartUps and selling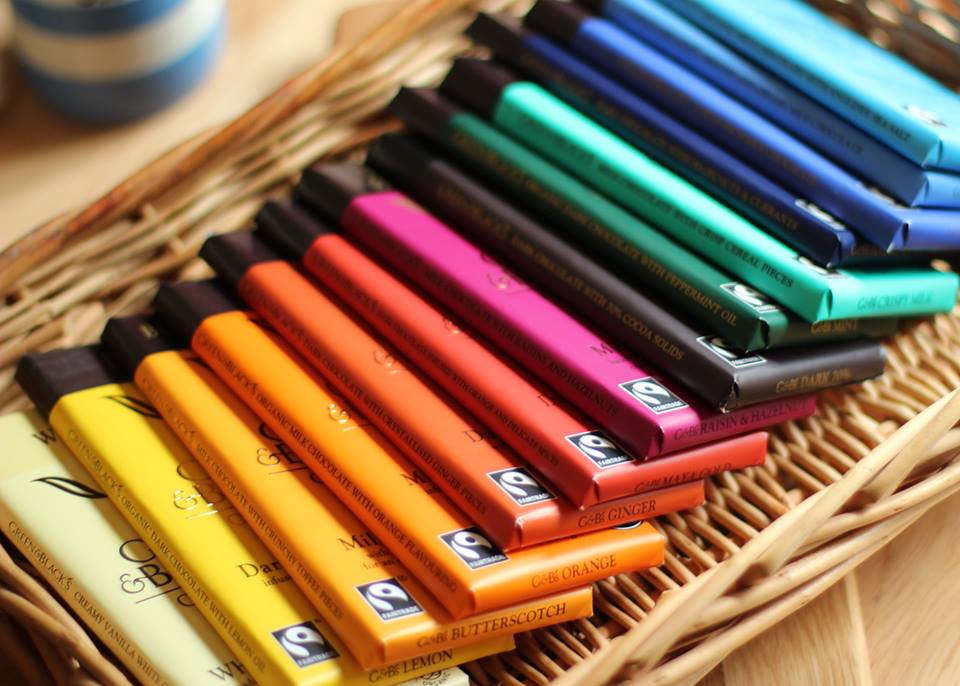 ---
Posted: Mon 23rd Jun 2014
Jo Fairley launched Green & Black's with husband, Craig, in 1991. The company was sold to Cadbury's six years later. Jo talks to Enterprise Nation about how it all started and new ventures underway.
You started the business by eating a half-eaten bar of chocolate! What were you doing before you and your husband started Green & Black's?
I left school at 16 with six 'O' Levels and no real expectations of anything beyond lowly office work. But when I entered the workplace, I realised I loved working; I rolled up my sleeves, I was willing, and I had some fantastic mentors. At the age of 19 I got a job on a new magazine launch, Woman's World, and worked my way up through their Features Department, before being appointed as the youngest-ever magazine editor, editing Look Now magazine at the age of 23. (When I look at 23-year-olds now and see how young they are, this truly astounds me!)
I went on to become editor of Honey magazine, but by 30 really had tired of the responsibility and became a freelance journalist, working for magazines and newspapers including The Times, where - at the time I found that half-eaten bar of chocolate - I had an environmental column called Ecosphere, which tapped into the 'green beliefs' I'd had since someone gave me a copy of a book, at the age of 13, called 'A Shopper's Guide to Saving The Planet'.
When I became an entrepreneur, I was definitely more used to writing about other people doing things than doing them myself, though.
How did you get your first retail order and do you have any top tips for small businesses pitching to large retailers?
My husband's company Whole Earth foods was well-established in the natural food world, with a reputation for innovation so we knew we'd get distribution there. The actual breakthrough was a call from a Sainsbury's buyer who said: 'One of our directors has had your chocolate at a dinner party, and we'd like you to submit it for a range review.' In fact, it was Lady Sainsbury who encouraged her husband to stock the product, and hey, presto: our first supermarket listing! I have to admit it doesn't usually happen like that, and often it takes years of plugging away - but I recommend contacting a buyer if you win an award (I recommend entering anything and everything, because that award gives you such a great opportunity for promotion), when there are landmarks in sales, or new products launched - and just keep at it. They're looking for innovative products which will interest their customers, so don't be 'me-too': do things better, tastier, more stylishly"¦
4. Have you ever raised money for the business or has growth been self-funded?
We took investment from private equity in 2000, when the business reached the point of £2.5 million turnover and we were stretched by having to hold ever-increasing amounts of stock. What appealed to us was that the investors weren't just buying a chunk of the shares; they brought investment in the kind of talent we needed to grow the business. Then we sold to Cadbury's in 2005, which was then swallowed by Kraft - so it's been quite a journey from a Portobello bedroom to a global ethical brand.
5. What has been your most effective marketing activity to date?
Sampling. When it comes to chocolate, tasting is believing, so all our promotional budget for nine years went into getting chocolate into people's mouths. Green & Black's has a generous advertising budget now (and we've had some fantastic campaigns), but events like Taste London and the Country Living Fairs offer fantastic opportunities to introduce people to new flavours or even to the range, if they're G&B's 'virgins'!
6. When it comes to hiring, what do you look out for in taking on people?
Gut. Whenever I go by a c.v., it's disastrous. I need to use my instinct: can I work alongside this person? Are they going to roll up their own sleeves? Do I like them? If someone doesn't tick those boxes, I know it's not going to work out. Willingness and enthusiasm counts for a great deal; many other things can be learned.
If you don't mind us asking, how do you manage working with your husband? Do you each have respective roles and responsibilities? Do you have any other family members involved?
It's actually been incredibly easy to work together because we have complementary skills. He's great at business (he has a degree from the Wharton Business School, despite being a former hippie!), and is fantastic at taking care of the nuts and bolts, and the strategy side. I'm best at PR and marketing (all those years on the other side of the fence!), product development, customer service; all the touchy-feely stuff.
The great thing about working with someone you love is that you have absolute mutual trust (you'd better, or you shouldn't be together in the first place!) The difficult thing was not allowing work to spill over into our private lives, so I set some boundaries: we went for a walk around Notting Hill, where we lived, each night for an hour - and then we brainstormed, talked about what had happened in the day (we had separate offices in adjacent buildings, one of which was our house - where Craig had based his business Whole Earth for many years, and there wasn't room for me too!), talked about opportunities and how we could take advantage of them. Then when we got home and made dinner, we weren't allowed to talk about it again till next day!
Our family didn't really get involved except for occasionally standing there breaking up squares of chocolate at exhibitions, but Craig's son and daughter Rima and Karim were working together on another business, an energy soft drink called Gusto.
You set up the business in 1991. What have you observed as the main changes in the business and entrepreneurial world since then?
It's more competitive, for sure - but the rise in social media means that you can get messages out there in cost-effective ways far more swiftly than ever before. So there are positives and negatives. And crowd-funding means that businesses which would never get a look-in with a bank can get off the ground, if there's a great idea there.
What are your growth plans for the next 12 months?
Green & Black's has something really different up our sleeves for chocolate-lovers that I can't discuss, but it's worth waiting for"¦! Obviously as part of a multi-national now, there are new markets to conquer and growth potential in the Middle East and Far East.
What else takes up your time?
I recently took part in the Vistaprint Night School event in Winchester, it's a fantastic forum for entrepreneurs to get together and hear people (like me!) speak, who've been there, done that and experienced the inevitable rollercoaster of business, hopefully learning from our experiences. I spend a lot of time talking to other entrepreneurs now; I was lucky enough to have had the mentorship of Anita Roddick, who kept my passion blazing when things got tough, and it's important to me to pass that on.
I've also just set up www.perfumesociety.org, a massive informational website for fragrance-lovers (I have always loved perfume, as well as chocolate!), with a subscription element so that they can attend events and workshops, receive a beautiful downloadable magazine, and enjoy 'discovery boxes' introducing them to fragrances before they buy. It's been 2.5 years of hard work, and many 18-hour days - but that's what a start-up sometimes takes and I wouldn't give it up for the world!
Jo Fairley is an ambassador for the Vistaprint Night School, a series of events set up to support small businesses. For more information visit My Biz Hub.
Enterprise Nation has helped thousands of people start and grow their businesses. Led by founder, Emma Jones CBE, Enterprise Nation connects you to the resources and expertise to help you succeed.