BUSINESS NEWS
Mandatory face masks, vaccine passports and homeworking in England's COVID-19 winter 'plan B'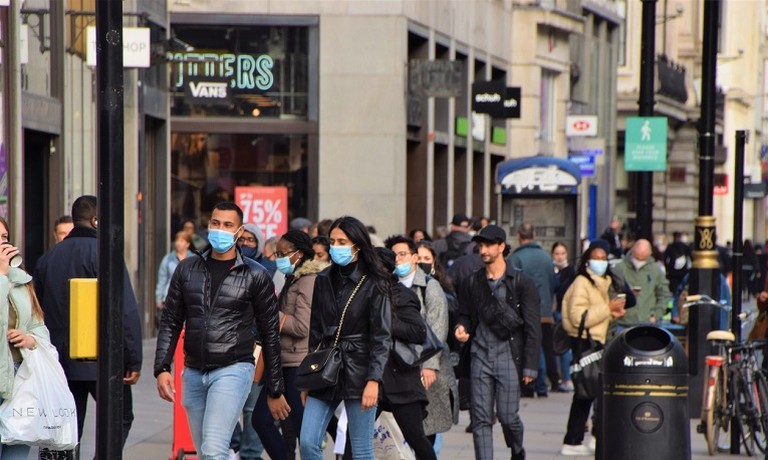 ---
Posted: Tue 14th Sep 2021
The mandatory wearing of face coverings, work from home orders and vaccine passports could return in England if the NHS faces "unsustainable pressure" during the autumn and winter, Sajid Javid has announced.
The health secretary told Parliament that the measures are part of the government's "plan B" for dealing with the coronavirus pandemic.
They would only come into force if "plan A" is not sufficient. This puts an emphasis on vaccines in an attempt to avoid having to introduce new restrictions and involves:
offering a first vaccine dose to 12-15-year-olds.

offering a booster vaccine jab to everyone over 50 and others at high risk.

continued use of NHS Test and Trace and self-isolation if people test positive.
The government is also encouraging people to meet outdoors where possible and wear a face covering in crowded and enclosed settings where they come into contact with people they do not normally meet.
This new graphic has been released:

There will also be a new "framework for international travel" and people will continue to receive statutory sick pay if they need to self-isolate.
Some measures which allow the government to shut down businesses will lapse but if plan B is needed because coronavirus cases spiral out of control, certain measures could return.
"Any responsible government must prepare for all eventualities, and although these measures are not an outcome anyone wants, it's one that we need to be ready for just in case," Javid said.
The plan B measures are:
Legally mandating face coverings
If plan B is implemented, the government said it will "bring back the legal requirement to wear face coverings in some settings". Those settings are likely to include public transport, bars, restaurants and shops.
Advice to work from home
Government advice to work from home is another possible plan B measure.
In the plan, the government says it recognises that homeworking has some negative impacts such as reduced custom for businesses relying on commuters and mental health effects.
The document also acknowledge that some businesses have reported increased productivity from homeworking due to "a happier workforce and reduced overheads", but others say it "poses challenges, such as hampering the exchange of ideas, stifling creativity and hindering collaboration".
Overall though, the plan says scientists "have advised that high levels of homeworking have played a very important role in preventing sustained epidemic growth in recent months".
Vaccine passports
In July, Boris Johnson announced that an NHS COVID-19 Pass, known as vaccine passports, would be a legal condition of entry for nightclubs and large events in England from the end of September, but Sajid Javid later revealed the government has scrapped that plan.
Vaccine passports have not been completely ruled out though and are included as a measure in plan B.
The government said they would be mandatory if plan B was implemented at the following venues in England:
all nightclubs;

indoor, crowded settings with 500 or more attendees where those attendees are likely to be in close proximity to people from other households, such as music venues or large receptions;

outdoor, crowded settings with 4,000 or more attendees where those attendees are likely to be in close proximity to people from other households, such as outdoor festivals; and

any settings with 10,000 or more attendees, such as large sports and music stadia.
Some settings will be exempt. They include communal worship, wedding ceremonies, funerals and other commemorative events, protests and mass participation sporting events.
The government says compulsory vaccine passports could be introduced at short notice. Businesses will be given at least one week's notice.
Lockdowns
The government has said it is not planning any future lockdowns with the plan document stating: "Thanks to the success of the vaccination programme, it should be possible to handle a further resurgence with less damaging measures than the lockdowns and economic and social restrictions deployed in the past".
However, ministers have refused to rule more lockdowns out completely with vaccines minister Nadhim Zahawi saying they will be an "absolutely last resort" during the winter months.
Sajid Javid told Parliament that the government retains powers to work with local authorities to implement restrictions should they be required.

I'm a freelance content creator and event host who helps small businesses and the organisations that support them. I'm also Enterprise Nation's Local Leader for Bristol. I have 19 years of experience as a small business journalist having interviewed hundreds of entrepreneurs from billionaires like Sir Richard Branson to the founders behind brand new start-ups. I've worked for a range of leading small business publications and support groups, most recently as head of content at Enterprise Nation where I was responsible for the prolific output of content on the company's blog and social media. I now freelance for Enterprise Nation including hosting the Small Business sessions podcast. I'm based in Bristol where I run and host regular events with the local small business community in my role as Enterprise Nation's Local Leader for Bristol. I also have strong connections with other major business organisations in the south west region. In total, I've hosted over 100 events including conferences with an audience of hundreds for international brands like Xero and Facebook and live web chats from inside 10 Downing Street. With my partner, I co-run Lifestyle District, a lifestyle blog focused on culture, art, theatre and photography.