BLOG
How to get the most from your Enterprise Nation membership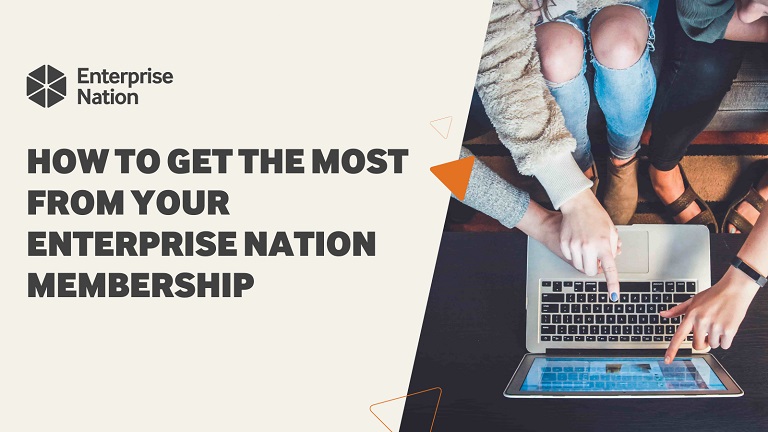 ---
Posted: Thu 4th May 2023
By joining Enterprise Nation, you've already taken your first steps towards achieving your business goals!
No matter what stage your business is at, we want to make sure that you're making the most of your membership.
Here's a reminder of just what Enterprise Nation's free membership offers. If you're not yet a member, sign up for free today to get access to the following:
What you get from your membership
Expert content: Enjoy blog posts written by both in-house experts and Enterprise Nation advisers.

E-learning courses: Develop the skills and knowledge needed to grow and scale your business with our comprehensive range of e-learning modules.

Regional support programmes: Connect with local entrepreneurs and access tailored support with our adviser-led regional support programmes.

Weekly newsletters: Get the latest business news, advice and content delivered straight to your inbox.

Daily events: Make the most of our daily events – particularly Enterprise Nation's famous Lunch and Learn webinars – and gain insight from business experts and thought leaders across the UK and Ireland.

Funding advice: Discover the best sources of funding for your business and receive advice from a wealth of finance gurus.

Networking opportunities and peer support: Make valuable business connections and benefit from networking with peers and like-minded business owners.

On-demand webinars: Benefit from our wide range of on-demand webinars and learn from sector professionals.

Money-saving offers: Access exclusive deals and discounts that can help you to grow and develop your business, brought to you by our brilliant partners.

Inspirational success stories: Read the success stories of other entrepreneurs spanning all sectors and industries.

Exclusive access to the Enterprise Nation marketplace: Unlock exclusive access to the Enterprise Nation marketplace and discover the best resources available.

Business health checks and personalised action plans: Receive a customised business health check and personalised action plan to help you reach your goals quickly and efficiently.
A closer look at what's available
Resources
An Enterprise Nation membership will serve you with the very latest business news, funding advice, expert content, events, webinars and e-learning.
Sounds great, right?
Marketplace
Naturally, there'll be times when you need the support of an expert; someone who'll provide structured, bespoke services to take your business to the next level. That's where the brilliant Enterprise Nation marketplace comes in.
No matter what stage your business is at or what support you need, the marketplace will match you to people who can help.
It's exclusive to Enterprise Nation members and allows you to connect with business advisers, browse and book their services, or request a free discovery call to get to know them better.
Get stuck into the marketplace today!
Networking opportunities
Networking is, of course, a crucial aspect of being a successful small business owner. Not only can it help you grow your customer base and generate referrals, but it can also provide numerous opportunities for learning, development and growth.
There are many ways to build your network on Enterprise Nation:
Groups
Connect with professionals in your industry, share stories and learn from the experiences of others within the dozens of Enterprise Nation groups.
Local meet-ups
Take part in local meet-ups and make valuable connections with other small business owners in your area. Meet-ups are hosted by Enterprise Nation's superb, committed Local Leaders.
Events
Keep up-to-date with the latest business trends and hear from the experts at our regular events, found both in-person and online.
Browse all our upcoming events
Connections
Discover new opportunities and build meaningful connections with fellow business owners on the platform.
Messaging
Once you're connected to other Enterprise Nation members, you can communicate with them directly via our secure online messaging service.
Regional support
The range of support available to small businesses can vary from region to region. We're working hard to bring you location-specific support.
Regional support programmes
We've invited support providers from all over the UK and Ireland to promote their programmes and events on Enterprise Nation.
As a result, no matter where you're located, you'll find relevant support for your business. These include grant and funding programmes for businesses in your area.
Local meet-ups
Through our local meet-up campaign, Enterprise Nation is on a mission to cure the entrepreneurship blues.  
These sessions provide a ready-made support network and an opportunity to collaborate, share ideas, discuss challenges and hold one another accountable. 
They can breathe fresh ideas into your business in order to accelerate success, re-motivate yourself, and equip you for the challenges which lie ahead. What's more, they're completely free to attend.  
Additional support
But wait, there's more!
Member offers
We all love a bargain. As an Enterprise Nation member, you get access to exclusive offers and discounts. From website building to shipping, marketing to storage, you'll find offers to help with all your business needs.
Weekly newsletter
The most important e-mail you'll receive all week, our newsletter is designed to bring you the latest business news and advice. Check your inbox every Wednesday and shortcut your route to success.
Help
You're never alone. We're on hand to help at every stage of your journey.
Our new Help Hub should answer most of your questions, but the Enterprise Nation team are always happy to offer additional support too. Email us with any questions you have.
Not yet a member? Sign up for free today
Enterprise Nation has helped thousands of people start and grow their businesses. Led by founder, Emma Jones CBE, Enterprise Nation connects you to the resources and expertise to help you succeed.