POLITICS
General Election 2017: A guide to the manifesto promises for small businesses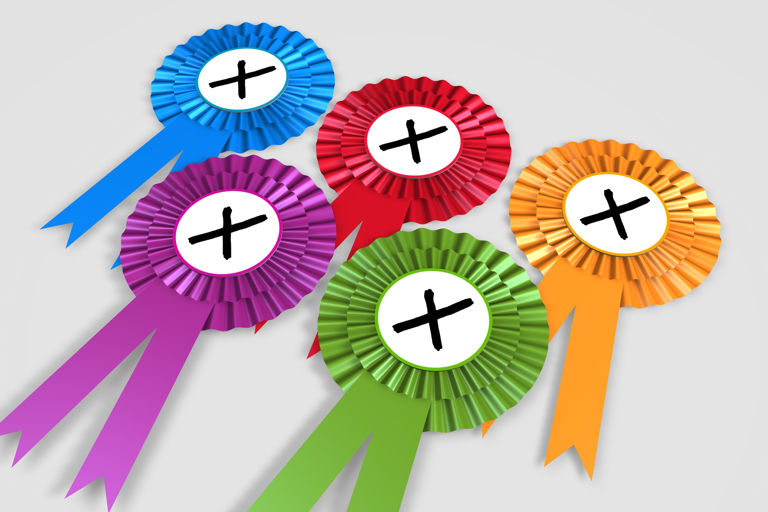 ---
Posted: Wed 31st May 2017
The main parties' General Election manifestos have now all been published and we've rounded up what they're promising small firms.
Join our live and interactive General Elections results coverage from 9.45pm on 8 June.
33% of central government purchasing will come from SMEs by the end of the parliament

Ensure big contractors comply with Prompt Payment Code on government contracts and in work with others or lose the right to bid for government contracts

Work with the Post Office to extend the availability of business and banking services to small businesses in rural areas

Immigration Skills Charge to double to £2,000 per year for businesses that employ non-EU workers

Continue to extend auto-enrolment pensions to small employers and make it available to the self-employed

Ensure that people working in the 'gig economy' are properly protected

Business rate revaluations conducted more frequently to avoid large changes to bills, and explore the introduction of self-assessments in the valuation process

Conduct a full review of the business rates system

Corporation tax to fall to 17% by 2020

Open new British Business Bank offices in Birmingham, Bristol, Cambridge, Edinburgh, Manchester and Newport

Fund the British Business Bank with the repatriated funds from the European Investment Fund once Britain leaves the EU

Consultation on how to extend safeguard energy tariff cap to micro-businesses

Give businesses the right to insist on a digital signature and the right to digital cancellation of contracts

Introduce a full fibre connection voucher for companies across the country by 2018

Seek to replicate all existing EU free trade agreements and support ratification of trade agreements entered into during the UK's EU membership

Create a network of trade commissioners to head nine new regional overseas post

Reconvene the Board of Trade charged with ensuring the UK's increases exports from Scotland, Wales and Northern Ireland as well as England

Forge a new culture of exporting among UK businesses
National investment bank and regional development banks to identify where SMEs need funding

New Scottish Investment Bank with £20bn of funds for local projects and small firms

Reinstate the lower small-business corporation tax rate

Introduce business rate reforms including switching from RPI to CPI  indexation, exempting new  investment in plant and machinery  from valuations, improving the appeals process and reviewing t he entire business rates system " in the longer run"

Review extending the £1,000 pub relief business rates scheme to small music venues

Scrap quarterly tax reporting for businesses with a turnover  of under £85,000

Ensure that anyone bidding for a government contract pays its own suppliers within 30 days

A version of the Australian system of binding arbitration and fines for persistent late-payers

Bring forward legislation to create a "proper" legal definition for co-operative ownership

Aim to double the size of the co-operative sector in the UK

Digital Ambassador to promote Britain as an attractive place for investment

Support for start-ups to scale-up

Deliver universal superfast broadband by 2022, improve mobile internet coverage and expand provision of free public wi-fi in city centres and on public transport

To clamp down on "bogus self-employment", shift the burden of proof so that the law assumes a worker is an employee unless the employer can prove otherwise, impose fines on employers not meeting responsibilities, involving trade unions in enforcement, giving a new Ministry of Labour the resources to enforce all workers' rights and banning umbrella firms

Strengthening trade union rights

Extend the rights of employees to all workers, including shared parental pay

Setting up a dedicated commission to modernise the law around employment status

Guarantee existing rights for all EU nationals living in Britain and secure reciprocal rights for UK citizens living in EU countries

Secure continued EU market access allowing British farmers and food producers to continue to sell their products on the Continent

Ensure there is no drop in EU structural funding as a result of Brexit until the end of the current EU funding round in 2019/20

Extend the 30 free hours of childcare to all two year-olds, and move towards making some childcare available for one year-olds
and extending maternity pay to 12 months
Expand the state-owned British Business Bank to boost funding for growing and medium-sized firm

Create a new 'start-up allowance' of £100 up to maximum of £2,600 to help with living costs

Mentoring support for fast-growing businesses

Reviewing business rates by recognising the development of the digital economy, lessening the burden on small companies , and ensuring high streets remain competitive

Reform the Regulatory Policy Committee to remove unnecessary regulation

Double the number of SMEs in the digital economy by supporting ICT capital expenditure by businesses in non-digital sectors

Build on the success of Tech City, Tech North and the Cambridge tech clusters with a network across the UK acting as incubators for technology companies

Create a new retail and business strategy to look at the impact of new technology on jobs in key sectors.

Commit to build digital skills in the UK and retain coding on the national curriculum in England.

Support growth in the creative industries by continuing to support the Creative Industries Council and tailored industry-specific tax support

Reforming corporation tax to benefit small companies and ensure big firms cannot avoid paying sums comparable to nationally based competitors

Consultation on shifting away from a profits-based tax to one that takes account of a wider  range of economic activity indicators, such as sales and turnover
move towards a turnover-based system for business rates

ensure there is a properly funded Welsh Development Bank to invest in Welsh businesses

ensure businesses can always have access to a local bank by opening a publicly-owned bank

commit to making ultra-fast broadband available to all of Wales and rolling out 5G mobile signal nationwide

fight to get the best possible Brexit deal for Welsh industry and agriculture

push for targeted tax discounts for new and existing businesses in Wales

demand that Wales has the power to set its own rates of tax including Corporation Tax, Air Passenger Duty and VAT

cut tourism VAT

introduce a Welsh Development Agency tasked with boosting Welsh trade
doubling of the National Insurance discount businesses receive when they increase employment from £3,000 per business per year to £6,000 per business per year

support extension of Annual Investment Allowance, which encourages firms to invest in plant and machinery, from £200,000 per year to £1m per year

press the UK government to phase the introduction of the quarterly digital tax reporting over a five year transition period, and consider industry calls for exemptions to those who are not incorporated or VAT-registered

support the introduction of effective legal protections to ensure small businesses are paid on time

Protect Scotland's economy by working to protect Scotland's place in the EU Single Market

ensure that 100% of premises across Scotland have access to super-fast broadband by 2021

press the UK government to work with the Scottish government to support Scotland's businesses in the wake of Brexit

ensure that any future trade deals secure geographical indications for key Scottish food and drink products like Scotch Whisky, Arbroath smokies and Stornoway black pudding

call on the UK government to examine a reduction in VAT for the hospitality sector
cut business rates by 20% for the 1.5m businesses operating from premises with a rateable value of less than £50,000

make HMRC investigate big businesses or public sector bodies that repeatedly make late payments to smaller customers. Fines proportionate to the amount of delayed payments will be levied, and will escalate for repeat offenders

improve access to trade credit insurance to help businesses struggling to secure loans

pushing every local authority in the country to offer at least 30 minutes' free parking in town centres and shopping parades

freeze insurance premium tax

no quarterly tax returns

no increase in Class IV National Insurance

bring forward legislation requiring employers to advertise jobs to British citizens before they offer them overseas

ensure employers are legally free to choose to hire a young unemployed British person under the age of 25 ahead of a better qualified or more experienced foreign applicant

independent review of public sector procurement, with the aim of opening public sector contracts up to small and medium-sized businesses employing less than 250 people. Recommendations coming out of this review will be put in place immediately after Britain leaves the EU

compel all public sector bodies to list contracts worth over £10,000 on the government's Contracts Finder website
[
Green Party
](https://www.greenparty.org.uk/ "https://www.greenparty.org.uk/")
support and promote small businesses, co-operatives and mutuals

support the roll out of high speed broadband

support start-ups and creative enterprises through community credit  and green investment

phase in a four day working week (a maximum of 35 hours)

abolish exploitative zero hours contracts

use the government-owned Royal Bank of Scotland to create a network of local people's banks obliged to lend locally and provide cheap basic banking services
Keep up-to-date with the issues that matter in our small business General Election tracker.
Enterprise Nation has helped thousands of people start and grow their businesses. Led by founder, Emma Jones CBE, Enterprise Nation connects you to the resources and expertise to help you succeed.