MEMBER STORIES
The brilliant story of Brilliant Gin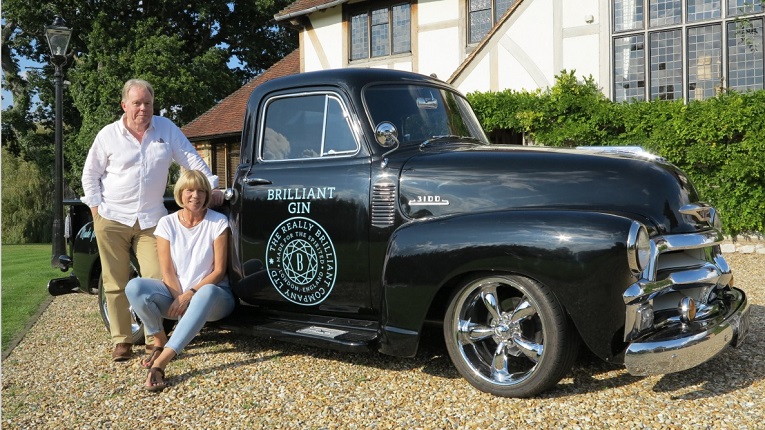 ---
Posted: Mon 5th Jun 2023
Gail Woolston and her husband Graham are big fans of gin. They love it so much that in 2014, they started their own premium brand.
The Chichester-based Really Brilliant Company sells three artisan gins with the products stocked in farm shops and London's iconic Harrods store.
A downturn in trade orders due to the coronavirus pandemic led to Gail and Graham focusing on boosting their e-commerce sales and they turned to Enterprise Nation and the Amazon Small Business Accelerator for help. Here, Gail shares the story of Brilliant Gin.
How did you come up with the idea for your business?
My husband and I are long-time gin lovers. We had an interest in a pub restaurant and we opened a gin bar.
It was very popular but we found that so many gins offered a lot in the words, and maybe in the aroma, but when you tasted them, there wasn't much to them. When you put them with a mixer, they just fade away and you end up with alcoholic tonic water.
We weren't distillers but we thought there must be a way of developing a recipe that will be powerful enough to cut through a mixer and stand up for itself without making it harsh.
So, we started with our classic Brilliant Gin. We worked with a distilling chemist who said we articulated the flavours so well that she knew what to put in it. There are some gins that have so many botanicals in them that you can't pick them all up. They're not there for any particular purpose apart from a marketing story.
We then had 1,000 bottles of gin and thought "Yikes, now we need to get it out there". My husband said, "I've worked it out, if the worst comes to the worst, we've got enough gin to last us until we're 82!"
How did you market your brand?
We entered some competitions. We were careful with the ones we chose as many are just money-makers for the organisers. We selected those with blind tastings and were well thought of in the industry.
Within three months, we had three best gin awards including from the International Wine and Spirit Competition and the San Francisco World Spirits Competition. That was validation. The next task was spreading the word and knocking on doors.
When we launched, we had a trade stand at the Gold Cup at the Cowdray polo. We now sponsor the polo. It's grown into a nice relationship and we're fully involved throughout the estate, in the farm shop, the wedding venues, the main house and the golf club.
We're also listed on Master of Malt and in Harrods. We were very pleased to get into that store because they came to us. We export now too. We sell to the Cayman Islands, Italy, the Netherlands and Denmark.
We've spent time looking into our target market. We're a super premium gin, whose tagline is 'Made for the spirited'. We like to align ourselves with people who are aspirational and live or aspire to live a lifestyle.
We can't all fly in helicopters and have our own polo team, but we can do a bit of it, such as buy a ticket to the polo final.
Do you think Harrods approaching you was because you've associated the gin with other luxury brands?
I think that's probably the case. We've never been big on advertising but we have done a fair amount of social media marketing.
A couple of months after we first traded at Cowdray we got a phone call from an exclusive hotel group. The beverage manager had been at the polo and bought a bottle.
Why did you decide to get involved with the Amazon Small Business Accelerator?
The trade side was very strange at the time of the coronavirus pandemic. Everyone was so cautious. Even when they were open, they didn't want to hold stock, which meant our distribution companies didn't want to take a lot of stock.
That's how I came to Enterprise Nation and the Amazon Small Business Accelerator. We realised that we had to get cracking on our e-commerce if we were going to salvage the rest of that year. During the lockdown in March 2020, all trade orders had stopped.
We had a website when we started but it wasn't our main focus. Distribution and export was where our heads were. But then 2020 happened. Our e-commerce sales had gone up thousands of per cent!
We had a new bespoke website built and realised we had to make it fast, slick and easy for people to use. Everything was going online and we had to be part of it.
How did the Amazon Small Business Accelerator Bootcamp benefit your business?
We were delighted to be selected for the Amazon Bootcamp and it didn't fail to impress. There was so much information and we were impressed by the experts. It covered every aspect of setting up an Amazon store and gave us confidence that we would be helped through the tricky bits!
It was helpful to receive advice on how to create listings and tips on titles, keywords, images and Fulfilment by Amazon. We felt part of a community set up to help each other.
What's your top tip for business success?
You need to be passionate and love your product. If you are, that will shine through. Customers are very interested in premium products and the story of the people behind them. That is high on customers' lists when they're buying.
Some of our biggest sales are in farm shops. People expect to get quality from a farm shop and they expect to pay a little bit more for it.
Have as much face-to-face contact as you can with your customer base and show them your passion. People respond really well if you talk about your product with passion. And don't just talk about sales. Customers like to be engaged with the story behind the business.
---
The free Amazon Small Business Accelerator e-learning programme is advice from more than 30 business experts in 218 bitesize videos.   
 
If you're already an Enterprise Nation member, log in to your learning dashboard to access the e-learning. If you're not an Enterprise Nation member, you can join the Amazon Small Business Accelerator for free.