INTERVIEWS
Furniture Box: From a bread baking business aged seven to 150 shipping containers at 21-years-old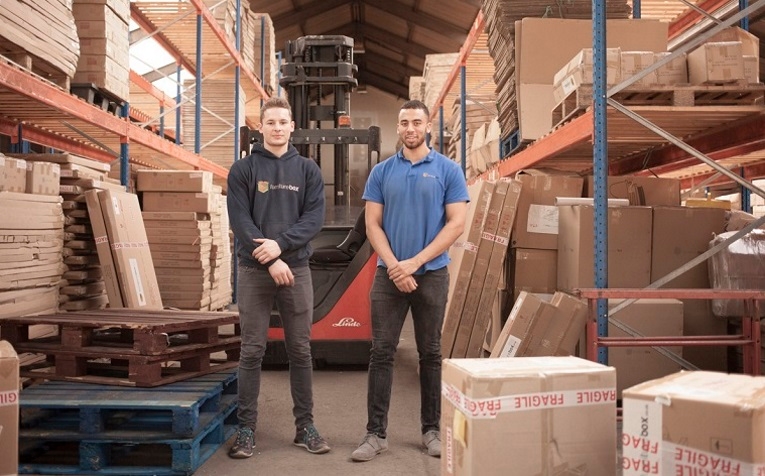 ---
Posted: Thu 13th Dec 2018
Monty George is only 21 but is already running a company that turned over £1m in its first year. With co-founder Dan Beckles, he'll be telling the Furniture Box story at StartUp 2019, the biggest start-up of the new year in London on 19 January. Ahead of the event, we asked him a few questions.
Monty George had an inkling he was going to be an entrepreneur at a young age. He got up early, cooked bread and sold it to the local baker when he was seven-years-old.
"It was on a sale or return basis. People soon found out it was me and I think I got a lot of sympathy buys," said George. "I was taking home about £25 a week."
By 12-years-old George was buying products from Poundland and selling them on eBay for a five-fold mark-up. He discovered niche deals on items like sushi making kits ran out quickly and started checking the shop every morning before school.
George grew up around entrepreneurial parents, which provided inspiration.
"They used to run a business from my house. I'd seen them slave away and get me and my sister involved. I also had a bit of knowledge about how business worked and was keen to see what I could do. To make a bit more than the measly pocket money I got," he said.
George tried to balance sixth form with playing football for Portsmouth and running a business. He admits teachers became frustrated with his poor attendance but went on to get reasonable grades.
The first year of trading
George started building the business the day he left school. Co-founder Dan Beckles joined and the two set about developing a brand. The company turned over more than £1m in its first year.
"The brand's only really starting to be built now. The first year and a half we were still very much selling furniture through platforms. All the revenue came from Amazon and eBay. The website accounted for 5%," said George.
Handling furniture meant having access to warehouse space, forklifts and more. Other product categories on these platforms can be sold from people's homes and tend to be more competitive, explained George.
Furniture Box is based in an old chimney factory, which was vast and cheap. George said they've been fortunate to have warehouse space they could expand into as and when needed.
"We started in a tiny section. Now we have 30,000 square foot on the same premises. We've been able to grow at a very cheap rate. Lots of people who get premises think about the cost but not about being able to expand with it," he added.
Building a team
Furniture Box was a two-man team for the first two-and-a-half years. They employed their first member of staff about a year ago and now have four employees.
"We need to import 120 containers next year," said George. "The amount of energy and background work that goes into the products, instructions and more alongside running the business means we need more people."
They plan to hire three more staff in the new year.
Managing employees has been a learning process. George said they suffered from being "too nice" in the beginning.
"When we employed one it was fine, second one fine. Now we're moving towards having seven people under us we can treat people well but you have to put your foot down a bit," he said.
George and Beckles had an opportunity to sit down with Moonpig founder Nick Jenkins, who looked at the business and gave them advice.
"He'd seen it three years prior, so was impressed," said George.
Jenkins' advice included not taking on investment because they didn't need it and streamlining the management accounts.
The future for Furniture Box
The business just had its best ever month, exceeding what they've done in the last few years by three-four times.
George said these lots of growth to come and that they're learning every day. He's now 21-years-old and believes young entrepreneurs that want to start a business should give it a shot.
"When you're young you can take far more risks. When you get older other factors like mortgages and kids come into play. That's a massive part of it. When I was 12-years-old I had no responsibilities. I was able to retain the income I was getting and grow," he said.
Monty and Dan are speaking on the keynote stage at StartUp 2019 and is one of more than 100 speakers and experts taking part. Find out more and book your ticket.
StartUp 2019 is supported by:
Chris has over a decade of experience writing about small businesses and startups. He runs Inkwell, a content agency that helps companies that sell to small business owners grow their audiences through content marketing. You can find him on Twitter at @CPGoodfellow.