INTERVIEWS
From a council house bedroom to dressing the stars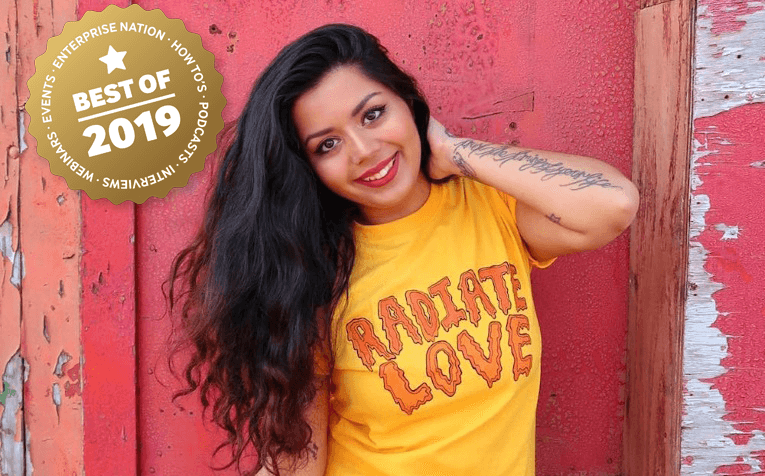 ---
Posted: Thu 9th May 2019
The clothing company Zara Khalique launched from her bedroom in a council house has gone on to dress stars like Ariana Grande, Miley Cyrus and Miranda Kerr_. Ahead of speaking at the Fashion Exchange in Manchester on 28 June, she shares her story._
 
Making clothes started as a hobby when Khalique was 13 or 14 years old and the business idea tied into her personal development. 
 
"As a lot of teenagers do, I struggled to deal with things," she recounts. "I met a friend online who was a bit of a positive mentor. That helped me realise that the way you think changes everything and that saved my life. I want other people to come to that realisation."
 
At that point, being negative was glamorised, added Khalique. The idea was to build a clothing brand around positive thinking called Keep It Bright. She's now 28 and the business has received international press attention, won a string of awards and exported around the world.
Dropping out of college and going full-time
When she started, Khalique had no support or funding and was making T-shirts, hoodies and other items from whatever she could scrape together. 
 
"I was literally making things in my bedroom. I'd sell one thing to a friend and then buy more stuff," she said. 
 
Khalique went to college but dropped out after a few months to concentrate on the business. The clothing brand grew through word-of-mouth recommendations and didn't do any paid marketing until a few experiments with Instagram ads last year.
Building a social media following that can shoot for the stars
Khalique has 69,000 followers on her Keep It Bright Instagram account. She models a lot of the product photos herself and it's full of positive advice, such as: "hey my love, just a reminder that no-one has it all worked out, we're all winging it."
She asks followers to share stories, believing that you can inspire people in similar situations. The social media network has led stars to find her products.  
 
"Ariana Grande and Miley Cyrus wear my stuff consistently. They just followed me on Instagram. A friend was followed by them for their art. She sent her one of my books. It's word of mouth. The only time I've given stuff to people in person is Ed Sheeran. I gave him some T-shirts in 2012. 
 
"They can get anything they want in the world and they chose to wear my stuff, which is mad. They're real people and the messages resonate. Miley and Ariana have gone through so much s**t. They are just 20-year-olds too," Khalique said.
The power of a one-woman band
Keep It Bright has remained a founder-owned business with no staff, in spite of expanding into kids clothing, homewear, and books. 
 
"I'm literally a person doing a thing and it keeps getting bigger," said Khalique. "I just want to reach a lot of people. I want to grow organically. People have in the past told me to do different things with marketing. Fair enough you can get bigger quicker but I want to see how far I can go just by myself."
 
You can feel the brand's values in everything Khalique says and see it across her marketing and products. The consistency of the brand and power of her belief have powered the business forward. She said small business owners need to have self belief. 
 
"Self belief is so important. I don't mean in a delusional way. I've followed my heart. I've gone with trusting my gut. Practice makes perfect, you can teach yourself anything these days. We're so fortunate to be able to Google anything and get an answer.
"From sewing to your accounts; there are so many amazing tools. Make the most of that! There's nothing to hold you back nowadays. The limitations are in your mind," Khalique concluded.
Zara Khalique is speaking at the Fashion Exchange in Manchester on 28 June alongside retail buyers, entrepreneurs and experts from the fashion industry. If you're looking to start or grow a fashion business, it's event for you! Register here.
Chris has over a decade of experience writing about small businesses and startups. He runs Inkwell, a content agency that helps companies that sell to small business owners grow their audiences through content marketing. You can find him on Twitter at @CPGoodfellow.