MEMBER STORIES
From a childhood love of making things to a thriving design brand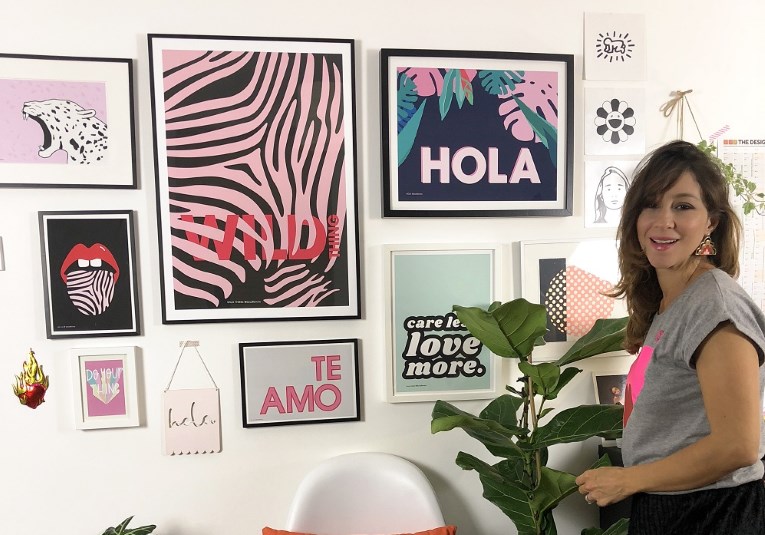 ---
Posted: Tue 25th Feb 2020
_Emily Canino got the bug for art and design at a young age and turned that love into her own business, Doodlemoo.
We spoke to Emily about the challenges she's overcome, her business goals and the entrepreneurs that inspire her._
Describe your business in one sentence.
It is a design-led brand producing playful art prints, accesories and stationery.
How did you come up with your idea?
I have always been a creative, always making and designing. Ever since I was little, my mum had me making cards for the whole family (I've never bought a greetings card in my life) and I designed my first logo at age 13 for my dad's restaurant.
When my eldest boy came along we decorated his nursery with some characters we created, which we turned into posters and Doodlemoo grew from there. It has evolved lots from this into what it is now.
I am a graphic designer and illustrator so when my kids came along I knew I needed a business that I could do around them and that would also excite me as a creative. My husband studied fine art, so we combined forces to develop designs for Doodlemoo.
I love the blur between being a kid and a grown up. I wanted to create prints that could work well in any room around the home and are playful.
What start-up challenges have you faced?
We have been totally self funded, so one of our major challenges has been money. We invested in a few items and just didn't realise that it takes quite some time to recover your investment!
Doing everything myself is hard and I often underestimate my time, especially with two little ones.
When my little boy started school I thought I would suddenly turn into a super woman and would have loads of time but I still have to work most evenings after they go to bed or at weekends. Luckily I enjoy what I do so that is a plus.
What is your biggest achievement so far?
The thing about achievements is that your perception of them changes as you grow.
The biggest achievement I had when starting out was being selected for an exclusive trade show, another was winning a pitch. Even though it wasn't Dragons' Den it was a big deal to me as I get so nervous speaking in front of an audience.
It was also amazing being awarded a local council grant for my business.
We are constantly shifting our goals though. I was recently asked to have my prints featured on a TV programme, which is something I never would have dreamt of when I started out.
What is your next big business goal?
I would love to grow Doodlemoo into a bigger brand (I am still figuring this out!) and be stocked by some big shops I admire.
How has Enterprise Nation helped your business?
The time I've been part of Enterprise Nation, I have really enjoyed all the information about small businesses there is available.
The webinars help so much as I can't always leave my studio and being able to talk to experts for 30 minute consultations has been great.
What entrepreneurs inspire you?
Leona Thrift-ola from Lucky Dip Club and The Rollercoaster of Running a Small Indie Business. She's totally self made, has so much to share, has built a lovely community for small businesses and she's so honest about what she does.
Yvonne Fuchs, who is also a self made entrepeneur and knows her stuff. I worked with Yvonne on my business and she is just great, full of knowledge and a no-nonsense attitude which I love.
Sophia Amoruso, who set up Nasty Gal and Girl Boss, is my girl crush. Another self-made entrepeneur and an example that there are no rules, you just make your own! I love her podcast where she chats to female entrepreneurs.
What are your three tips for business success?
Be prepared for the long run. it generally doesn't happen over night! You have to work hard at getting your name out there.

Meet like-minded people that support you and you can learn from.

Learn everything there is to learn and then break the rules. Find your own voice and be determined in where you are going.
I think the biggest lesson I have learned is that our frame of mind is everything.
When my dad left us very suddenly last year, I decided that life goes so fast you might as well go for what you want and enjoy the ride.
Something in me changed, it kind of made me more care less in a good way (this inspired one of my recent prints). I decided not to care so much about what other people think. To do my thing. Not everyone will love what you do and that's ok.
My dad had many wise words and so I hear him all the time.
We're proud to have people like Emily as members of Enterprise Nation. Join Enterprise Nation today and become part of an amazing community of small business owners.
Emily is a graphic designer/Illustrator with an MA from Central St Martins and a creative business owner and founder. She runs her own successful brand, Doodlemoo where she creates high quality Art & Design prints, stationery goods and accessories. She also has a design studio, Loro Design aimed at helping small businesses with logo design, branding and Instagram content. Emily has two boys and lives in Reigate, Surrey.